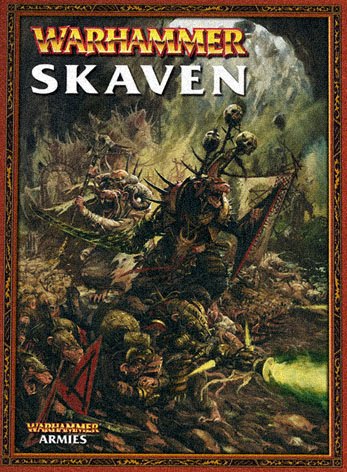 Characters and Mounts
by Jordan Braun
In part 1 I rated all the troop selections for the Skaven army. To move on in the series we are going to take a look at the character choices. Based on the feedback I would like to point out what my rating of a unit means. I am not really rating goblin versus elves. I am rating the worth of the unit in the Skaven army. Based on its tabletop effectiveness, point cost, and is it worth taking over another choice in the armybook. Who is going to lead this rat horde?
Assassin: Well the Skaven assassin is vastly different then a Dark Elf one. Costs you a hero slot, but, comes with a attractive 4+ward save included. Using him as a defensive character to accept challenges is most likely the best role. Don't expect him to take out a front rank of a unit with ASF strength 4. Can be almost 200 points with full magic kit.
6/10 OK(++Great ward save, +ASF,-Point cost, -Can't use his LD)
Chieftain: Not much has changed with the good ole chieftain. Now is a proper BSB with full access to armor and equipment. Can add a little umph to your units with very little point investment. With just the BSB and a great weapon he is still under a 100 points.
7/10 GOOD(+Point Cost,+Cheap strength 6)
Plague Priest: No more Liber Bubonicous! Priest are now default level 1 wizards. Probably one of the best all around wizard heros in Warhammer. With a small investment for a flail these guys hit hard and cast spells. They have access to Plague magic which has my new favorite spell Wither. In Part 3 I will go over magic and why Wither is amazing. Finally, they can ride the amazing looking Plague Furnace! The model alone is worth fielding just because how great it looks. 9/10 GREAT(+Hitty, +Casty, +Tough 5,+-Frenzy, -Can be high point cost,-No armor)
Warlock: Locks gained a few interesting options in the new book. First, they don't have to be wizards. They are no longer stuck with one spell and have access to the whole Ruin lore. With access to the Doomrocket is what really makes a lock shine. They also have some useless weapon upgrades that you should ignore. Being able to default to Warplightning is also a nice bonus. Skitterleap and Pesty Breath are not the best default spells , so, a Warlock can gurantee you some long range threat in the magic phase.
9/10 GREAT(+Doomrocket access, +Flexible point cost, -Pointless upgrades)
LORDS
Vermin Lord: Back from the past! The Vermin Lord unfortunately should have stayed there. Unlike his previous incarnation in ravening hordes he is only T5 with a 5+ ward. Even goblin archers are a threat to this guy at range. His inability to be your general or join units is also somewhat of a disappointment. He can add some combat punch to your list, but, is a huge risky investment. 0/10 CRAP (+Combat Skill, -Point Cost, -Toughness, -Crap save for large target, -Restrictions)
Warlord: Not much has changed in the Warlord department. He does have a some new mounts to hang out with. If you want a cheap lord with decent combat abilities this is the way to go.
6/10 OK (+Point cost, +Leadership, -Not a caster, -Poor choice of defensive magic items)
GreySeer: LD7 is the best! Why take a warlord when you can have a level 4 wizard with the same leadership? This guy gives you access to some of the great skaven spells and as all wizards gives you magic defense. That is important these days. Also gives you access to the screaming bell mentioned later. 10/10(+Magic, +LD, +Bell access, +T4,+Reasonable point cost)
MOUNTS
10/10 War Litter: If your going to take a warlord this is a great mount that provides a decent boost to combat and even a bonus to armor save.
5/10 Pox Rat: The mount is alright ,but, you increase your base size. Thus giving more potential attacks on your characters from enemies.
7/10 BoneCrusher: Decent stats ,but, it has no save. Expect it to go down fast. US:5 models can be picked out of units. Similar to a carnosaur ,but, with more control. Watch out for cannons.
Plague Furnace: The Plague Furnace is new to the Skaven book. It provides a great centerpiece as well as some useful combat tools. It has a shooting phase attack which is nice ,but, nothing to write home about. MR2 / unbreakable for the plaguemonks pushing it is a big bonus. The furnace has as many positives as it does negatives. A Plague Furnace, plague priest, and a decent sized unit of plaguemonks can easily run you 500+ points. The Furnace itself has no save unlike the Bell. Also, the unit pushing it is frenzied. Meaning it will have to puruse and chase after bait units. The Furnace unit cannot decline challenges. Which could be big depending on your opponents army. Besides the random toughness tests it causes the combat swing can only be done in your turn. In the end I think its lack of save vs shooting puts it in the unuseable category. These days there are so many ranged threats that even a Storm Banner will be hard pressed to stop them all. Final Opinion: 4/10 OK
Screaming Bell: This baby unlike the Furnace has a great save. It also gives the seer up top a free 4+ward. Combine that with a skalm and you have a seer that is a pain to get rid of. The Bell is a nightmare for warmachine heavy armies. T7 models can die in droves, and anything shooting at it with killing power makes the Bell ring. I saw 1st hand a Screaming Bell get hit by a cannon , ring , and then kill the cannon that hit it. The d6″ movement ability in the magic phase could also be game winning. Now not to say the Bell is perfect. 1st off that 4+ ward save for your seer is free for a reason. Everybody that gets to him will be swinging at him. Most of the Skaven spells are short ranged or template based. This can be hard for the seer who is strapped to the bell to get in position for or even use. Also, in true Skaven fashion the Bell is random and potentially deadly to you. Finally, the bell+seer+pushing unit will run you upwards of 700+ points. Not exactly fooling your opponent on to what is worth points in your army.
Final Opinion: 8/10 GOOD
Note on special characters: I know you roundbasers take special characters all the time. But, this usually not true in your standard warhammer fantasy tourney environment. I left them out for now. If there is enough uproar I will comb through them and give my opinion.
This is my review of Skaven characters/ mounts. There is a lot of different combos and you should always try something out if you think you can make it work. BOLS what is your favorite new Skaven badass? Stay tuned for Part 3 where I rate magic items and review the spells. All leading up to: Making a 2250 tournament Skaven list
.