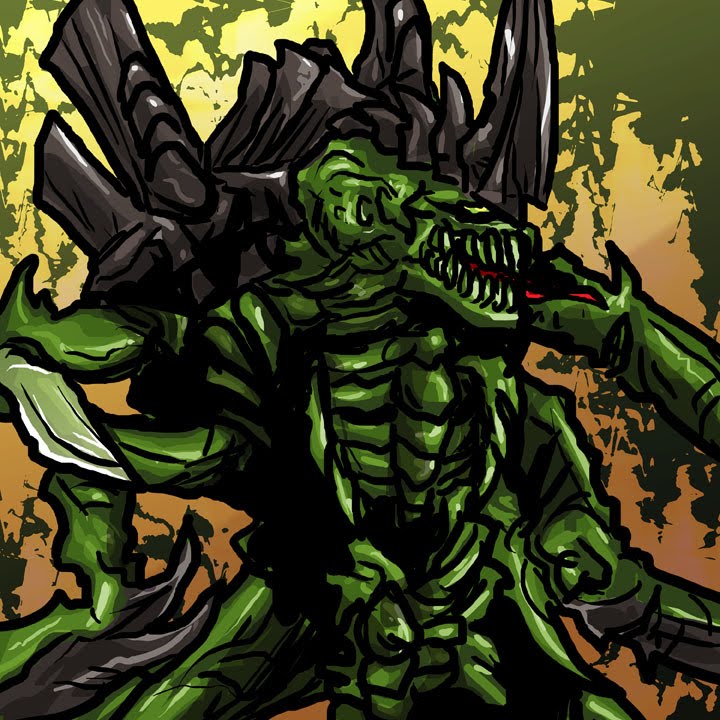 The Tyranids book is finally out and I want to post my first "test" list I plan on building. I am not making this list out as the end all be all super awesome or "best of" list. This is just the list I want to play and build. I am aiming for a middle of the road list that is both fun for me to play and hopefully fun for the opponent too. We'll see what ends up staying and what ends up leaving as I slowly build this list (I have some client stuff to do, so this is my do something fun army).

I already have my paint scheme as you have seen in my Tervigon pictures. I finally go a new camera so I am reshowing the monster again as I feel the new picture gives a much better idea of how it was built. I need to make another one too, and with the two Trygons I got this week I should have enough feet to cannibalize another Carnifex.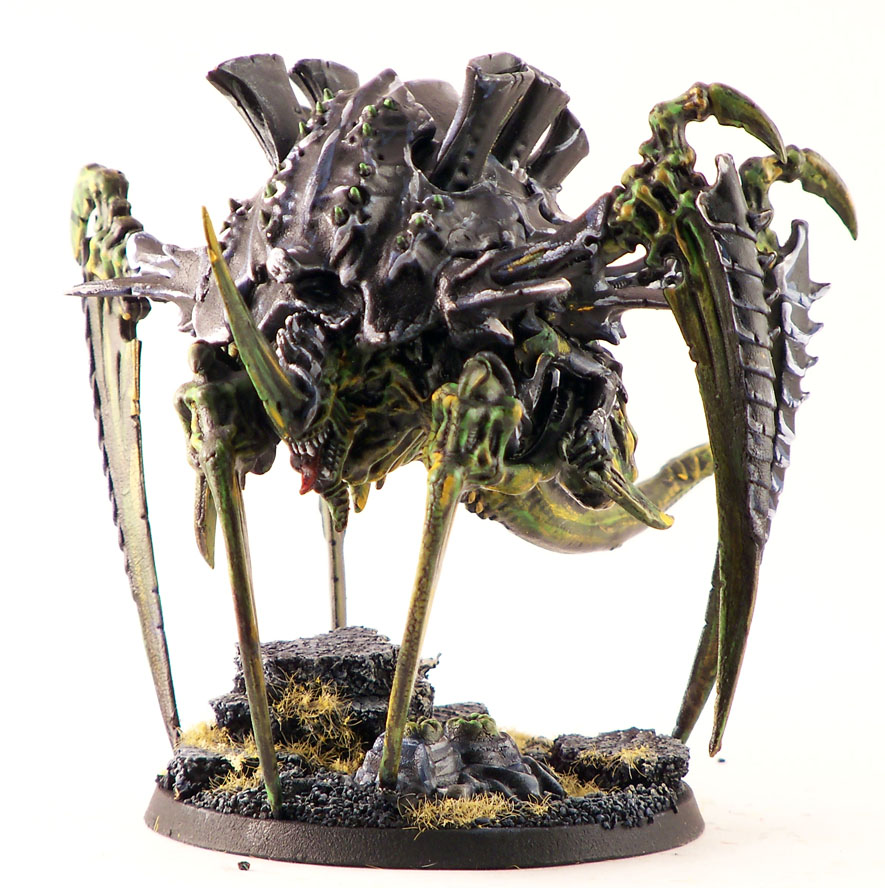 Goatboy's Tyranids who are not Goatnids but really Tyranids 1.0
HQ: Hive Tyrant, Essence Leech, Paroxysm, Old Adversary, TWL Devourers – 210pts
Tyrant Guard Brood (2) – 120pts
This is almost how my old Hive Tyrant was built, and I decided to just leave him kinda the same. I just need to add in the bone sword and lash whip and repaint him and he is done. I went with two Guard as a way to give the Tyrant an extra 4 wounds as needed. With one of these guys and a batch of Termagaunts in front, your Tyrant has a 4+ Cover save. We'll see if that is changed via an FAQ but since the majority of the unit is not an MC then it counts as an infantry and shooting through another infantry squad into it means you get cover etc. We'll see if it stays that way. But this is a cheap, anti infantry unit that brings some pain in close combat.
Elites: Hive Guard Brood (3) – 150pts
Here is a test unit, and I like the model a lot. I am also sure GW is glad I like the model as I want to buy 3 heavy pewter models that cost a nice amount. I am hoping this lets me kill a nice number of mini mech that might be running around. Rhinos, Chimeras, Valks, Dreadnoughts, etc. should fear a bunch of strength 8 shots that can come from the magic place where LOS is not needed.
Elites: Death Leaper – 140pts
If you are not seeing a lot of Marines, Space Wolves, Chaos, or Eldar running around, this might not be needed. This guy will help out tremendously versus anyone trying to cast some kind of mental power. I know he doesn't do much more then this, but since a few powers are extremely good versus this army, you need to have a way to stop that. Plus, if you are playing versus any type of a hood, you can guarantee that most of your powers are going to go off. This will help with the next elite choice.
Elites: Zonathropes (3) – 180pts
Here you go, your anti mech. Death Leaper will help let your powers go off versus any type of hood. These guys will be great to help you kill some of the heavier mech stuff you might see. Land Raiders get scared as these guys will wreck their day.
Troops: Termagaunts (10) X 2 – 100pts
Troops: Tervigon, Catalyst X 2 – 350pts
These guys go together like peas in the pod. Minimum troops as far as I am concerned with bugs. These are not going to win you the game, these guys just make sure you won't lose it based on not having enough to hold objectives. We'll see if you can go down to one of each in the coming months. I will be making another as I just want to have another one.
Heavy: Mawloc X 2- 340pts
His mouth looks neat and I think he will be useful to hurt bunched up guys. The one two punch of the Mawloc popping a vehicle with the Trygon Prime covering it in whatever stuff it shoots could will be pretty neat.
Heavy: Carnifex Brood (2), 2 TWL Devourers, Adrenal Glands, Frag Spines – 410pts
I know they are not the best, but I just have a soft place in my cold evil heart for those TWL Devourer Elite fexes from the past. We'll see if they do any good for me.
Total Army – 2000pts
So there you have it, my basic initial list. I don't know how good it will be, but I think it will be fun. I am playing with a bunch of stuff and lots of things that do different things in the codex. We'll see what stays in and what leaves as I finish building this army. The other Carnifex option is to load up on Heavy Venom cannons and hope you can shake the stuffing out of whatever is on the board. Also the Carnifexes could be designed as an assault heavy unit that runs in front of the Hive Tyrant.
I am still playing on playing with the Doom of Malan'Tai to see how he does as well as make 2 Harpies for the list. If the local metagame turns to lots and lots of demolisher cannons, then the Harpies might have to stay home. I have 5 more Carnifexes to mess around with and plan on keeping 3 in some kind of normal configuration.
As usual if you have any questions, thoughts, etc on the list please feel free to comment. If you can think of better ways to have the army then by all means tell me. Again this is just a goofy list I want to play with that has a ton of new things and MC's to crush puny humans with.


You can email me at [email protected] if you have other questions.