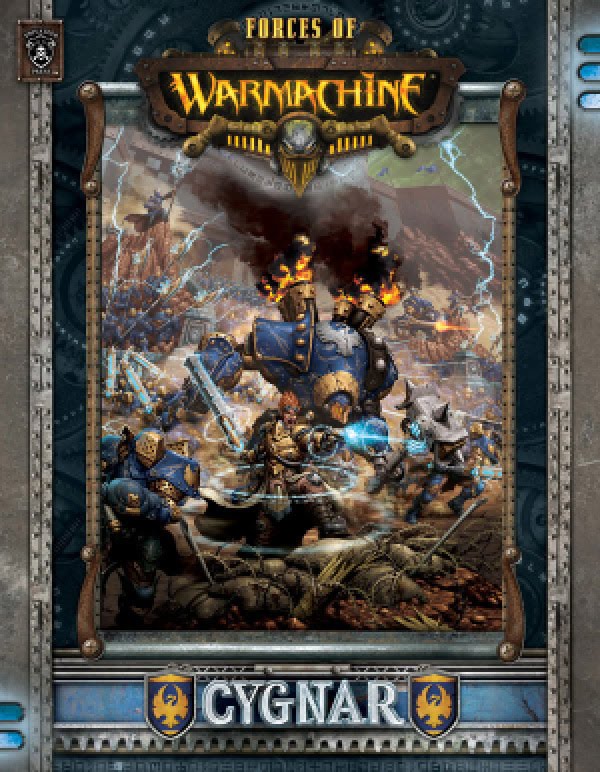 The Forces of Warmachine: Cygnar book arrived here at BoLS last week. And this 144 page tome contains anything and everything a Cygnar player (or one of their rivals) could ever want to know about the so called Jewel of the Iron Kingdoms. Lets dive in.

Each full color page is loaded with art, background, and fluff. Almost 80 pages of model entries give you all the rules a good Warmachine general needs to plan out their conquests while relaxing on the couch. Among these rules you will find information for all the Cygnar pieces released with previous books, plus the rules for all the 2010 releases which include a new warcaster, solo, unit, weapon crew, two warjacks, and two weapon attachments. The 20 page gallery section in the back includes what is quite possibly the finest painting guide I've seen outside of a hobby book. But if you already own any Privateer Press Publications this should all come as no surprise, as they make a point of printing gorgeous books. Oh, and finally, just to stave off any predictable questions… no, technically you don't have to buy the book. If you buy a card deck, or if you're just starting and your LGS updates their stock with MkII cards, you will end up with all the rules you need. But lets face it, for most of us minis gamers, the books are as an important part of the hobby as the minis themselves. If you're like me, there aren't many purchases that gives back more per dollar, since I know I'll be picking it up and checking it out off and on for years to come.
And now that we've got those pleasantries out of the way, lets start digging into the new units. There have already been plenty of rumors flying around these internets, and at the risk of deterring you from reading the rest of this article, I'll just come out and say they are almost all true. To begin with, the book includes eight new model entries, two of which No Quarter readers should already be familiar with, and one of which was already released as part of the Cygnar plastic heavy jack kit. Since these are supposed to be spoilers I'll only discuss the models that haven't been published in some form already. Lets list them now:
Captain Kara Sloan: Cygnar Warcaster
Firefly: Cygnar Light Warjack
Storm Gunner: Cygnar Storm Knight Weapon AttachmentTrencher Commando Scattergunner: Cygnar Weapon Attachment
Trencher Master Gunner: Cygnar Solo
As the new Cygnar Warcaster, Kara Sloan is probably the most worthy of discussion. Her base stats are very close to Captain Victoria Haley, but with lower mat, and considerably higher rat. We already know what her gun does, so lets talk spells. She lacks Snipe instead getting an as yet unique battlegroup enhancing range buff spell which grants her and her warjacks +2 range for 2 focus. It cannot be upkept. While that is her only signature spell, she does get a total of six spells; somewhat uncommon for a six focus caster. Her other spells are Arcane Blast (common Cygnar spell), Deadeye(common Cygnar spell), Dust to Dust (Testament of Menoth), Refuge (Epic Doomshaper), and Return Fire (Grim Angus). Her feat Firing Squad effectively gives all friendlies in her control area Dead-Eye, but also lets a friendly battlegroup model make a single extra attack (once per feat) after it or another battlegroup model makes a successful hit. She also gains the Arcane Precision special rule allowing her to target stealthed models if she forfeits her movement. What are my initial thoughts about Kara? Her obvious ranged superiority aside, Refuge stands out to me as having a lot of potential. At first glance it seems like the point of the spell would be to allow a warjack to retreat after wrecking some face to avoid getting counter-charged. But with control points being such a big issue in so many scenarios, it would also be great to give a warjack the opportunity to use that extra advance to grab one after its combat action ends. A sentinel will probably make a great companion for her. In addition to the obvious benefits her toolbox can give to the Chain Gun armed light, Kara will probably want to have its Shield Guard ability handy as even the 16″ range she will have on her gun is a little close for a Warcater with her defensive stats. And finally the most obvious: any Cygnar player who doesn't already own him should go out and buy Reinholdt. The extra shot he will give her will be worth the investment.
The Firefly is Cygnar's first plastic light kit, and a lot of us are still hoping he will come with the pieces to make plastics for the other 3. It has a simple low pow, medium ranged storm blaster for its ranged weapon. While this gun is only RoF 1 it has the ability to cause lightning to leap to a single extra target. The Firefly's Electro Glaive has no special rule other than the obvious reach. But perhaps his most interesting ability is that he counts as a stormsmith for other stormsmiths making triangulated stormcalls. Also, sword knight fans can get a little excited as they finally have a reach 'jack that's a point cheaper than a lancer for them to use their flank ability with.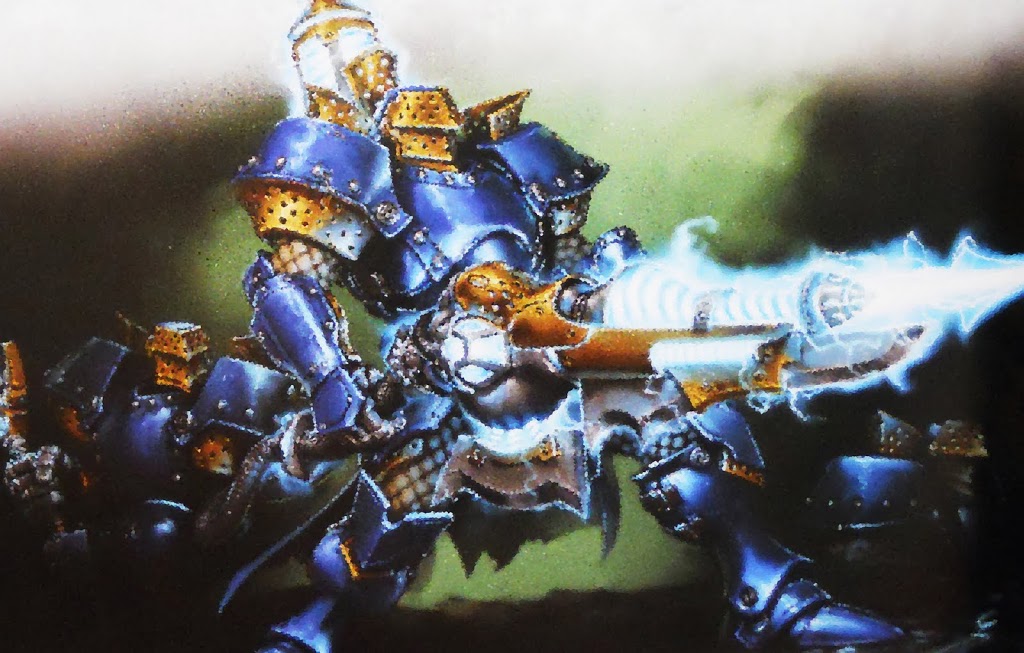 The Storm Gunner can be added to either a Storm Blade or a Storm Guard unit. Since the Stormblade Standard Bearer grants a 3″ AoE to his units' ranged attacks, the 'blades seem like the logical first choice. The Electrical Current ability, which allows models in his unit to automatically hit a model he has already hit, also make it seem logical to load up on the additional shots the Storm Blade unit provides.
The new Trencher Commando Scattergunner should hold no real surprises. A Trencher commando with a Scattergun identical to the one the Trollbloods have been using since Hordes: Primal was released. That being said, I like the idea of a model with a spray attack that has the stealth rule. The other bonus to this guy is that since he costs the same as any weapon attachment, and since the Trencher Commandos are already a pricey unit, he costs the same as a base trooper.
The Trencher Master Gunner is the ideal companion to a Trencher force that already enjoys its Grenadiers. His artillerist rule will make their shots that much more accurate. But for when your troops get into the thick of it, he also has the Close Fire special action. This allows your army to ignore blast damage from a target model of the Master Gunner's choice. He's also equipped with a Scattergun of his own, lest the destruction of his Grenadier render him useless.
While all these new model entries are great, ever since the Retribution book came out last September, everyone has been wondering about tiers. Tiers are the theme lists of Warmachine, granting your army unique bonuses in exchange for limiting your selection. Every warcaster gets their own tier lists. With 12 warcasters each with 4 tier lists you'll have to forgive me for not having the patience to paraphrase them all. I'll just try to dispense a few of the juicier tidbits of the tier 4's. Lieutenant Caine's Tier 4 gives all Arcane Tempest Gun Mage units Stealth. Lord Commander Stryker and Major Victoria Haley both get their deployment zones extended by 2″ for their Tier 4's. And one more interesting tidbit I noticed in the Tier section: Commander Stryker's Tier includes Stormblade solos. Having scoured the book a few times now, I can't find anything about a Stormblade solo. So while its possible this is a typo, it looks like Privateer Press still has plans in the works for future Cygnar releases.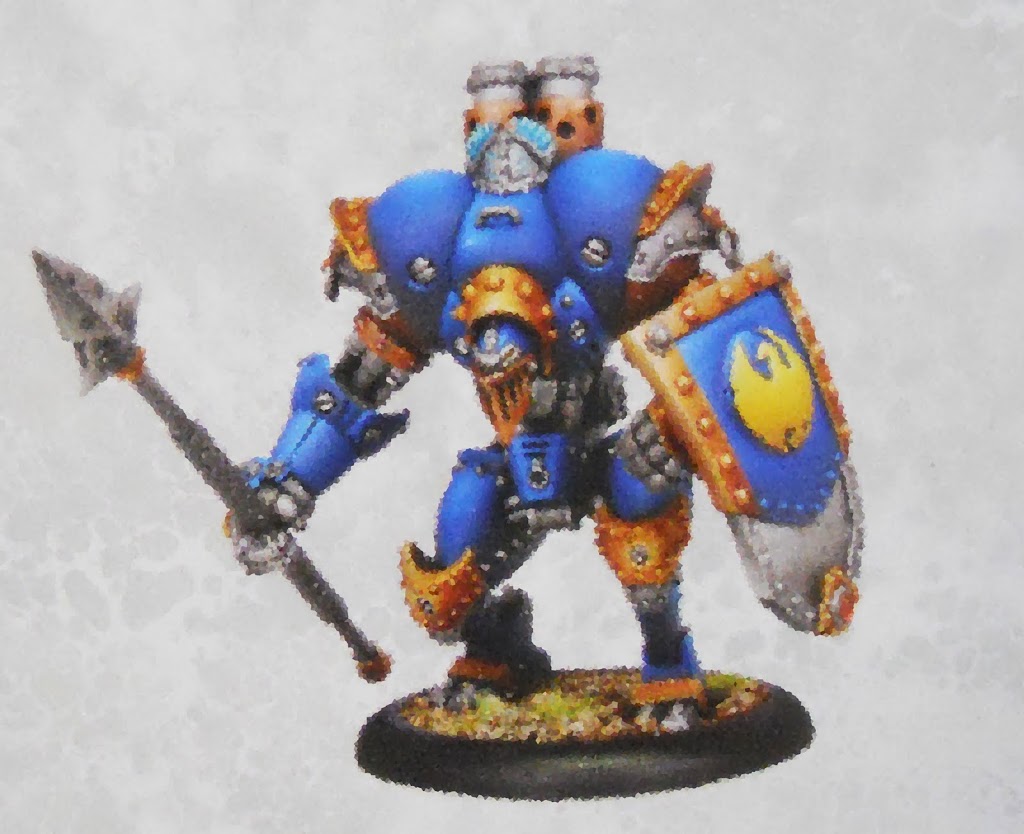 The final tidbit is in the gallery section where you will find pictures of the new improved sculpts of the Cygnar light warjacks in their new, presumably plastic, versions. These models are considerably bigger than the older versions, towering over infantry in a way they never did before. Sadly these are the only new sculpts I could find pictures of, so you'll just have to keep checking in back here. We'll post 'em when we get 'em. Finally, enjoy this video overview of the book itself:
~ Hope you enjoyed this preview of the latest Forces of Warmachine book. It hits store shelves on Wednesday February 3rd so go head down to your LGS and check it out. Make sure to be back in a month when we should have the info on the upcoming Khador book!