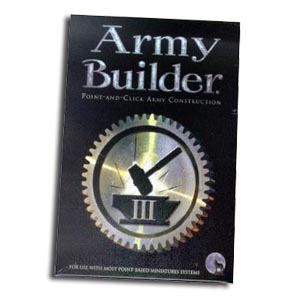 Yesterday, saw a bit of activity on the legal front.
Lone Wolf Development, the company behind the Army Builder list construction software has sent out a set of Cease & Desist notices to various forum operators including Privateer Press, demanding the term "Army Builder" be monitored and their users educated on its proper definition as a registered trademark. Here's the central issue from the letter:

The second thing that needs to be addressed is that your forum users must be educated about the term Army Builder being a trademark and only applicable to our brand of products. This is necessary to avoid an ongoing problem and mitigate the future need for removal of improper posts. I'm sure you would also prefer that the forums continue to run smoothly and without interruption, so your assistance in getting forum users to utilize appropriate terms will benefit us all.

The term "Army Builder" is a brand name specific to our product – it is *not* a generic term. We are prepared to educate your users about this fact via posting ourselves on your forums. However, it would probably be more productive if you handled this through an official announcement, and it would also provide Privateer Press with control over how the process is handled. If you choose to make a general announcement about this, we have written an explanation of the situation that is targeted to consumers. I've included the text of this explanation at the bottom of this report, and you are welcome to use it if you wish. You can present your own explanation if you prefer, provided it portrays the situation accurately.
Privateer Press has decided on a course of action to replace the phrase "Army Builder" across their forums, with a reference to iBodger; third party iPhone army construction tool for Warmachine/Hordes.
~Noted without comment…