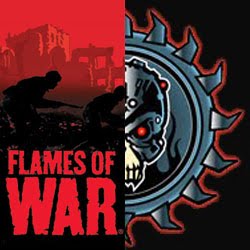 There's More Than Just Tourneys at AdeptiCon! There will be Flames of War. Come check out some of the cool events and stunning boards you can take part in!

Well AdeptiCon 2010 is only a few weeks away and we thought we would further tempt you with a sneak-peek at the event games that Game Korps will be hosting throughout the weekend. In addition to the three tournaments and continuous demo games, we will be hosting some great historical scenario games on some absolutely stellar boards. So if tourneys aren't your thing, why not join in one of these fantastic games!
Omaha: The Battle for Draw Three – Easy Green – Friday @ 6:00pm – Midnight, and All Day Saturday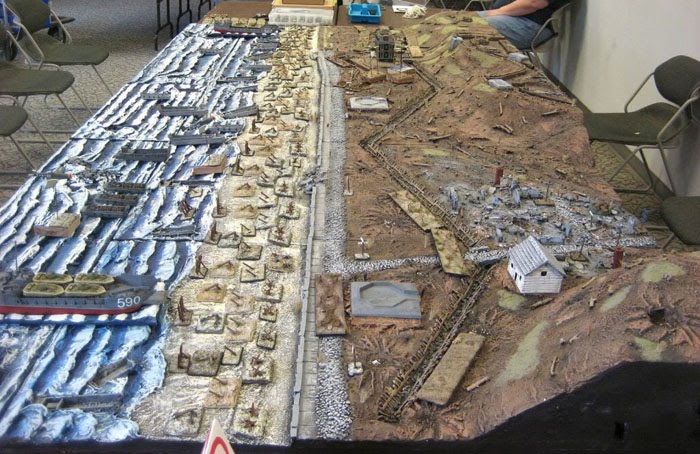 On June 4, 1944 General Omar Bradley's G2 section discovered a horrible secret about the beaches of Omaha…the entire German 352nd Division had taken up positions on the beach! Come and join elements of Company F, and G as they battle brutal German Machine Guns and the ever-present French surf. Walk in the tactical footsteps of Major Sydney Bingham, the real hero of Easy Green, who after leading a failed attack up the buffs, won the day by outflanking his enemy and taking St. Laurent Sur Mur.
Play on this amazing board constructed by Scott Curry and the fellas from the Central Illinois D-Day Society (aka Game Korps – Hotel Kompanie!). This event will run Friday night and throughout the day on Saturday. Registration is not required, so stop by at any time to participate in one of the most pivotal battles of all time! All miniatures will be provided.
Party with the Partisans! – Friday @ 8:00PM – Midnight – 8 Players
Got nothing else to do on Friday night? Well join the guys from Game Korps – Golf Kompanie as they host a totally unique mini-tourney experience using the Partisan & Polizei scenarios from the "Firestorm" campaign box set.
Partisan and Polizei represents the brutal guerilla war fought behind the German lines during the Great Patriotic War. With this skirmish level game, players will command a Soviet partisan band, as they try to control the vast countryside of Byelorussia and disrupt the over-extended German supply lines. Players will also play as the German Polizei units as they secure the vital bridges and cross roads critical to the war effort.
Each player will play the four scenarios as both the Soviets and Germans, (total of 8 games). Games will be fast, furious and a lot of fun! Minimal experience is necessary and rules will be taught throughout the games. So come and Party with the Partisans!!!
The Devil in Baggy Pants – Sunday @ 9:00am – Noon
In the early hours of January 22, 1944 the Allied army launched Operation Shingle, with the goal of turning the German defenses on the Winter Line. Intelligence suggested that five or six German divisions were in the area and they were worn out after the defensive battles in September. Resistance had been expected, but the initial landings were essentially unopposed. However, the Germans had made contingency plans to deal with possible landings at all the likely locations. Join the mobile reserves of the Hermann Göring Division as they hastily react to the invasion or the U.S. 504th Parachute Infantry Regiment for their eight week stay on the Anzio beachhead.
Once again, the Golf Kompanie crew hosts a premier historical scenario! Pete Matusak constructed this fantastic board and the Golf guys have prepared an excellent game for you all. Don't miss out on this event! But if you do, then check out our next exciting mission…
The Battle for the Ludendorff Bridge – Sunday @ 9:00am – Noon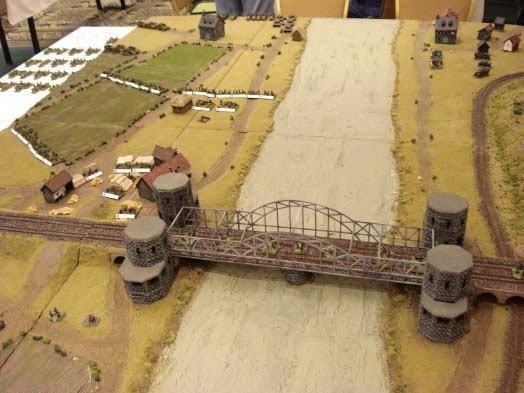 American forces are pushing towards Berlin in an effort to seize one of the last intact Rhine crossings; the Ludendorff Bridge at Remagen. As elements of the 27th Armored Infantry and 9th Armored Division roll through the town, a few battered Grenadier platoons and Volksturm attempt to hold the bridge. If necessary, they will destroy it themselves!
This event, brought to you by Game Korps – Baker Kompanie, is truly a one-of-a-kind experience. When was the last time you saw a bridgehead scenario at a con? This board designed and constructed by Dean Rapp and the Baker Kompanie Boys is truly a labor of love. The scenario is totally historical, using historical forces and historical events from the battle. Designed for seven players with little or no Flames of War experience. Come and roll across the Rhine!
Flames of War Demo Games – All Weekend!
Never played Flames of War before? Want to learn? Well you are in luck as Game Korps and Battlefront will be running four different demo games at the GF9 booth, all weekend long. These 15-20 minute mini-scenarios will give you a good feel for how the game plays. Each demo table will be a unique experience. Beginning with demo table #1, games will progress in complexity allowing players the opportunity to learn the most important elements of the game. Players who tackle all four games will receive a unique reward for their efforts!
Extra Sneak-Peek…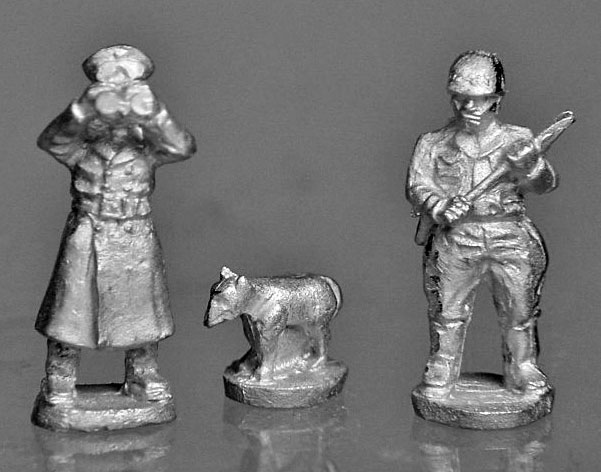 Attendees who participate in any of the three tourneys will be receiving 3 custom, 15mm minis. We thought we would give you a look at the finished product. Sculpted by Steve Saleh, these figures are one-of-a-kind and will only be available at AdeptiCon. The three figures represent General George S. Patton and his dog, "Willie" and Generalfeldmarschall Erwin Rommel, the "Desert Fox". So if you need another reason to attend, put this one on your list!
So there you have it. We have a full slate of events from demos to a six-round championship tourney. And we have some very cool SWAG for you. So if you aren't too busy March 26-28, 2010, consider joining Battlefront and Game Korps in Chicago for some awesome historical events designed to round out your convention weekend!
~This is one of the "hidden gems" of Flames of War. Its 15mm scale makes for spectacular boards that really pull you into the environment. That "Devil in Baggy Pants" has me drooling already. See you in Chicago.