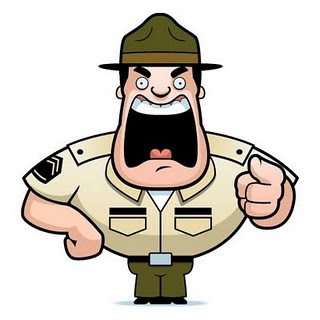 We have been preparing for the Adepticon Gladiator, using the Primer Missions, and I've got some thoughts that I'll share with those of you who are interested – if you are not interested in the Adepticon Gladiator or crazy missions, this post is really long and likely boring for you – I don't even have pretty pictures for you to look at.

I'll assume that you can read the mission sheets yourself, to follow along with the evaluation of each that I'll give below. If you aren't interested in reading the missions with my evaluation, then you probably do not have an interest in the Gladiator, so you can just go look at some pretty pictures instead.
My basis of evaluation is shooting for a maximum score. Anything losing more than a few points is unlikely to win the overall, so I'll be looking at how to get all the points in each mission.
Gladiator Mission 1
The first mission is Night Fight 100% of the time, except when shooting Superheavies and Gargantuan creatures. The game is played lengthways, so the deployment zones are very deep. The objectives are a center objective, controlling terrain pieces, and victory points. Each side has a Vortex Grenade. One bonus for killing enemy troops, and two bonus for using your Vortex Grenade.
Surprise Hero Units: Marbo, Lictors, and the Calidus Assassin, all of whom let you toss your Vortex Grenade anywhere on the board. This is the ideal thing to prevent the enemy from contesting the objective too early, or removing that Land Raider Crusader full of Assault Terminators.
Who Benefits?
This mission is 100% fantastic for Mechanized Imperial Guard. Mech Guard have tons of Troop units to continually contest or hold the central objective, and should have good Outflanking in the form of Valkyries and Vendettas to head for the enemy rear areas and be sure to kill the enemy Troops for the bonus point. It is worth considering adding in a pair of Basilisks, just to rain death in this mission.
Tau will also do extremely well in this mission, as their Blacksun Filters will allow them to destroy enemy armor with relative impunity. The only difficulty is that the central objective will be hard for Tau to hold against anything Imperial.
Mechanized Marines will do well, as they have the staying power to hold or contest the middle. Lysander can get in the middle and hold it the entire game, with a little luck. (If the enemy doesn't Vortex him).
Mechanized Sisters of Battle, especially Vulkanized (Space Marines with heavy SoB allies), will really love this mission. Tons of twin-linked short range firepower is awesome when the average shot is < 21".
Chaos Daemons can appear on the objective and all over the enemy or far enough away to ensure that they are hard to deal with. And the Gargantuan Daemons are fantastic for a mission that is essentially King of the Hill.
Who Suffers?
Anyone with a Superheavy or Gargantuan creature that isn't a Daemon hates this mission. At least Imperials and Chaos Space Marines have searchlights and will be able to get their Titans shooting at something without just getting mauled.
Eldar hate knife fighting, and this is a knife fight. Eldar are forced to plop Eldrad and a big squad on the objective in a Fortuned vehicle immediately, and will have to do a lot of nifty magic tricks to hold the center. And Eldar Titans have to move and have no searchlights (no wonder their race is dying).
My Strategy:
Grab the central objective ASAP, then contest it for the rest of the game. Toss my Vortex Grenade in the path of the oncoming enemy and make them deal with it as long as possible. The secondary and tertiary should handle themselves, more or less.
Mission 2
Pitched Battle deployment, everything outside of the two deployment zones is a minefield. Primary objective is Kill Points, secondary get scoring units in the opposing deployment zone, and the tertiary is kill the cheapest opposing unit. Bonus of one point for killing all enemy Heavy Support, and two points for having the most Kill Points alive at the end. Any model that moves more than 6" or runs in the minefield takes a dangerous terrain test.
Surprise Heroes unit: Ork Gretchin, who remove a minefield by entering it can let the Orkish horde roll forth unslowed by the minefield. A good use of a cheap unit.
Who Benefits?
Imperial Gunlines are the winners here. Most Imperials will want to move some units forward 6" at the most anyway, so the minefield means little to them. Outflankers and Drop Pods allow you to get units into the enemy deployment zone without taking any risks with the minefield anyway.
Eldar and Dark Eldar don't mind the minefield. Yes, they will want to stay out of it, but their speed means they only have to risk one turn in it to get across for the secondary goal.
Tyranids are overjoyed about the minefield. Anything that slows the rate that flamer-loaded tanks get to them is a winner, and they'll have enough Spore Pods and outflankers that the secondary should be easy enough to get.
Who Suffers?
Orks who don't wise up and take a unit of Gretchin for minefield disposal will have trouble delivering the goods.
Mechanized assault armies are going to have to press the red button and hope for the best. The 5 Land Raider Black Templars player is the one who most hates this mission.
My Strategy:
Cross the Minefield, fight over on the other side of the board. With a little luck, I'll be able to tear into a relatively stationary enemy force and demolish it. The secondary objective is the primary for me; Kill points will handle themselves if I focus on bringing death on a visit.
Mission 3
Diagonal Deployment. Primary objective is Seize Ground (3 objectives), secondary is scoring units in opposing deployment zone, and tertiary is kill the most expensive enemy. Bonuses are two points for having no models in your deployment zone and one point for using the Warp Flux. The Warp Flux allows you to redeploy any non-vehicle non-gargantuan unit via Deep Strike, with no reduction in scatter (except for hits) – and they may assault after Deep Strike! Doubles on the scatter die and the unit is destroyed.
Surprise Hero Units: No surprises here – dedicated assault units are going to wreak tremendous havoc in this mission. Try to open up a transport near other vehicles, dump attacks on the vehicles and be alive and stuck in combat for the opposing shooting phase. This may be the mission where someone kills 100+ models with the Doom of Malan'tai.
Who Benefits?
Armies with cheap strong assault units, like Khorne Berserkers, Genestealers, and Orks, and generals not afraid to risk everything on a roll of the dice. Popping a unit of Assault Terminators into the enemy lines will be a game breaker (success or failure).
Pure Sisters of Battle, with their Acts of Faith and combination of good transport opening ability and excellent short range firepower can get a lot of value from their units in this mission.
Who Suffers?
Imperial Guard Mechanized Gunline hates this mission – there will be assaults on the tanks on turn 1, and probably every turn, no matter what.
Necrons have nowhere to hide. Poor Necrons.
Eldar are a maneuver army. Guess what is faster than your Star Engines? A Warp Flux.
My Strategy:
Get units locked in across the board and fight over there. This is another mission that the secondary is my primary goal; I'll be able to handle the Primary if I do enough killing in their deployment zone.
Mission 4
Spearhead Deployment. The Primary objective is Seize Ground (5 objectives). The secondary objective is modified kill points that brutalize Superheavies and Gargantuan creatures. Couple that with the Cold Start rule (your opponent picks one of your units, which must deploy and can do nothing for 2 turns), and this quickly becomes the least fun mission for people with big toys or key units. Of course, it also is a swell rule for killing Eldrad, if you really want to whack him like a piñata. The tertiary objective is having units in table quarters. Bonus points are one for eliminating enemy elites and two for your opponent controlling no quarters.
Surprise Hero Unit: Imperial Guard Platoons, which give one KP for the whole Platoon but can be in every quarter of the board are definite winners in this scenario.
Who Benefits?
Any army without a key unit is very happy with this mission.
Imperial Guard, Orks, and all Marine variants without heavy HQ units will be very happy.
Tyranids with lots of small bugs, especially Tervigon heavy builds, love this mission.
Again, the Sisters of Battle will do very well, as their Exorcists are the perfect weapon for sniping that Cold-Started target and bringing it to an unfortunate end.
Who Suffers?
I have no idea how the Cold Start rule would affect Flyers; straight Apocalypse reading would have them removed from the board when they did not move (back into Reserve), but I doubt that is the intent.
Eldar Revenant Titans are utterly ruined by this mission. The simple existence of this mission means no Eldar Titans will be brought by anyone wanting to win.
Warhound Titans are definitely reduced by this mission, but they have more stamina for taking a round or two of shooting while standing still.
All other Superheavy and Gargantuan targets take a licking from this mission as well.
Key characters will be a major drag on their armies in this mission, especially guys like Shrike and Khan, who lose a lot of their charm when they cannot use their special powers for deployment.
My Strategy:
Obviously I'll freeze their best killing unit and try to take it out before it activates. I will be hampered by the Cold Start, but I've got some ideas on how to get my bang for the buck, even if my best guns are silent for 2 turns.
Mission 5
Pitched Battle Deployment. Primary objective is Pushback, which means you must have your models further from your deployment board edge than your opponent has his models from his board edge. This is coupled with Unfortunate Deployment, which lets each player place 4 models of the opposing force. It's doesn't take a genius to figure out that gun platforms and Drop Pods are serious liabilities in this mission. The secondary objective is have more different categories of units alive than your opponent, and the tertiary is kill your opponent's most expensive HQ model. Bonus points are awarded for no enemy units in their deployment zone (one point), and having units of each Force Org category left alive at the end of the game (two points).
Surprise Hero Units: Trojan and Atlas tow vehicles could save the day for an Imperial Guard player. An Ork Stompa with a Lifta Droppa could throw an enemy vehicle back into it's own deployment zone for a late game win.
Who Benefits?
Armies that tend to fill the Force Org with durable units at 2250 will be very happy, which means Orks, Marines, and Imperial Guard are once again looking good.
Eldar will have the Force Org mostly filled, but no solidly durable Fast Attack choices hurts them; otherwise, this is one of the best missions for the Eldar. The deployment zones aren't big enough to keep the Eldar from getting their commander into a vehicle at the end of turn 1, unless they are poorly built.
Tyranids like this mission because their HQs were already prime targets that couldn't hide – now their opponents are in the same boat with them (except without toughness 6).
Who Suffers?
Anyone with fragile and important HQ Independent Characters are going to give up the points for the tertiary, but that's not important – you get nothing for denying the tertiary. The big losers are people with immobile units, as those units will cost the primary objective. Imperial Guard tank lines are going to have trouble if they go second so many tanks means a vehicle is almost certainly going to get immobilized very close to their edge.
Space Marines with Drop Pods are going to have the worst of it on this mission; not only are their Pods going to be penalty boxes, but 4 units that would have been able to ride in them will be stuck walking.
The Doom of Malan'tai takes a beating in this mission as well; I can't imagine an enemy that won't place the Doom in it's own deployment area, centered.
My Strategy:
My goal is to get my enemies away from their transports. I will place every Land Raider I can in reserve, and I will hope to immobilize one or more in the opponent backfield. Of course, I can see the same thing happening to me, so this mission gets very random very quickly.
Mission 6
Dawn of War Deployment. Primary objective is Capture and Control, secondary objective is Victory Points, and the tertiary objective is kill the enemy's most expensive HQ model. Bonus points are given for killing all opponent Fast Attack choices (one point) and having no models in your deployment zone (2 points).
Special Rules: Disinformation lets each player force one enemy infantry unit it reserve. Further, this unit has to come out from a tunnel that the enemy chooses (you force your opponent's unit to come out a tunnel of your choice). What tunnels, you say? Each player places 2 tunnel markers, more than 12" from the board edges and each other.
Surprise Hero Units: Outflankers and Deep Strikers are almost requirements for gaining control of an enemy objective in these scenarios. Look for Snikrot and Wolf Scouts to earn big dividends in this mission.
Who Benefits?
Titans and Superheavies love Dawn of War, as they have a chance to get on the board and do some real damage, without the danger of too many well positioned enemy units hitting them right off the bat.
All Bike armies will enjoy this mission, as the Disinformation rule doesn't affect them at all.
Dawn of War deployment means that the fast movers of the Eldar will be very good in this scenario, but the Disinformation rule almost certainly costs them Eldrad.
Tau are excellent night fighters, and can do a lot on turn 1, with a bit of luck.
Assault armies benefit from the Night Fight on turn 1 against most opponents, and the tunnels ensure that Reserved infantry can be put to good use most of the time.
Who Suffers?
This is another mission that makes the lives of Independent Characters nasty, brutish, and short. Farseers, Librarians, and other heroes that work best with a retinue will have a lot of trouble with this mission, not to mention that not having a key unit on the board for at least one turn, and then having it appear in the least convenient place sucks for just about anyone.
My Strategy:
Likely I will hold a lot of my infantry in Reserve to come out of the tunnels, if for no other reason than to provide my Disinformed unit with some support. If possible, I will Disinform the enemy commander and use the tunnels to bring him out in some very nasty place.
And The Winner Is?
I think, just due to numbers of armies present, Tyranids and Codex Marines are the most likely to win the Gladiator this year, without Superheavy or Gargantuan components. My Dark Horse choice is Sisters of Battle, who have a lot of shortcomings reduced by the missions. Anyone who tries for a Warhound with Flyers, basically mimicking last year's winning army, will be sadly disappointed and end up in the middle of the pack at best.
Adepticon is less than 3 weeks away, so get painting, start to eye those suitcases, and come ready to have a blast. Your Gladiator plans and predictions?