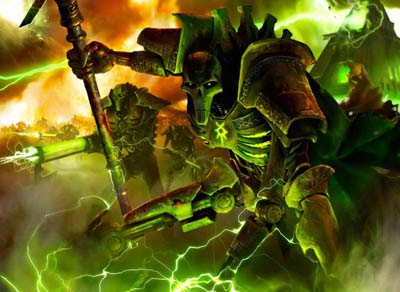 So sometimes rumors arrive from totally vetted cross-referenced sources. And sometimes a giant flaming pile of Necron scuttlebutt falls out of the clear blue sky (with extra inter-office politics thrown in for good measure). You've got to read this:

via the virgin poster: Necrons2011
…Necrons have completed the initial concept phase of their line expansion. Release schedule is currently for January 2011.

This conceptual phase has been stop-start for some time – it is a product range that has massive potential, and Games Workshop have been very uncertain of the most lucrative theme by which to capitalise on its fanbase. The development is considered a high-risk investment – a commitment problem that the team is well aware of, and is exacerbated by there being multiple such high-risk line expansions currently being pursued.

3 multi-part plastic kits have been finalised as:

– Immortals
– Spyders
– The Necromancer

Immortals are on a large (35mm) base; they are redesigned as larger, bulkier and more dynamic.

Spyders have 3 different builds

The Necromancer is the central sell of the line expansion and has been the focus of much of the early design process. It has been through several incarnations (and names), but is essentially of the same principle as the Bone Giant for the Warhammer Fantasy range. It has a mechanised skeletal torso housing a suspended crystal, and will likely have a choice between two horrific weapons.

That is all the information I can disclose. I will not post any more.

I would like to add that development staff are getting very frustrated by headquarters' increasingly tyrannical policies – within and between departments – with regards to information restriction. It's absurd, and unnecessary.
~Now BIG GIANT caveats on this one, but a couple of things to consider when evaluating things like this. Information from unknown sources could equally be the sign of a hoax, or of a genuine source just getting stuff out there in a never before used medium. Secondly, not one of the standard talking heads the community knows and has learned to trust has stood up and shot this one down as misinformation. Interesting indeed…