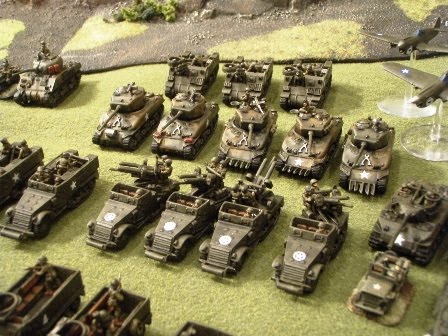 The Americans are supposedly the second most popular army in Flames of War, right behind the Germans. The U.S. doesn't appear until the mid-war period in the North Africa book, and it changes little throughout the war. In terms of popularity, the U.S. is said to be right behind the Germans as a choice of army. It is a good all-around force with great support options, and the potential for lots, and lots of units on the table.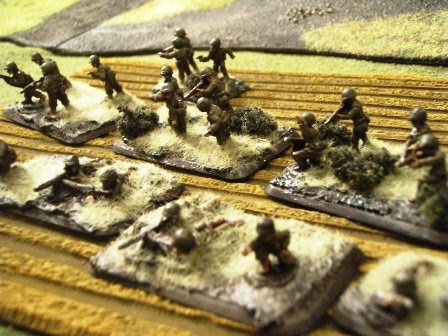 Strengths:
*Mobility! From the Stabilizers on their tanks that let them shoot at full rate of fire on the move, to the Truscott Trott which allows the infantry to move 16″ instead of the standard 12″ when they double, American forces can get where they need to go. The faction also has the greatest number of motorized and mechanized options in the game.


*Good and plentiful artillery. A U.S. Rifle company can easily drop 4-6 templates on its enemy every single turn. Mortars, multiple artillery batteries, and aircraft are found in abundance, and are relatively cheap compared to those in other nations' forces. The time on target and good communications rules help the artillery even more, forcing the opponent to re-roll successful saves when an artillery round ranges in on the first attempt, and allowing almost any platoon commander to call in artillery support. In late war the Americans also gain access to spotter aircraft for their artillery. The aircraft are able to fly anywhere on the table to spot enemy units that would otherwise be hidden by terrain. The plane can only be shot at by dedicated AAA units or enemy air support, which keeps them very safe in most games. Add in the possibility of multiple mortar platoons and American players have the opportunity to drop five or more templates onto their opponents each and every turn at standard points levels.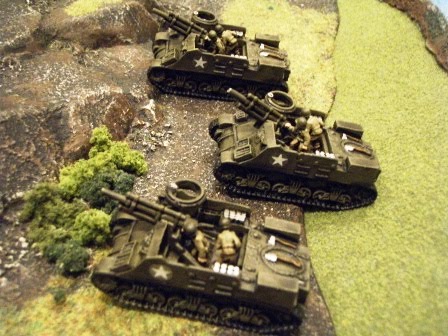 *Numbers. I'm sure most of us have the image of the vast hordes of Soviet infantry, but the U.S. can field just as many models. The difference is that while the Soviets will field a few very large platoons, the U.S. will field many decently sized units. For example, a typical German rifle or pioneer platoon (whether mechanized or on foot) may have 7 stands of troops. An American rifle platoon has 11, and the armored rifle (mechanized infantry) platoon has 14. And it doesn't stop there! Having Confident Trained units instead of Confident Veteran means you will have many more platoons in your army than a German player. In mid-war, even my mechanized army has 8 units, that's more than many German foot-infantry lists!
*Versatility of the models. Some nations receive many new units from mid to late war. Most of the U.S. arsenal remains the same, meaning that adding just one or two models can turn a mid war army into a late war force. That's great for the pocketbook and for the back when you don't have to haul as many things to the game store.
*Bazookas! Bazookas are only average during the shooting phase with their rate of fire 1, anti-tank 10, and firepower 5+, but they shine when assaulting armor, and U.S. forces can take a lot of them.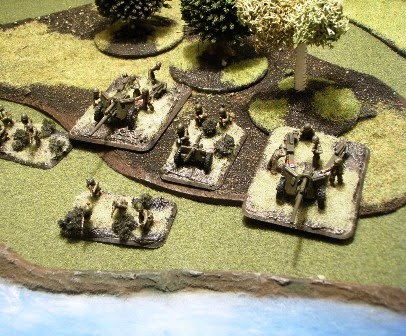 But as with every other nation the Americans also have their weaknesses.
*Weak versus heavy tanks. Where the Germans, Soviets, and British can take AT13 or better guns even in midwar, the U.S. only gets up to AT12, and is limited to AT10 in the mid war period. That means the U.S. has few ways to kill a heavy tank other than bazookas in the assault, aircraft, and dropping lots of artillery on it. Massed volume fire from Sherman tanks can work against some armor, but often only when getting around to the side, and that can be difficult versus a good opponent. The real trick in late war, when heavy tanks are everywhere, is to put your opponent into the difficult position of either staying back and getting bombed to death or assaulting your dug in infantry with multiple bazookas.
*Limited numbers of company choices. The Soviets, Germans, and even British have a plethora of company-types to choose from when creating a list. The U.S. is far more limited: Tank, Armored Rifle (mech), Rifle, Cavalry Recon, Ranger, Paratrooper, and beach Assault companies from the D-Day Supplement. While having a small number of standardized models and unit choices is great from a purchasing perspective, it also means that one U.S. list will tend to be similar to any other.
*Average tanks. Sherman tanks are great against medium tanks (and they cost many points for that advantage in mid war), but have a very difficult time against Panthers or any heavy tank. M10 and M18 tank destroyers which are supposed to do the job still struggle against the front armor of many late war tanks, and are difficult to get the most out of for their point cost.
*Limited access to Veteran companies until late war. In North Africa, only the Ranger and Paratrooper company's are Fearless, and only the Para's are Fearless Veterans.
*Mechanization. Although the mobility and immunity to most small arms fire is great, the point costs also rise. German and Soviet forces are able to take mechanized infantry or tanks along with standard towed artillery and man-packed mortars. The American units have to pay the are forced to take mechanized supporting units meaning their support options will cost a little more than the player might otherwise wish.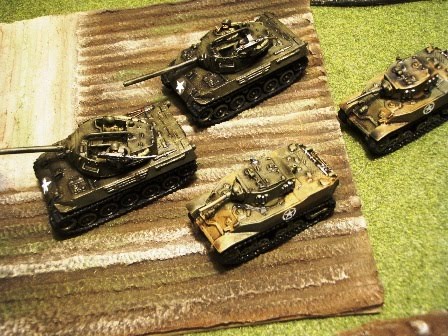 You can find U.S. company lists in the following books:
Mid War
North Africa– Tank, Armored Rifle, Rifle, Cav Recon, Ranger, Paratrooper
Late War
Fortress Europe– Tank, Armored Rifle, Rifle, and Cav Recon, all as either fresh troops in France or Italian veteran units
D Minus 1– Paratrooper and Glider Airlanding, including the 82nd and 101st divisions.
Bloody Omaha– Ranger and Beach Assault company's for the 1st 'Big Red 1' Division and the 29th 'Blue and Grey' division
Cobra– Tank, Armored Rifle, and Armored Recon as either the 2nd or 3rd Armored divisions. The 2nd Armored is rated Confident Veteran, the 3rd is Confident Trained.
Hell's Highway– 82nd and 101st Airborne paratrooper company's, with options for British units as support choices, including the fantastic Sherman Firefly tank variants.
The Americans are a great army. They have the numbers to be forgiving for beginners but also enough choices to keep things interesting for the grizzled veterans. The faction consistently places well in major tournaments. I've been having a lot of fun recently with my Armored Rifle mechanized force. It was a little pricier to collect, but it's been great to play and has the tools to deal with most any opponent.