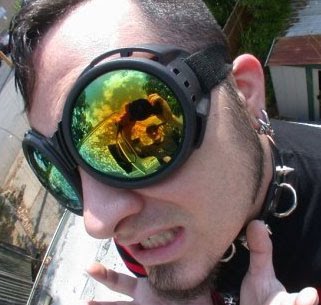 Goatboy here again, talking about 40k. So that was a fun few months of Blood Angels rumors eh? So the black boxes are hitting stores. I know locally we haven't seen it fully yet, but there is enough eyewitness reports to see what is going on. Today I just want to talk about some of the things that are exciting to me about the codex and some things that I am just kind meh about.

I Likes!!!
First of all the exciting stuff. Well with Mephiston being a complete bad ass, it just means I need to find some way to convert a cooler looking one. The original model is too "I want a hug" for me, so something a bit more "Super Awesome Space Vampire 4000" for me. Of course this is all after I finish my Tyranids as well as client work. So most likely this will be a long wait before I get into Space Vampires. So what I see with Mephiston is a pretty neat "super" character that follows the same sort of flow we have seen in the latest codexes. Now of course he is for the most part, a combat monster so a smart player will just find ways to ignore him or send the proper tool to resolve the situation. Thunder Hammer terminators should do a nice job of cleaning up the mess and ramming a ton of silver stakes in his glittery heart. If an opponent takes him I won't be too upset as he has obviously sunk a lot of points into this monster as well as a way to make me care about him via some kind of vehicle or other wound sink to hide him in. Still at least he is as bad ass as he is supposed to be according to the fluff.
Second I really like the overall force org change around. Baal predators hitting at fast attack is really really interesting. Mix that with fast and a pretty scary flame attack and you have something that could be a very neat addition to the army. Think of it this way, your cheaper lascannons pop whatever metal boxes you see in front of you and all those juicy bits inside are just waiting to get covered in the Emperor's forgiving flames. The idea of a 12 inch moving TWL assault cannon is pretty sweet too, as the assault cannon excels at side shots.
Third, the massed dreadnought army that is more then just a different weapon army, it is completely awesome! The librarian dread could be pretty sweet and multiple hoods are pretty good for helping deal with Nids and the massed psychic presence of a lot of armies. Eldar must be crying at not really being able to dodge several 24 inch range hoods scattered all over the board. Plus getting a chance to throw out massed 4d6 lines of psychic beams. You mix this in with Troop Furioso dreadnoughts and you can have a massive amount of angry walkers on the table. The big issue is that those troop dreads can't score, so you have to leave some slots open for some traditional boots on the ground to secure those objectives. Still, a large amount of Armor-13 dreads and you got a scary set up for some armies to face.
Hmmm…
Now what I'm kind of meh about. Where is the Storm Raven? I know Big Red is like, "alright Goatboy go to a toy store and find some crazy GI JOE/COBRA flyer to create this" (look for that article later). I can deal with the lack of the model, but it is frustrating to not even get a chance to see a picture of what it is supposed to look like. I know making these kits cost a good deal of money and of course this model could have been a brand new edition to the range. They might wait for a massed release that will allow this to be used by all Astartes. Will just have to wait and see.
I also think the overall army rule is kinda unusual. I am not a fan of random chances for unit abilities and find that every instant of GW using this to be extremely frustrating as a player (see Chaos possessed). Could you imagine if the possessed had abilities you bought? Instead of just a random dice roll, do you think it would change how you deployed them? Look at Fantasy with Orks having to roll for Animosity every turn to see what they do? That is one of the most frustrating things, when the game goes wrong because of one roll of a 1. I know there are special characters that can help you get this special rule more often, but still it is annoying to roll a dice for every unit, before you set up on the table and see if it somehow gets a bit better.
Will this army change up the overall game? It's too early to tell really. In the end it is another Marine army so the same old methods of playing versus 3+ Marines works against this one. The Sanguinary Guard guys look fantastic to build and paint, and I'll get some but they may be a large points sink like Space Marine Honor Guards. I already have a hair-brained plan to build a crazy Evil Angels army to go with the Space Goats, so the models will certainly be worth it for future conversion work with those awesome bitz. I do like that the Sanguinary Guard kit is plastic so conversion and weight shouldn't be an issue.
When the codex hits my hands look for some army lists as I look for little nooks and crannies to create interesting lists. I am looking for an army that will look completely different and hopefully be fun to build and paint, amd most importantly an army that vants to suck your blooood…
As usual – questions shoot me a message to [email protected].