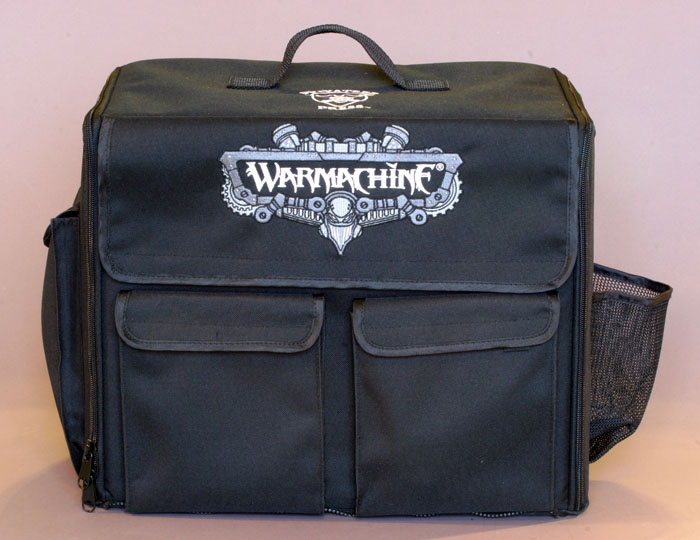 Hi guys,
Lets take a detailed look at the latest Warmachine and Hordes bags from Battlefoam.  We got to take a couple of these for a testdrive and want to give you all the skinny on them.

First off, these bags are deep.  If you are used to the standard P.A.C.K. system bags, you will note these are a couple of inches deeper, due to the upright position of the foam trays, and the very cool zipdown top and front panels.  This feature makes loading and unloading VERY easy, compared to the exercise in digging your trays out from a deep bag you can get with other products.
The bags (which are identical except for the black Warmachine and olive drab Hordes colors) have the standard Battlefoam rigid panel strength, and super dense foam. You get ample front and side pockets to stow all your gear, rulebooks and templates.  The real treat is on the back of the bag.  A zipdown storage area comes equipped with a set of 8 internal pockets perfect for holding your cards, an integrated 3-ring binder for your card protectors, and holders for markers and pens.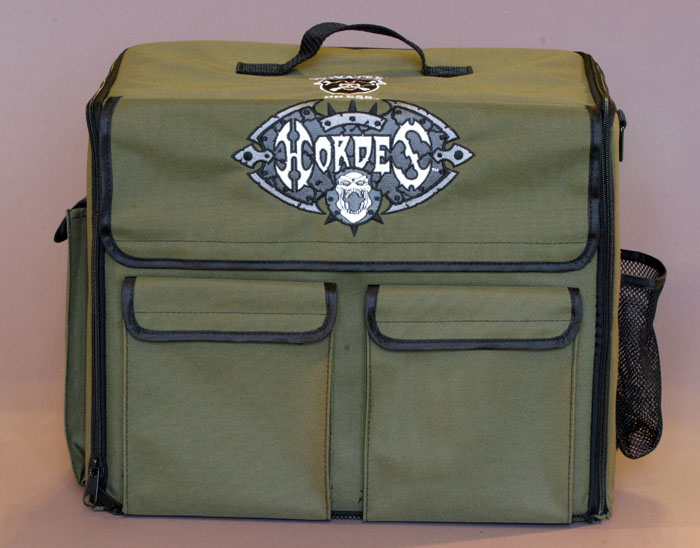 Internally the bag comes with 2 oversized trays to hold 12 warhajacks/beast apiece, a medium tray for 22 in-between sized models (such as Khador man-o-Wars), and 3 trays that will hold 35 smaller models apiece.  We have heard that this bag will hold the equivalent to 2 standard miniature army bags, and it was produced with direct consultation with Privateer Press.  Over 95% of the current Warmachine/Hordes miniatures range will fit in the default loadout, with each faction having perhaps 1-2 oversized models (like the extreme series models).  In cases like those, you always have the option to swap out a tray for a custom foam one (Battlefoam can give you the details).
Overall, its an imposing and impressive piece of work, that will dwarf all but the largest collections.  It provides a single case solution for your entire Warmachine/Hordes gaming needs, without you having to lug around an additional bag for all your non-minis gear.  It is the apex of the miniatures bag options available, and as with all things, you get what you pay for.
MSRP: $145
If you like what you see, head on over to Battlefoam and tell them BoLS sent you.  Also, don't forget about the additional coupon that BoLS readers get via the BoLS Bargains program.