Miniatures Review: Mantic Games Undead Range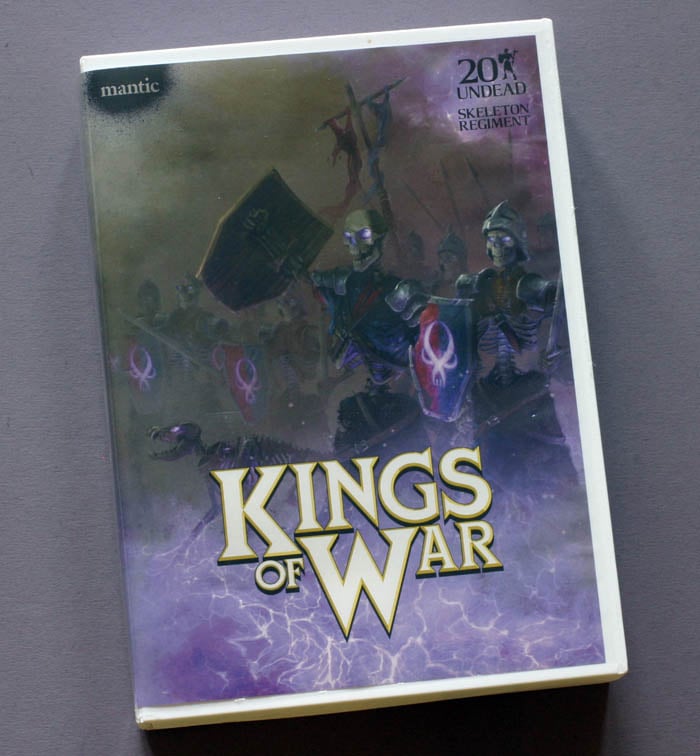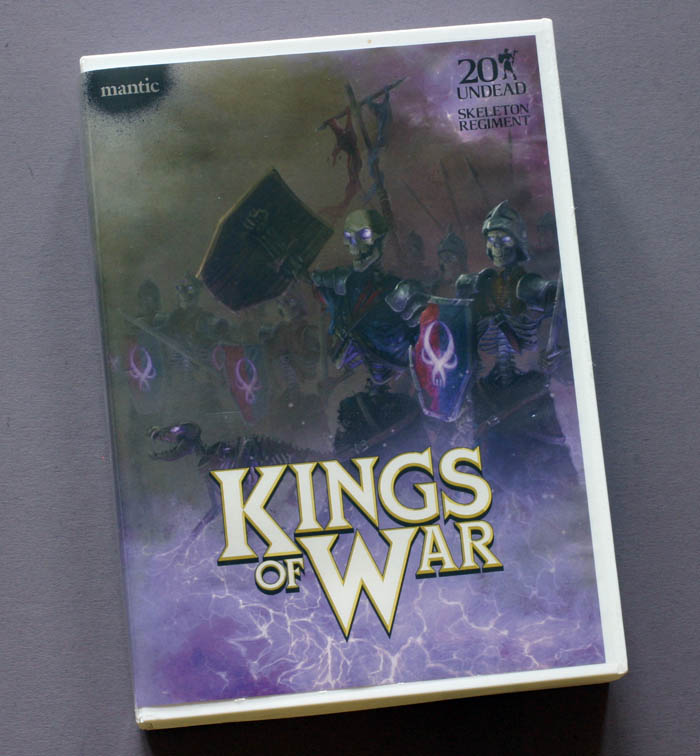 Hi guys. Today I want to talk about a new up and coming company you have probably heard about recently, Mantic Games.  I got a chance to meet Mantic and look over their product line at Adepticon and have been working up this review of their latest Undead miniatures for you all.  Lets take a look:

First off, Mantic is a new Nottingham based miniature maker, with great professional quality right out of the starting gate.  They first started making waves with an Elves range for their "Kings of War" miniatures series, but I got a hold of several review sprues of their latest Undead range and wanted to get some high quality shots and video to you.
First off you will note plastic injection molded sprues.  This is something that would be unheard of in a new company even a few years ago, but we are seeing it more and more these days, and what a win for the consumer it it.  The second thing you will note is these sprues are jam packed with not only the minis themselves, but tons of extra bits, from alternate weapons and heads, to purely thematic stuff like fancy bases, skeletal rats, tombstones and the like.  Basically you are looking at a frame that is very much on par with a lot of the overstuffed sprues coming out of much bigger outfits like Games Workshop, at a fraction of the cost.
Speaking of cost, lets look at the current pricepoints for these Undead Skeleon Regiments:
-10 man unit: $14.99
-20 man regiment: $24.99
-60 man regiment deal $59.99
Next up is the overall aesthetic.  For those of you first looking at Mantic stuff you will notice there is something a little different from the minis you are probably used to seeing.  Mantic's range uses realistic proportions as opposed to the "heroic scale" used for over a generation by Games Workshop.  Thus you have an overall more slender and fine look to the figures, as opposed to the exaggerated heads and hands you see so often these days.  But enough gabbing from me.  Lets let these pictures and a video do the talking.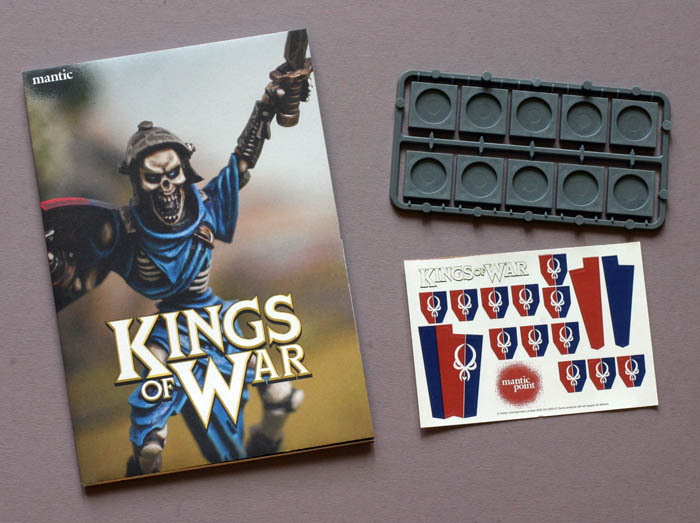 Skeleton Regiment sprues and accessories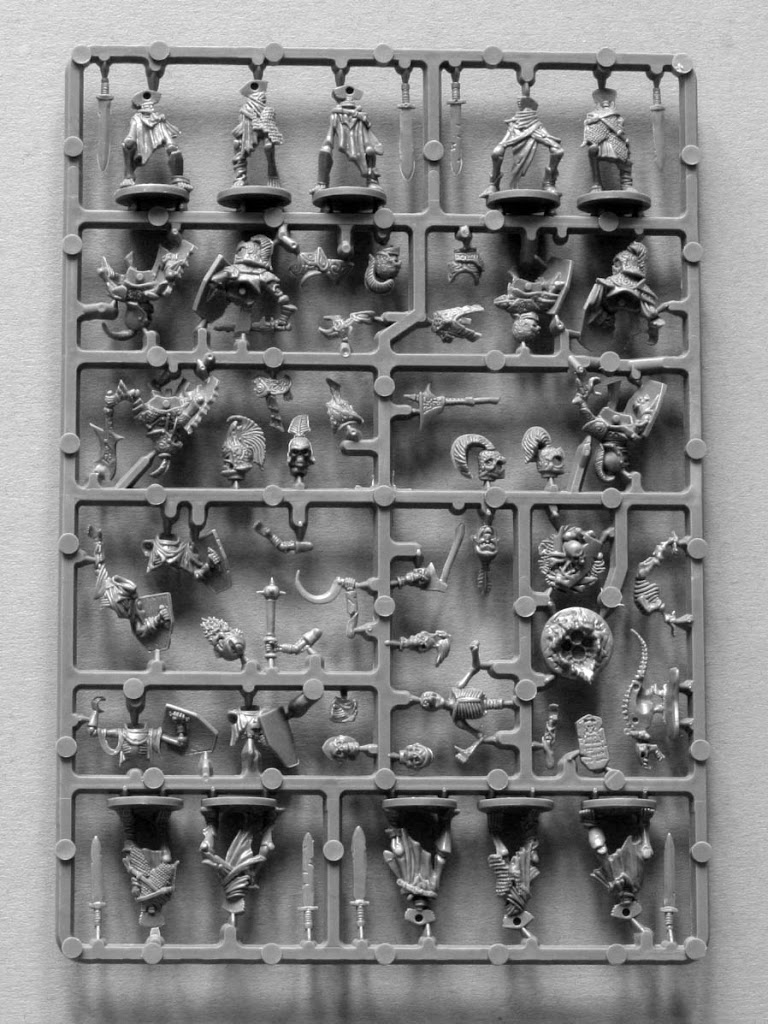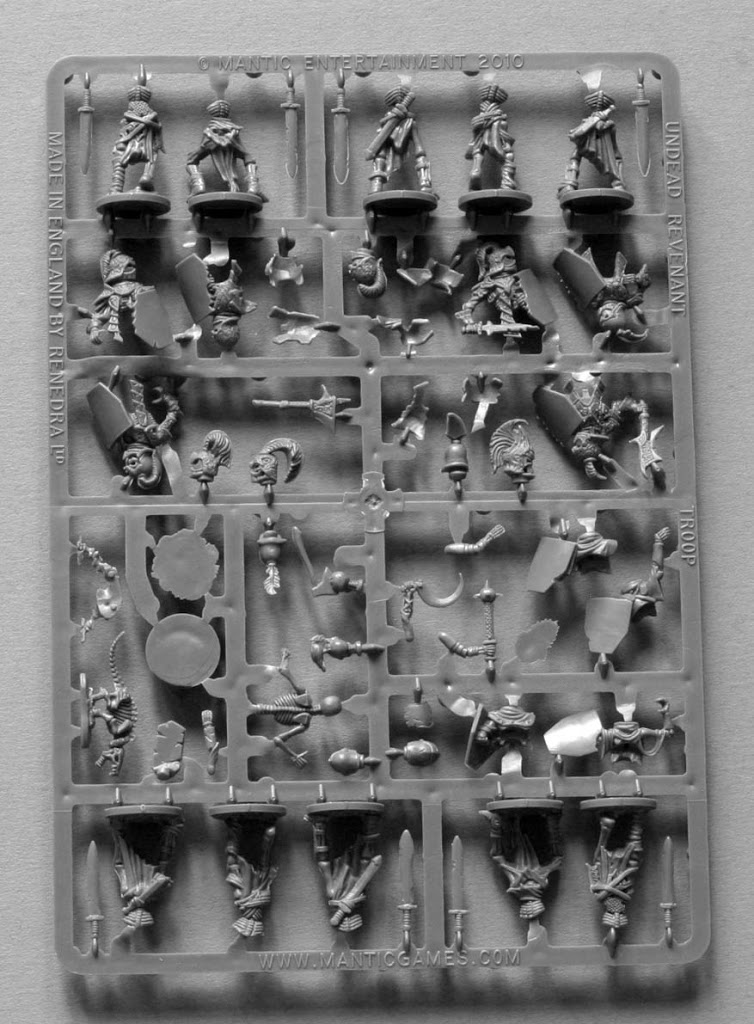 Undead Revenant sprue
Not too many months ago, Mantic's first Elves range hit the market, followed just recently by these undead.  At Adepticon, they had some very cool 3-ups of Dwarves on display.  So it would appear this up and coming company from Nottingham has some big plans for the future.
If you like what you see or just want to try our a bit of brushwork on something new and exciting in the miniatures field, go check them out at www.manticgames.com.  Tell them BoLS sent you!