40K Tactics: Enter the Duke…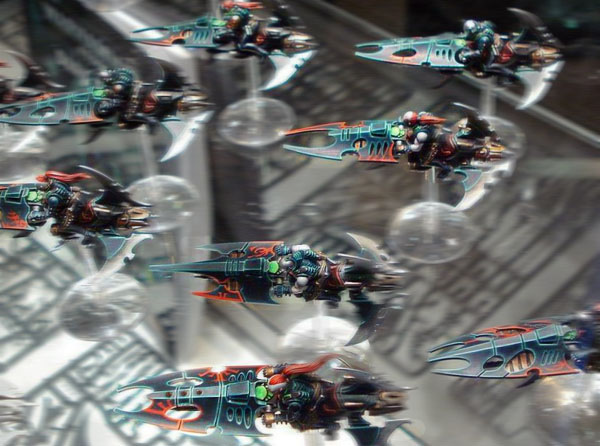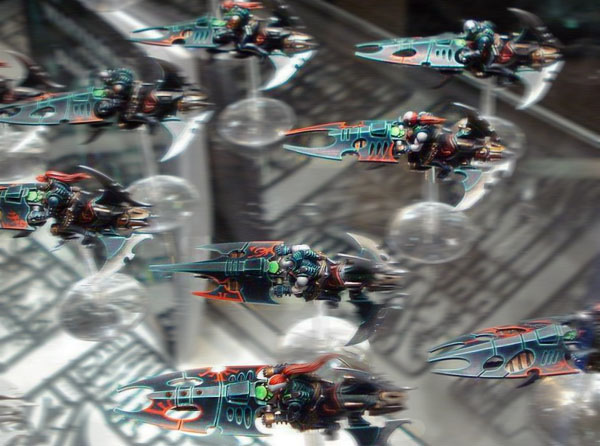 Today I want to talk about my favorite character in the Dark Eldar codex: Duke Sliscus (or "the Duck" as we call him affectionately in these parts).

We have been playing around with the Duck here in Austin and getting in as many games as we can. We've crafted a list with a lot of moving parts that seeks to overwhelm through sheer speed and movement shock as well as target saturation. The tactical theme of the list is Reserves, and the goal is playing the game of drawing the enemy in and enveloping them.
"The Duck" – 1998pts
Duke Sliscus
Urien Rakarth
9 Wracks
Liquifier x1
Raider+FF
5 Wracks
Liquifier x1
Venom
SC Upgrade
20 Warriors
Blaster x1
Splinter Cannon x2
10 Wyches
2 Shardnets
Helatrix
Blast Pistol
Agonizer
Phantasm GL
Raider+FF
4 Trueborn
4 Blasters
Venom
SC upgrade
4 Trueborn
4 Blasters
Venom
SC upgrade
3 Reavers
Heat Lance
Caltrops
3 Reavers
Heat Lance
Caltrops
Subscribe to our newsletter!
Get Tabletop, RPG & Pop Culture news delivered directly to your inbox.
Ravager
Night Shield
Flicker Field
Ravager
Night Shield
Flicker Field
Cronos
Spirit Probe
Spirit Vortex
Unit Tactics
The Duke allows all the vehicles to Deep Strike, if that is desirable, and also lets all the units with Combat Drugs choose between two rolls, which gives them a fair chance to start with Feel No Pain(FNP).
Urien deploys with the squad of 9 Wracks, who start the game with 3 Pain Tokens (1 for being Wracks, one for Urien's rule, and one for Urien being in the unit. This unit's job is to head for an objective held by something that isn't Terminators (the Wyches head for that one, especially if they start with FNP).
The small Wrack unit has a potentially devastating attack and a 2/3 chance of starting with Furious Charge themselves. Add in their superb 12 shot Venom transport, and you have a decent late game disruption and objective snatching force.
The 20-man Warrior Squad is where the Duck begins the game. He may depart for another squad or stay there, depending on the mission and his personal indulgent tastes.
The Wyches head for the hardest combat they can find, or they head out to wrap up the bad guy's firebase. If the Wyches can get a pain token they become nearly immovable for a great many units in the game. Being able to remove charge bonuses and armed with 2 Shardnets, these ladies will lock down most mega characters with ease.
The Trueborn are dedicated problem solving units, with a high volume of anti-infantry fire from the Venoms and excellent anti-vehicle fire from their blasters. These are very fragile units, but very functional.
The Reavers have Heat Lances to crack vehicles and snares to charge over infantry. Their 36" turboboost means they are excellent for late innings contesting, if they run out of vehicles and small infantry squads to hunt with their caltrops.
Ravagers are still excellent platforms for hunting vehicles, only made better by the addition of 5+ invulnerable saves and their ability to fire everything while moving 12".
The Cronos is a Pain token generation device, and can make everything just a little easier for you, with luck. It is cheap enough to be used aggressively, and low enough to the ground to be able to get cover saves – a rarity for Monstrous Creatures.
Deployment and Usage
Deployment of this army should focus attention towards the Duke and his large unit of warriors, with the Raiders and Ravagers either in Reserve or hidden (or deployed, if the volume of enemy long-range fire is low enough). The bikes, Wyches, and Wracks are used to attack towards the flanks of the enemy as they press towards the Duke, or these elements blast onto the board and head towards the enemy, if the bad guys is a static shooting force.
Our group testing has so far yielded close draws in early going against solid opponents, so with some improvements to the list and more practice, the Duck could be a solid winner… Your thoughts fellow Archons and potential targets?