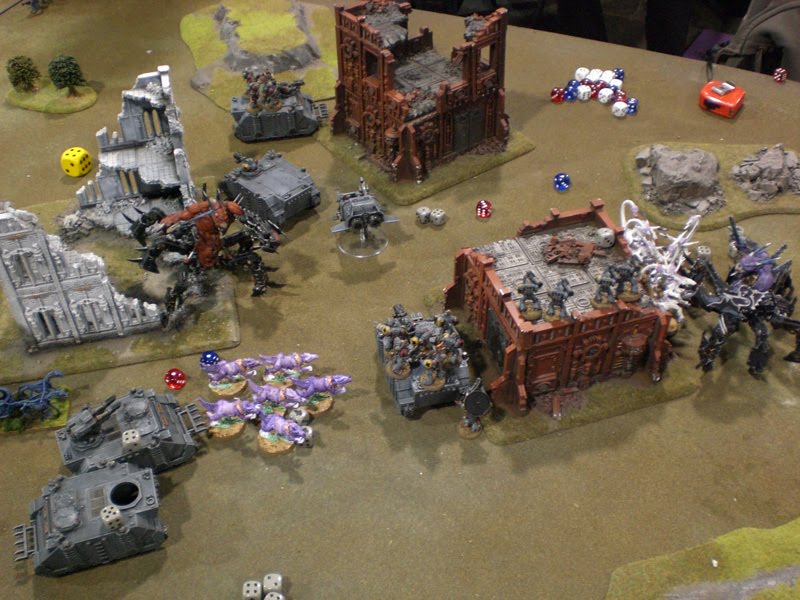 Losing sucks. Plain and simple.
But what's worse? Admitting defeat and throwing in the towel or battling until the bitter end and still losing?
Adam from the Space Wolves blog here. Some days the dice are against you, the mission doesn't play to your army's strengths or the army you've been drawn against is perfect for crushing yours. Heck, some days you should have just stayed home.
But, in the competitive tournament setting where there's everything to play for, conceding early and drowning your sorrows at the bar isn't the solution.
So here are the Top 5 most common causes for losing a game of Warhammer 40K and tips to get over them, play on and get a good game.
Who knows, you may be able to pull the battle back from the brink of defeat and scrape a Draw and perhaps even a Win!
1: You Screwed Up
Sometimes Turn 1 can spell disaster and it's all your fault.
-You decided to hold everything in reserve when you really should have chucked it all on the board.
-You shot at the wrong target.
-You forgot to fire your biggest guns or forgot to move a unit.
-Worst of all, you advanced too quickly, leaving yourself open to a devastating charge!
Last year my Tau Empire army, struggling as they were, found themselves on Table #1 in round 3 of a 2-day tournament against an Ork Battlewagon army.
Having never played the army before, I'd advanced a little too far forward along the flanks.
BAM! The Battlewagons crashed into my army, the Orks piled out and began butchering my little dudes.
I sustained so many casualties and lost most of my high strength heavy weapons. That was it for me.
I had a chat to my opponent and said I had no choice to concede, which he agreed. So we started the game again and he showed me how to play my army against the Ork Battlewagon menace and stand a chance of beating it with my Tau.
The second game was a lot more fun and the Tau came close to achieving victory were we not playing the Seize Ground mission.
2: The Dice Hate You
You deployed well and got the first turn. You open fire, expecting a devastating barrage that will cripple the enemy army before the battle has even begun and …nothing happens.
The game continues and all your shots miss or bounce harmlessly off while your tanks are busy exploding and you wonder if your little plastic guys bothered putting their armour on when they got up this morning.
This stuff happens. But knowing when the dice are against you is an important part of carrying on with the game.
Focussing your firepower on 1 threat at a time is a good solution. That way the sheer number of dice rolled may be able to balance out that bad luck.
Sometimes it feels like your opponent has absorbed all the luck in the room like a sponge, leaving you with nothing to roll but 1s and 2s.
Persevere and play on til the end. The dice can always turn in the last few turns of the game.
3: The Mission is Against You
There are some missions we love and some missions we hate.
Depending on what kind of army you're up against, drawing the wrong mission can really ruin your day.
Dawn of War is a real love/hate mission for many people.
At other times 'custom' missions which seem to be becoming increasingly popular in the independant tournament setting favour particular army builds.
It's best to play these unique missions in advance to understand the mechanics of them. Meanwhile any missions you're not a fan of, you need to practice, understand and master.
I used to hate the Dawn Of War mission, but after some practice and learning to accept that I was unlikely to get any shooting in for the 1st Turn, things weren't so bad. Just pray for the 1st Turn to make sure you get the first round of fire in when Turn 2 rolls around!
4: Deployment Screwed You
You wonder what the hell the person who set up the terrain was thinking.
You lost the roll to set up and now your whole army has nothing but a rock or two to hide behind.
These are bad times indeed. Worse still, your opponent has the first turn and you know you're going to get shot -a lot!
Do you reserve everything or set up, take your licks and get on with it?
Well, that depends on what kind of army you're playing.
But don't lose heart, there are many strategies for fighting on when all your transports are gone and you need to march forward on foot. Perhaps you could use all those burning wrecks for cover?
5: Your Opponent's Army Smashes You
Whether you're playing against a well optimised list, an opponent with a superior strategy or simply a very lucky player, your army takes a pasting, losing 75% before you've even started to fight back.
Yeah, you're screwed. So you may as well demand satisfaction.
When all seems lost, there's nothing more satisfying than causing your opponent great insult.
No, no, I don't mean actually INSULT him, like calling him a bearded git or hope that he gets fat and can't pull.
I mean, take out his favourite unit, his lovingly painted army centre piece, or even better, his Commander.
Sure, you've lost the game and your army is in tatters, but why not drag him down with you, screaming -all the way to hell!
It's very satisfying.
Learn To Lose
I'll admit that it's a peculiar concept. But by learning to lose better, you can learn to play better.
Not only do you learn to become a better sport, you also learn to make the best of a worst case scenario.
Even when the mission, deployment and the dice gods are against you, it's still possible to win at Warhammer 40K, Fantasy, Warmachine, Flames, or any other game.
So stay positive, keep an eye out for any opportunities and develop some 'worst case scenario' strategies to guide you through the tough games.
Besides, with nothing left to lose, you may be able to turn the tables and pull off a crushing victory.
After all, the best tournament players didn't get to the top simply through luck alone!
What normally causes you to lose and how have you learned to hold your own in the face of a good crushing defeat?
PS: Kudos for all who know where the title of this article comes from!