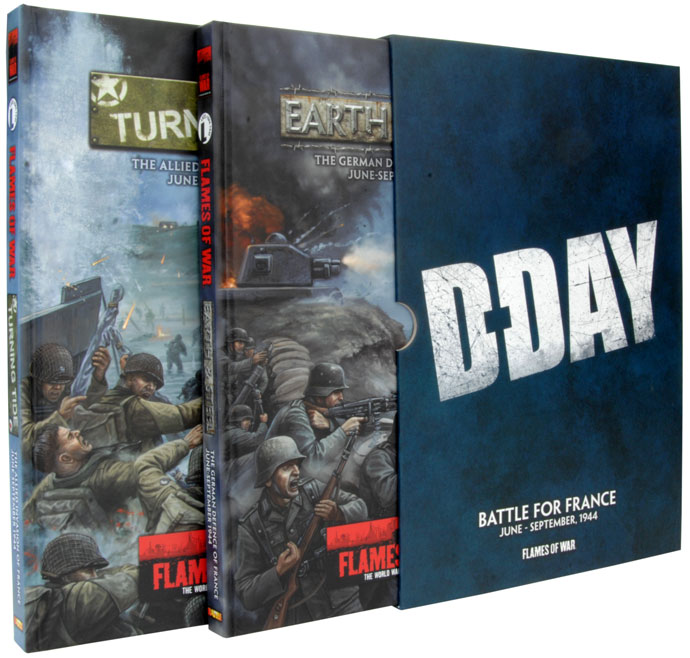 Battlefront releases one last major doozie before the year is out: the D-Day compendium.  We've got the review.
We saw mid-war books early in the year, and the return of early war with the Blitzkreig book this fall.  You might think Battlefront has wrapped up it's late war ambitions for awhile, but no, they come out with one last big release before 2011.
What's in the box:
The D-Day Compendium set is actually two books in one package.  Both books are a compilation of all the earlier Normandy campaign books (Cobra, D Minus 1, Market Garden, Bloody Omaha, etc…) along with lots of new lists.  The most notable changes from the earlier books to the new compendiums are numerous point breaks for mechanized formations, including mechanized infantry, US 76mm Sherman tanks, armored artillery, and more.  I can tell you that my 1750pt U.S. Armored Rifle lists have seen an average drop of 110 points across the entire list.  The books also have a plethora of history, descriptions of combat actions, and painting guides for the listed units.  In a slight break (improvement) from previous books, the force listing page lists the army lists by the divisions they were a part of.  So, all the companies from the Panzer Lehr division are together- a tank company, mechanized infantry company, motorized infantry, reconnaissance, and an armored car squadron- and all the units from each division have their own support choices based upon historical accounts.  For example, companies from the 21. Panzerdivision have king tigers available as divisional support choices.  Those from the Panzer Lehr don't, but will have some options available to them that aren't in the 21. Panzerdivision.
Earth & Steel
The first book, Earth & Steel contains all the German lists and formations available during D-Day and the Normandy campaign.  There are 31 lists- 10 of them new.  You have options ranging from SS divisions, to the afore-mentioned Panzer Lehr, to Luftwaffe units, to fortress garrison units guarding the Normandy beaches (including bunkers and other fortifications as part of your army!).  I admit that I'm not familiar enough with late war German lists to be able to tell you all of the individual differences, but I can say for a fact that Gepanzerte Panzergrenadierkompanie (mechanized infantry) and Panzergrenadierkompanie (motorized infantry) players will be very happy.  Full combat platoons for both are significantly cheaper.
Turning Tide
The second book is Turning Tide, the allied side of the Normandy invasion.  This book has 16 British (including Canadian) and 22 American lists.  7 of the British, and 9 of the American lists are new.  There are some interesting ones here, like the American Task Force A: which has tank destroyers and mechanized reconnaissance units available as your core combat units, or the U.S. 29th rifle company, which can take two M12 155mm GMC "Long Tom" guns as corps support options, separate from a normal artillery battery.  One other thing I noted was the cobra lists now have access to M18 Hellcats in addition to M10's as tank destroyers.  That alone is enough to make me happy!  Players will now have access to Canadian units of every conceivable type- armored, motorized, and reconnaissance.  There are also new British commando units.
Enjoy our video review.
The set will run you roughly $100, but it's a beautiful combination with the nice sturdy slip case.  Both books will be released separately in January and February, but this combination set could be a nice present for the holidays.