This article might as well be called "Grey Knights: Who Cares?" That's what inspired this brief perusal through the library of Codexes, trying to find an idea or two, Be It New or Be It Recycled.

Hello again boys and girls, Unicorns and children of all ages, today's article is a straightforward look at some underused or under appreciated options; the hope is to discover units in our old Codexes which will make the book seem new again.
And, as always, I'll show you mine if you show me yours.
*pause for awkward moment and a realization that some things can't be unsaid*
Er… what I meant to say is since this thing has to have some pictures, I've dug into my old armies for some examples of the larger point. Let's get started.
Let's Start With a Theory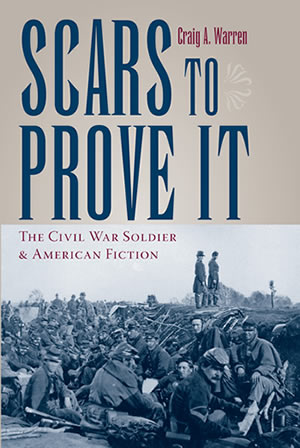 Ye Ol' Blogosphere is full of 'wisdom' casually dropped by well-meaning players like turds on a freshly mowed lawn.
Okay, so maybe I'm being a bit crude today (and possibly a hypocrite…), but I think it's a fair point. Despite it all, after the conversations are had (by that, of course, I mean the flaming and fighting) it seems most folks take for granted this larger notion of what's 'best' in a book. Before long any new idea, twist, or innovation is immediately shot down by an educated public.
"That," they say, "is inferior. This is best. What's best will beat what isn't."
Here's my answer: prove it!
So my idea sucks? Prove it! You say this army list is the best build? Prove it! You grab your army, I'll get mine – let's play this thing out already.
I'm not saying it, nor am I advocating you do so, out of some sense of spite. I'm a good-natured guy and 'Prove It' is meant in the same spirit. After all, if you're right we'll have had a good game; if I'm right, we'll have had a good game. It's a win-win!
Still, we can't really do that, barring running into one another at an event; Adepticon anyone? But we can talk out some ideas.
Thinking Outside the Box: The Past
I didn't just come up with this for the point of writing yet another Tuesday offering for Bell of Lost Souls; no, I've been fiddling and experimenting with different units for almost twenty years. Admittedly, I had plenty of failures along the way, but here's some armies I built around an idea only I believed in… at first!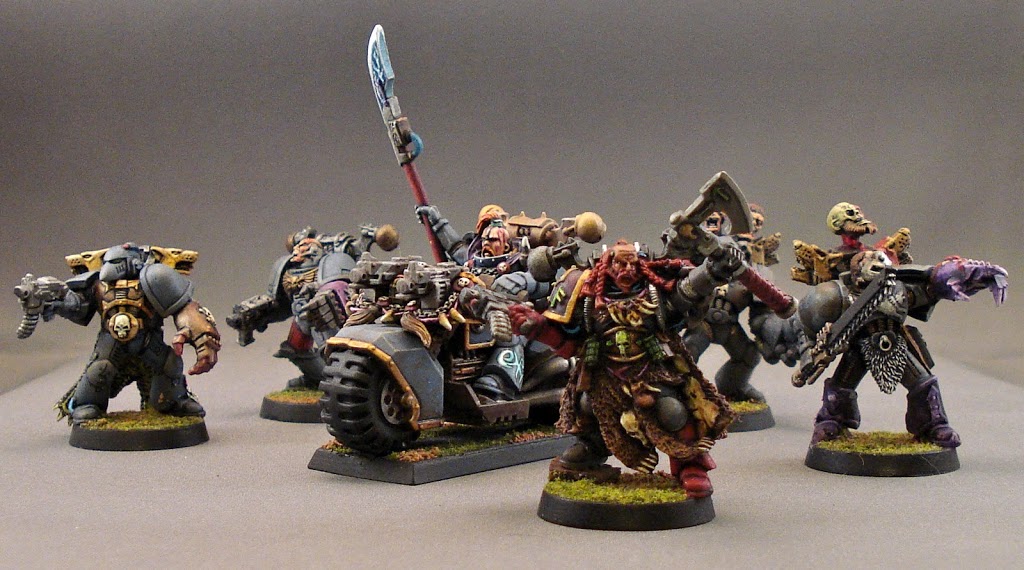 My 13th Company army was probably my most successful army in terms of tournament prizes. When Codex Armageddon came out in 3rd Edition, this army wasn't considered too great, largely because it was an all-foot, elite build. I surprised any number of people with the original rules for Mark of the Wulfen, which added +d3 attacks. Nowadays, we'd all probably figure that out pretty quick, but back then forums and blogs were in their infancy; point is, up to 8 Power Fists on the charge from a Grey Slayer Sgt. was pretty sweet.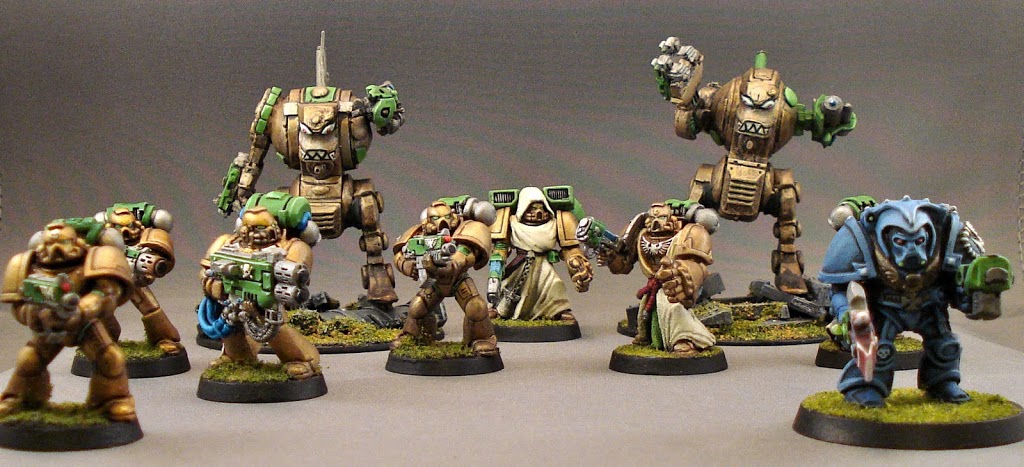 My Homage army holds a place in my heart, largely because it uses a crap-load of RTB1, Beakie Marines. I painted the original version of this army in about two weeks for a Rogue Trader… and I didn't expect to do well! It was purely for fun, so who was most surprised when it played for the prize? I couldn't believe it! This army sucked wind on paper! Thing is, my opponents had a hard time proving it; it was an aggressive army with a unique build and it included…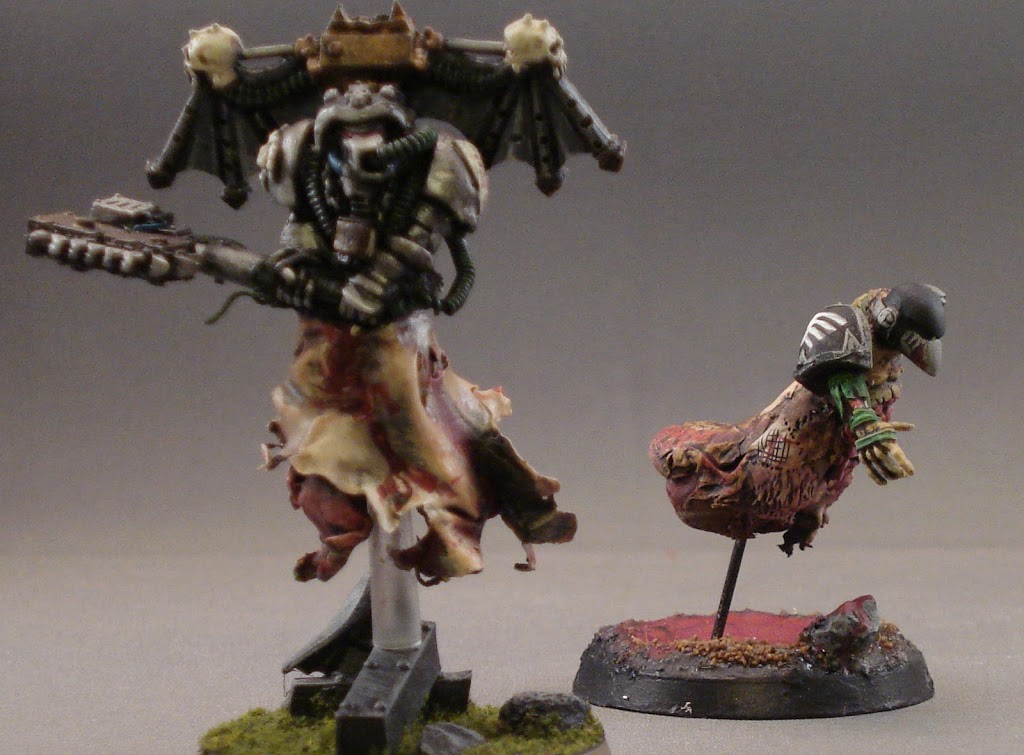 …Daemon Hosts! You'll have to forgive the conversions; these models are showing their age. Anyway, Daemon Hosts weren't great by any stretch, but nobody really knew what to make of them. I used them as a disruption unit and (looking back) it threw people off their game. That's a viable strategy, and a great reason to use something outside the norm.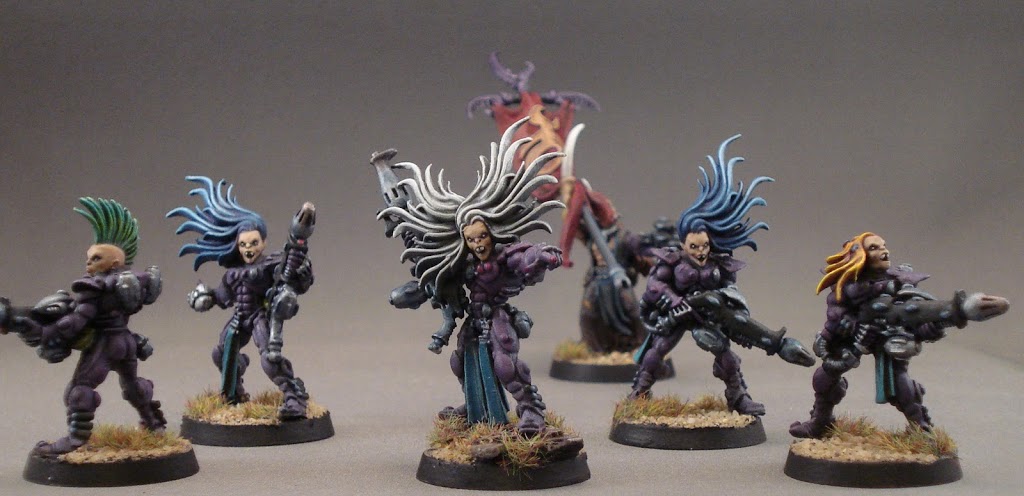 Most recently, excepting my Daemons, were my Eldar. (These ain't them, but they're better painted!) I planned and built this army as an Altansar list, which in the fluff is the Craftworld Maugan-Ra comes from. With that in mind, I used Dark Reapers and Fire Dragons exclusively, supporting contingents of Storm Guardians. We're in the modern era now, so you can imagine the response I initially got! Still, I had a basic plan: Bright Lances for Mech, 10-man Fire Dragons whose job was targeting infantry, and…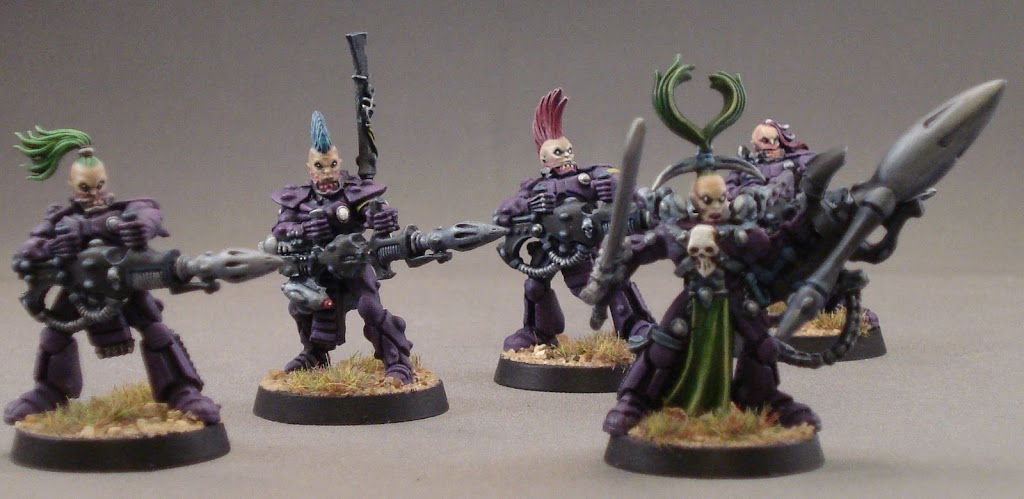 …Dark Reapers providing fire support! A Tempest Launcher with Crack Shot fired at BS5 is still my vote for grossest weapon in the game! It's Barrage x2 with Str4 AP3 rerollable wounds, AND you get no cover save? My Hybrid Eldar finished their career with a goodly number of top finishes in local events, an Indy win, a good showing at the first BoLSCon, and they got me to Chicago two years ago for Hard Boyz. Not bad!
This isn't a 'yea, me' post – I simply want to illustrate my belief that you don't need cookie-cutter Internet armies to do well, wherever and however you enjoy playing this game.
Anyway, all these examples represent the past; none are anything but average at best in the current environment; after all, when my Hybrid Eldar were doing well there were no Space Wolves and Imperial Guard dominating the scene.
The game has changed. Times change; we need new ideas!
Making the Old New Again
A favorite game in the favorite local game store is pulling out an old Codex and trying to Theory-Hammer a fresh approach. Here's some ideas I've been toying with recently…
WARNING! Kids, don't try this at home! Just because you read it on Bell doesn't mean you should run out and try it. Your 'first-army-money' should be carefully spent on the tried and true basics; ask a grownup (or what passes for one in your local area) for help. Once you've learned the game, you'll be in a better position to judge what you might want to try.
Codex Chaos Space Marines
Noise Marine Pillboxes: 5-man squad with Blastmaster sitting inside a Rhino. Basically a scoring, pinning Str8 shot out of the top hatch of a Rhino; sit it on an objective and use it for some extra fire support. If the enemy gets close, they're still Marines at Ini5.
Daemon Prince of Tzeentch with Wings, Warptime, and Bolt: fly up and shoot the unit out of its ride, then charge!
Codex Orks
Burna Boyz in a Battlewagon: stolen from Dash of Pepper, this idea is underused and underrated! Roll up and drop a template in the sweet spot, then multiply that by the number of Burna Boyz. Nothing lives. Nothing!
Grots: it's cheap, it's a Troop, and it's cheap. I'll take 3 please.
Codex Imperial Guard
I've got nothing, but I'll echo a sentiment I read here on Bell a few weeks back: does every army in the galaxy employ only Veteran Squads?
Codex Space Wolves
Again, this Codex is entirely too successful for me to pretend I've got anything to offer… but I will say the idea of 45 wolves running around the table is entirely too tempting for me to resist forever!
I take that back; here's one I stole from Goatboy: take a Long Fangs Pack with two Missile Launchers and three Heavy Bolters, then attach a Wolf Guard with a Cyclone Missile Launcher. It's gross on a few levels, shooting four missiles and nine heavy bolts a turn!
Chaos Daemons
I love this 'Dex entirely too much, so it's hard to see past my army. Still, I've been toying with the idea of taking four Heralds of Tzeentch on Disks (jump infantry) with Bolt and Breath and dropping them in one large unit of Horrors surrounded by smaller units of the same type. The idea is to support your Crushers and/or Fiends by leaping around doing dirty to the opposition while hiding in the various units of Horrors.
It'll ruin your day when your opponent charges your super-unit of Toughness 3 Horrors, dragging all those Heralds along with 'em! It's why it's a fun idea and not serious.
Codex Space Marines
I had a conversation with Wyatt 'Paintraina' not too long ago about the effectiveness of the Thunderfire Cannon… naturally I can't get the idea out of my head! My comment was this: "Tremor and Bolster Defense is a tactic to make a counter attack army with." I think it could work; make a firebase to hang out in the terrain, a mobile element to harass the enemy, and an idea for grabbing objectives later… then start blowing something up! I'm not quite to a list yet, but I'm toying with the idea of Ironclads and Land Speeders.
Codex Tyranids
Last we come to an army I'm currently building. I intend to do the same thing with it I did with Daemons: play out numerous combinations until I find what works for me.
Still, there's an idea I'm planning to supplement my Hive Guard and Tyrannofexes, Termagants of Hormagaunts – I'm going to test a large unit of Shrikes and two Harpies. The former will provide disruption and forward-synapse while the latter will pick off weak elements with either shooting or close assault, depending on the situation.
I haven't seen it done in a serious army – and there might be a really good reason for that. Still, nothing ventured, nothing gained; regardless of how it works out, I'll have fun getting there!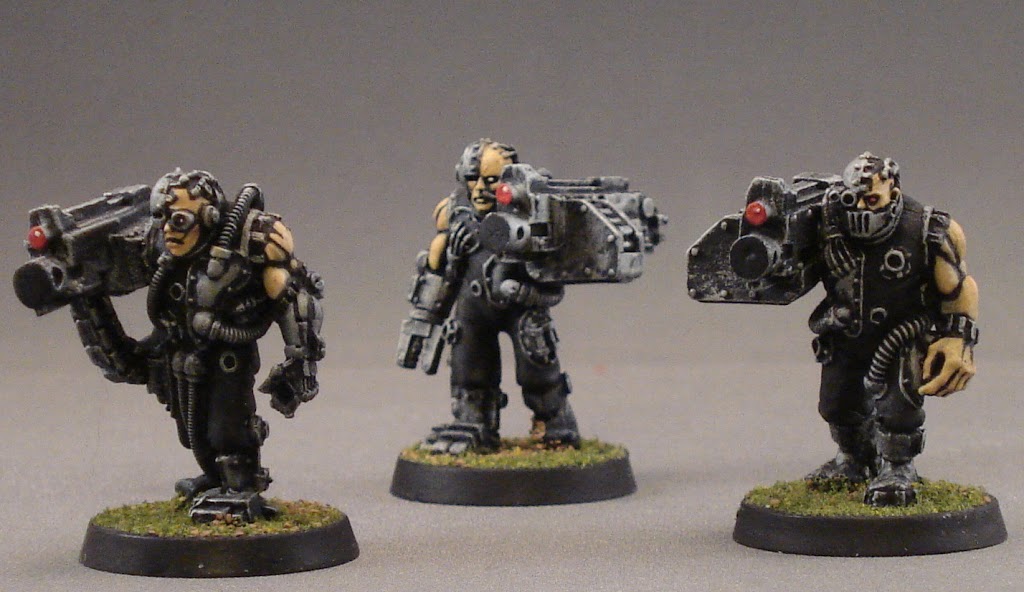 Not all ideas are winners!
With Grey Knights coming out it's hard not to get caught up in the excitement about something new… but not all of us have the money or the inclination to jump on the bandwagon of each successive Codex.
Just like women shop in their closet, we can shop in our collection. (Not to discount the Girl Gamers and Unicorns out there!) Not every idea has to be good, it just has to reignite your passion for an old army.
So go on, try it. If someone tells you your idea sucks, tell them to prove it! In the end, it doesn't really matter how that works out.
Here's the discussion topic for the day:
1) What success have you had in the past or present taking advantage of something others thought wouldn't work or wasn't widely accepted internet wisdom?
2) I've no doubt embarrassed myself dropping my ideas on an unsuspecting public! Your turn: what ideas or combos have you been itching to try or think could work?
As always, thoughts? Comments? Hugs and gropings?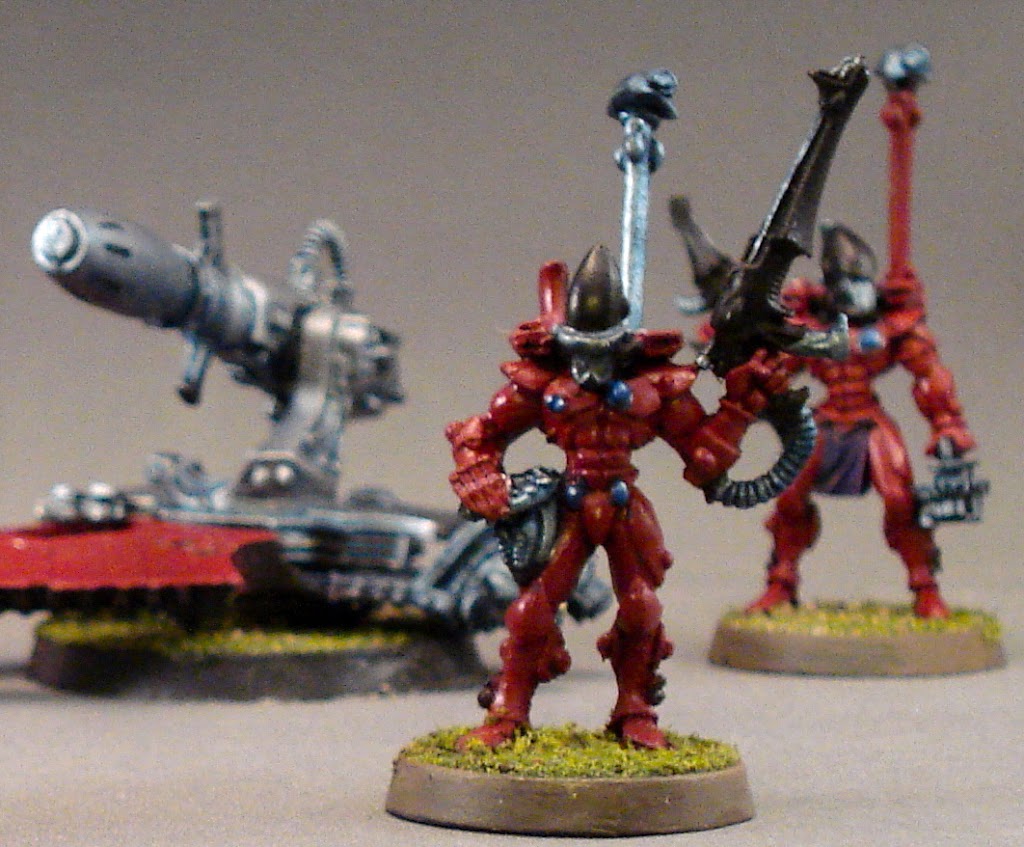 Let's echo the last comment: not all ideas are winners! Some are just okay. 🙂