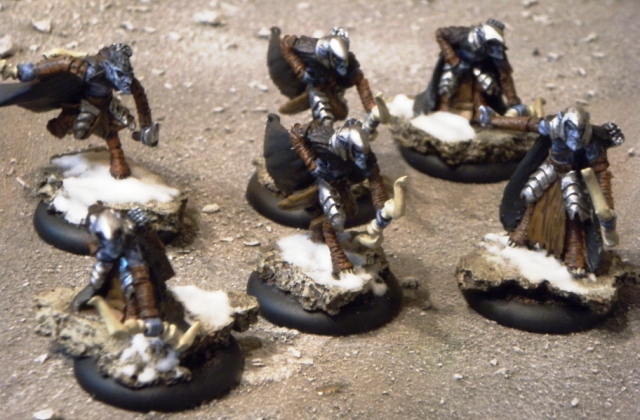 Striders are widely considered one of the best units in Legion of Everblight. Lets take an in depth look.
Striders exemplify everything that defines Legion as a faction. They're fast and mobile- SPD 7, with Pathfinder & Advance Deploy. They're hard to hit with DEF 15 and Stealth. On top of that Striders have a decent ranged attack- RNG 12″ POW 10 with RAT 6 and CRA for those really important targets.
The basic unit is solid. 6 points for 6 guys. RAT 6 means they'll have a good chance to hit DEF 13, and the high DEF with Stealth to boot means they'll be safe from most direct-fire ranged options that will be facing them. Stick 'em in some concealing terrain, and they'll still be DEF 17 even if your opponent can get past the Stealth. But WATCH OUT FOR AOE's. The low ARM means they'll pop like balloons if they get hit by even a POW 6 blast roll.
CRA gives them the ability to go after DEF 15+ if necessary. POW 10 will kill a lot of basic infantry, but again, CRA gives them the option to start going after models with ARM 18 and 19, such as Temple Flame Guard buffed with Defenders' Ward, but that's really not their job and you should leave those sorts of things to other models if at all possible. As an example, two CRA'ing Striders will hit a Concealed Man of War Demo Corps model on 6's, and do an average of 3 points of damage. That means you'll need all 6 guys to kill 1 Demo Corps trooper. The Striders probably' won't live long enough to kill 3, and definitely not 5. No, they're best used to harass your opponent, pick off solos, and thin out units of infantry. And that's really what they should be doing- going after basic infantry units.
Make sure you use your Advance Deploy move to set them up in the best position to accomplish that goal. For those games your opponent doesn't field any infantry, I like to run them wide and get behind my opponents' main line to threaten his caster. With a 14″ run, they can be in position in just two rounds. Otherwise, stay towards the flanks and support the main-line units by keeping the charge and sight lines clear. One last tidbit. In late game situations, Striders can be great at tying up enemy models like Bane Thralls or Storm Blades. Their DEF 15 means that most MAT 6 and 7 infantry will have a difficult time hitting them, and if the enemy models do try to walk away, a free strike with an effective MAT 7 and boosted P+S 9 is good enough to hit and kill most single wound targets on average rolls.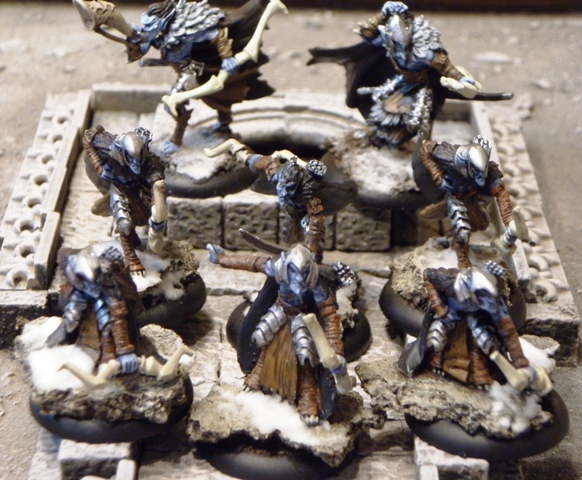 If you really want to make your Striders deadly, add the UA. It's a 3 point upgrade, so 1/2 way to an entire 2nd unit, but it's a nice upgrade, and you'll probably only want a full 2nd unit when fielding an Epic Lylyth tier list anyway. The UA gives several fantastic buffs to the standard unit. It gives them Hunter. So not only will they be able to use terrain, they'll be able to completely live inside of it to stay safe from retaliatory attacks. Models also receive a 3″ move at the completion of their activations, letting you move up, shoot at close to your 12″ bow range, and then move back outside of 13″, and consequently, outside the ability of most units to run to engage you and stop your shooting. Lastly, the attachment officer allows models to spread out up to 12″ away from him, giving the unit a potential 25″ movement bubble. That's just over 1/2 the board! Crazy!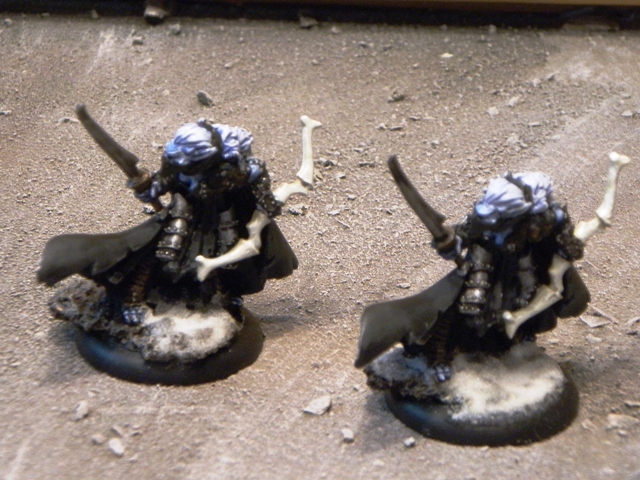 But what about Deathstalker's, you say! I'm not gonna talk about Strider Deathstalker Solo's today, since although those models do have rules interactions with Striders, Deathstalkers deserve an entire tactical article of their own. I will say that having a Deathstalker nearby lets nearby Striders move an additional 2″ after killing an enemy model with their ranged attack. That potential 5″ move after attacking (3″ from UA, 2″ from a Strider), means they should always be able to stay safe from return fire.
Some people will say that Deathstalker's are better at anti-unit work but I don't entirely agree. Yes, Deathstalker's are great, and I find myself fielding one or two in a majority of my lists, but I find that with my rolls, two Deathstalkers will often only kill 2-3 models per turn that they both get to shoot. That's enough to be an annoyance, but not enough to really take on a whole unit. Striders have the numbers to take on a whole unit, and they're far less vulnerable to one or two models having Mage Sight or some other Stealth-ignoring rule (common in many competitive lists). And because Deathstalker's don't have CRA, they can't threaten multi-wound models or DEF 16+ models the same way Striders can. Heck, in a pinch, Striders can even dent up a light Warjack. Two RAT 9, POW 13 CRA's will do an average of 8 points of damage to an ARM 16 light Warjack. That's enough to take out a system on some targets with a lucky roll, and enough to make it easy for your own light Warbeast or Swordsmen to move in and finish the job. Against the same light Warjack, Deathstalkers do slightly more than scratch the paint.
Whether you should include Striders in your list depends almost entirely on the Warlock and your own style. If you like running fast units, if you're running a lot of Warbeasts with AOE's or multiple shots (like Ravagores, Teraphs, or Seraphs), or if you're running things that can get into the opponents' backfield quickly like a Totem Hunter and/or Bog Trogs, then you probably don't need to include Striders. They do work well with Raptors. The Raptors press in on one flank, the Striders take the other, and several heavy Warbeasts and/or solid melee units move up the middle in a classic envelopment maneuver. It's a solid tactic, and it works well in both Steamroller play and in assassination scenarios.
The most interesting thing about the unit, is that because they're so good at taking out basic infantry, they get better in a list with multiple heavy melee-dedicated Warbeasts and otherwise strong melee potential. This means you'll often want to look at them when running Absylonia, Saeryn, Rhyas, or either version of Thagrosh. The more heavy Warbeasts you have, the more you'll like having Striders around to take out infantry units that can tie up your big-baddies.
One other synergy I would be remiss if I didn't note: Incubi. Because Striders will tend to be up the field, and because they will often survive until turns 3-4, they can work pretty darned well with a unit of Incubi waiting in the wings. Your opponent finally kills off the unit, and what happens? Five new combat models pop out just waiting to go to town.
Speak up Legion players! How do you use your Striders, and in what sort of lists? Those of you who play against Striders on a regular basis, how do you deal with them. The floor is yours!