Review: Warlord Savage North


Just recently, I obtained a copy of the first expansion to Warlord Second Edition, Warlord: Savage North. I was pleasantly surprised with all it had to offer, and in some ways I felt like I was looking at a new game. The look and feel was fresh with new artwork, stories, and pictures. I was pretty excited to tear into this book.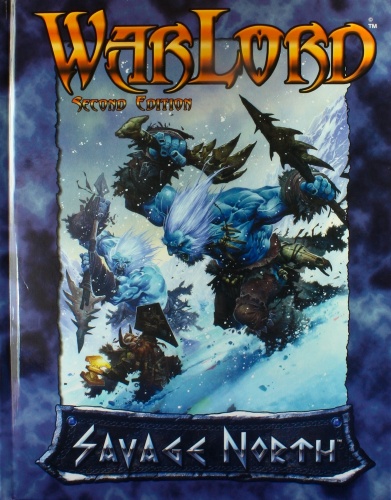 The first major upgrade is that this book is hard back. Not an important feature but it does increase longevity and it allows the book to lay flat during a game. The book is printed on better paper in full grayscale with a painting and model section in full color. This is a major improvement to the first Warlord Second Edition rulebook, which is soft cover and 16 bit grayscale with no full color painting section. This book definitely has a more polished feel than the first book.
One of the design philosophies of Warlord is that every book will have the core rules in them. For this book they cleaned up the look of the core rules. This book added 9 new special abilities unique to the factions in this book. I did find that not all of the special abilities from the first book made it into this book, but that could be because they aren't utilized by factions in this book. This was a little disappointing but not something that is a deal breaker.
This book separated out elements of the original 9 factions as they were in the first edition of the game and expanded on those elements. On top of that we got 3 brand new factions we have never seen before for a total of 8 new factions. I really like how this book is written with these 8 new factions feeling new and not like retreaded factions from the first book.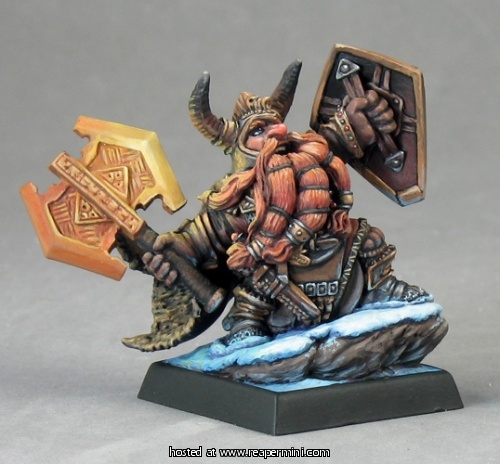 Kragmar Warlord King Axehelm
The factions in this book are: Bloodstone Gnomes, Wood Elves of Tembrithil, Dark Elves of the Darkreaches, Dwarves of Kragmar, Orcs of Kargir, Giants of Icingstead, Korbolas of the Nornwood, and Sisterhood of the Blade. Each faction has some competitive builds. They also have some decent selections available to them that look interesting and fun
The new artwork and stories expand the setting wonderfully. After reading each of the faction stories and unit descriptions I got a good feel for the faction and the ideas behind the faction. The artwork also helped me conceptualize many of the new ideas being presented and also builds on the original artwork of the setting. I'm also excited that this expansion is expanding the figure line. Although some the models have yet to be released the models released so far are examples of some of their best work. Also with Reaper's prolific release schedule it won't be long till these forces are flushed out with full figure lines.
Overall this is a great addition to Warlord and I'm certain in coming months I will be adding the factions in this book to my collection, and taking an up close look at the figures in them.
What are your thoughts about Warlord: Savage North?