Yme-Loc Memorial Army: Update with PICS!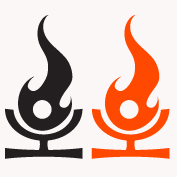 It's been awhile since I've posted an update – we are in the midst of tournament season down here, so work if going a bit slow while other, more pressing projects are being completed by the crew. What has been showing up at our FLGS on gaming night is amazing, though.
"I wanted to stay as close to the Guardians paint scheme as possible. However, I wanted them stand out, as well. So, I decided to reverse the color scheme. Also, I have been dying to paint something Orange. I started with a white primer, base coated Fiery Orange, used Shadow Grey for the taberds and trim, and Bleached Bone on the helmet. The ladies also got colored hair. I thought it appropriate. At first I painted the helmet Shadow Grey but it didn't look right. So, I went back in with Bleached Bone and that appealed to me a lot more. I used the old GW Blue Ink on the sword, over Mithril Silver. Next came a diluted coat of 'talent in a jar' AKA Badab Black. I finished up by highlighting with Fiery Orange, Fortress Grey, and Mithril Silver. Now, I just need a break in the tournament schedule to get the rest painted up."
Psyberwolfe repaired and did a beautiful paint job on one of the Autarchs…
In his own words: "So when I got this model he was in several pieces and he needed to have the paint stripped. After stripping the paint the rest of the conversion fell apart and I saw that there was an improvement I could make that would really help the conversion without taking away from the original intent.
Some commentary from Bushido: "I varied the scheme a little to make it easier for the masses that are collectively painting the army to replicate. The color scheme looks excellent and is pretty simple.  Bigred has been saying he wants to re-paint his Eldar army using the same scheme, but I think I've convinced him to wait for new models.
"The main orange is standard Macharian Orange foundation from GW. I used Sombre Grey from Vallejo, but it is nearly identical to GW's Shadow Grey. The guns are Vallejo Ice Blue, which I don't think has a GW equivalent.
"The gems are shades of blue, and the canopies are shades of purple- some of which were custom blends. The orange highlights are Vallejo Orange Fire, which is basically the same as Fiery Orange from GW; and the grey highlights were the Vallejo equivalent to Codex Grey."