This Week in 40K Podcasting – 7/15/2011 – 7/21/2011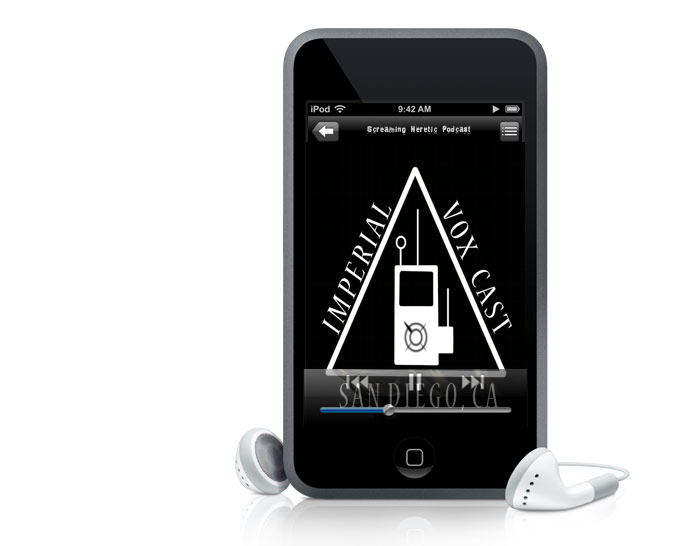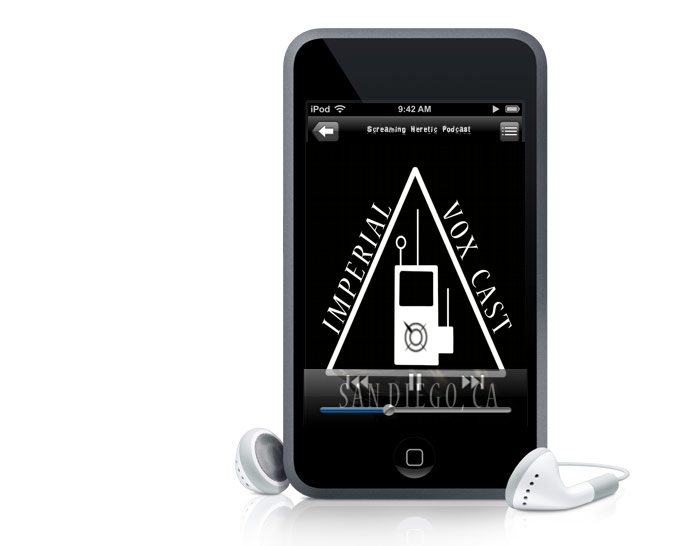 Welcome to another "This Week in 40K Podcasting,"

Here is this week's top 5!
Imperial Vox Cast – Episode 55 ***Explicit***
Highlights: This week the guys are without Tor and the boys open up the show with what they have been doing this past two weeks in gamming. This included a tournament that Silas won, and some hobby and games played. Next, the guys move on to talk about their favorite Special Characters in the 40K universe, from the 5th Edition Codices. Which character do they find to be the best, the most amusing, and the most effective on the table top. They next get into a great discussion about an FAQs when it comes to one Codex can affect the way another Codex should operate. This starts off with the Grey Knight Codex calling Obliterators as daemons, so are they then daemons for every other codex as well? Then, the boys move into the main subject of this week's podcast, Vehicles in 40K. How should you use vehicles in 40K, how to NOT use them, and the best tactics to running them and keeping them alive, on and off of the battlefield? This is a very detailed and tactic dripping segment!
Opinion: Overall, this was an outstanding podcast! I really liked the discussion on Codices affecting other Codices, this was something I really think that GW has dropped the ball on and it was great to hear someone else's opinion on the subject. Then they followed it up with an even better segment on vehicles in 40K. This was a great tactical discussion. Overall, you should check this one out this week!
The Heroic 28s – Episode 14 ***Explicit***
Highlights: This week, the boys are joined by a special guest, Sandman Mike. Mike briefly runs through his gaming history and then the guys move right into what then they have been doing in gaming and the hobby. They also take the opportunity to talk some about the Storm of Magic Fantasy release. They then move on to talk some about the 6th Edition rumors that have surfaced. Next up was a Heroic intervention where the boys review a Blood Angels list and do their best to improve it! After a break, the boys come back with a full tactical review of the Black Templar's Codex, after the GW FAQ update. They give a full run down of the Special Rules to this army and some of the more common tactics and army builds for the Black Templars! In their next segment, Sandman Mike leads the discussion on how to compete in Grand Tournaments (GTs) and Rogue Trader Tournaments (RTTs). He give some of the basics of competitive play, how to build a winning list and what are the best things you can do to prepare for a tournament. In the last segment the boys move on to talk about the tactics of using terrain to your advantage, and how to deny terrain advantages to your opponent.
Opinion: Overall, this was another outstanding podcast from the Heroic 28s! This was dripping with tactics, strategies, and all sorts of 40K goodness. This one would be on my must hear list this week, great work guys!
Highlights: This week the Overlords open up their show with some news, Forgeworld releases, gaming club updates, and "This Week in 40K Podcasting" celebrating one year (Thanks for the kind words guys!). They then move on to talk about their week in hobby and games played. Steve learned the beauty of the hammer unit in Grey Knit Paladins. Next up the boys reviewed the KR Multicase Prestige Case for large models like the Thunderhawk. Then, in Ciaran's Meatlocker, the boys talked about Ciaran's and Dagmire's Throne of Skulls tournament experience. Congratulations to Ciaran's top Dark Eldar finish! Closing out the show was, Steve has an interview with Robey Jenkins from Precinct Omega, a miniatures war game company. He and Steve get into a really good conversation about the 6th Edition Rumors and what we might see with the new rule set.
Opinion: This was a great show, one of my favorite shows each and every week. I am happy to see some of the guys hitting more and more tournaments, and I hope that they keep it up! The gem of this show was easily the interview with Robey Jenkins. There was so much insight on the mindset of a games developer that makes me wonder about those 6th Edition rumors. It left me thinking, and that was a great thing! Good work gang!
Highlights: This week the Myrtle Beach Wild Bunch is back with another tactics and interview filled episode. The crew opens up with "This Week in Gaming" and discusses the games they have played this week. They also hit on the tournament that they are hosting and giving some more details on that. Next up, Pat has an interview with Ben Mohlie and they talk about this year's ETC and WarGames Con. Then, Pat talks to Neil Curr of the Scottish ETC team who is bringing Black Templar to this year's event. Next up, Ciaran is back to talk more about the Eldar Phoenix Lords. In the next segment, the "Game Plan", the boys talk about a Bike focused Space Marine list and pit it up against Mech Grey Knights, Stelek's IG Vehicle Spam list, and an Ork Can Wall list. Then, Pat interviewed Nick from Chapterhouse Studios and Mike from Custom Minis and they talked mostly about some of their latest releases and services. Pat also talked to Romeo from Battlefoam about Heroes of Armageddon, a charity army auction and Rip Tide from the forums about an upcoming tournament. The show closes out this week with "The List", and this week they build a Lash Chaos Space Marine List and a non-Mech IG Hoard list.
Opinion: Overall, yet again another great episode from the 11th Company. I got a double dose of my favorite segments from the, The Game Plan and the List! This is THE place to get your 40K education. Someday I hope to graduate from 11th Company with a Masters is 40K! Thanks for the great show guys!
Subscribe to our newsletter!
Get Tabletop, RPG & Pop Culture news delivered directly to your inbox.
40K UK – Episode 12 ***Explicit***
Highlights: This week the guys review their most recent tournament that they attended, the Battle of the Chumps! They open up by talking about the particulars of the tournament, how it was set up, how the lists were to change throughout the tournament, and the dirty lists that they decided to take. They then move on to talk about their first round opponent and their results. They move on to some interviews with their first round opponents. Moving on, they talked about round two and what happened there, including some interviews of their second round opponents. They continue on through each round of the tournament, giving a pretty detailed review of each match and including some interviews of their opponents as well.
Opinion: This was a pretty good podcast. It was really interesting to hear a blow by blow of their tournament coverage. But that is all that is in this show, so be prepared for the full coverage of this event. Good podcast, looking forward to next week's show!
Honorable Mentions – All great podcasts that just missed this cut this week, but you should still check them out:
Life After the Cover Save – Episode 31 ***Explicit*** Riflemen Dreads and new FAQs
Gamers Lounge – Episode 35 ***Explicit*** Rankings HQ and Malifaux
40K Radio – Episode 23 ***Explicit*** Wild West Shootout 2, Flames of War Review, Quick Terrain, and Modeling for Advantage
So, that is it for This Week in 40K podcasting, thanks for reading. Got a podcast all about 40K, or mostly 40K that I am not listening to? Let me know about it, [email protected] and I'll be happy to add you to my listening schedule! Disagree with my review? Post comments for that too!