40K Masterclass.- Painting a Banshee Purple, Part 3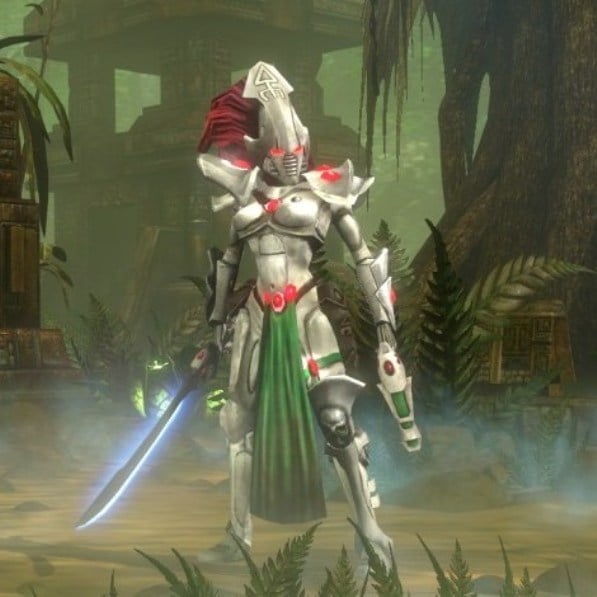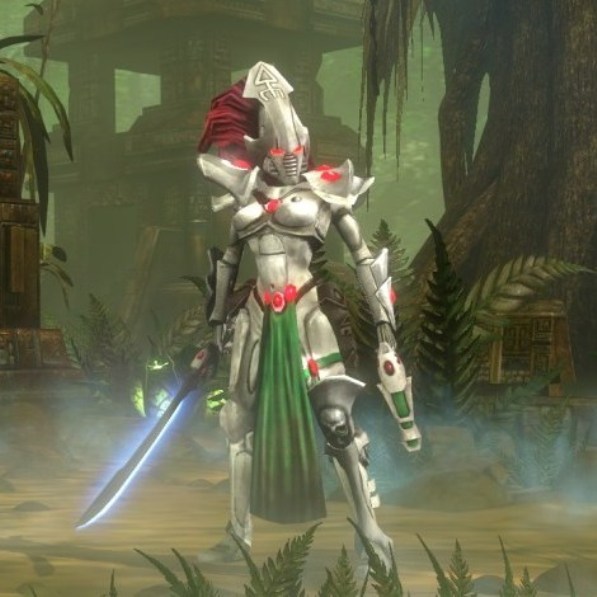 Howdy all. Today I would like continue my series of project logs on various models and armies I have worked on. Topic for today is my Howling Banshee model.

Gar here. Here are the links to part 1 and part 2 on painting the banshee.
Ever since Mike McVey did a howling banshee model in the early nineties, these have been one of my favorite models through the different incarnations and designs they have had for at least the last 20 years. Similarly, that same model, I wish I had a picture; it was one of the first models of an alternative color scheme. At that time, and currently, howling banshees are bone. This oldie but goodie had black armor and white colored hair. Ever since then I have been a big fan of alternative paint schemes for almost every army I have ever done.
When I went to my last Games Day Golden Competition, I wanted to enter a howling banshee. To make it stand out, I opted to paint it primarily purple with a contrasting gold armor detail. I began with a lower body conversion between a couple of different banshee models and did an arm swap so my model would look like it she was at the ready and looking for her next opponent.
Now that the armor and body suit are complete it time to finish out the hair, swords and base.
The hair. I did the hair much in the same manner as I did the body suit. I base coated everything in GW Chaos Black, then began adding GW Hawk Turquoise to the mixture. I stopped once I was near using pure Hawk Turquoise on my paint palette. To give the hair a slight shimmer effect, I began applying Vallejo Intermediate Blue in a very thin layer, almost like watercolor thin and P3 Morrow White. It brightened up the overall color of the white and made it slightly different in hue than the body suit. I the addition of the blue was to add a little visual interest to the figure without adding any more colors that would take away from the theme I was going for.
The blades to the swords were done in a NMM. The colors I used were Vallejo Intermediate Blue, GW Skull White, GW Chaos Black and Vallejo Prussian Blue. The Vallejo blue was applied to the entire blade, then the Prussian blue and finally a tiny amount of black. The Blue was highlighted by adding Skull white to the mix and then finally the white was applied where the light would hit the edges and most raised areas of the swords. I used a couple of images from the net to help me get the lighting correct. Sorayama has some incredible metallic artwork, just keep in mind very little of his stuff is family friendly, so be forewarned before doing a Google search.
The Loincloth was based with P3 Frostbite and then shaded with Vallejo Red-Violet and Vallejo Prussian Blue and glazed with very thinned Leviathan Purple wash. It was then Highlighted with GW Skull White and the Exarch Symbol was painted on top of the loin cloth.
My bases, from my last Golden Demon competition, was an area I needed to seriously work on. I began with a larger 40mm base and some bits from the Cities of Death Terrain bits. I cut a corner section with a taller post and took a dremel to the edges so stone would look broken. I sculpted a small "sidewalk" out of Sculpy and the road was made from cork. I cut a small section out of the cork and the sidewalk for a rain gutter and cut a thin piece of plastic-card to be a cover. Liberal amounts of thin ballast/sand were sprinkled here and there to fill in cracks and gaps that didn't look right in the final assembly.
The entire base was primed in black and given a dusting with the rough coat spray. The road was drybrushed with a Mix of GW Black, Ultramarine Blue and Skull White, gradually getting light with the layers. The GW washes, Devlan Mud, Badab Black, Asurmen Blue, Thraka Green, Griffon Sepia and Ogynn Flesh were applied in different areas to darken some shadows, add a dirty feel or help break up the colors so it looked more like a street in a rough neighborhood. I wanted the street to look like it had some water or wet section, so blue and green washes were applied near the street curb/road corners.
As I was working the colors on the wall & Post, I was not too pleased with final look, so I added a little Grave Yard Earth to warm up the final look a little.
As a final touch, I cut out a tiny little piece of paper, wrote some Imperial Propaganda on it, the crumpled it over and over until it was very worn looking, like an old newspaper. I had to go back and tough up some of the words on the poster, but I liked the final results. I also cut out some very tiny weeds and put them growing up out of the gutter.
Lastly I glued the Banshee to the base and I was ready for Games Day.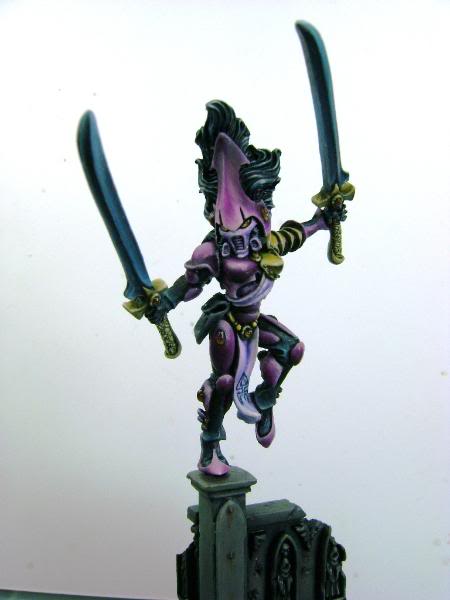 So how did I do? Well, let me first start off by saying I had never been to a Gamesday with so many former Slayer Sword Winners and internationally known painters. It was like a who's who of the elite painting world and I was more than a little intimidated. I was pleased when I made first cut and my son told me that my entry was one of the ones they set aside for final demon selection. Sadly, it did not make the final three.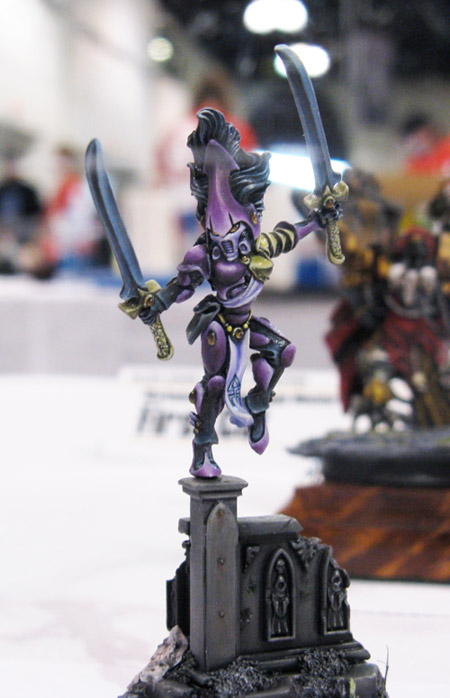 I got a lot of compliments on my model, and a couple of the judges told me how much they liked it. I went ahead and asked for a final critique of what I needed to improve on to make the final 3 and I was told by 2 of the judges I was in contention until it was noticed that my banshee had a tiny little gap between the foot and the top of the post. They loved the blending, actually one of them told me it was the best they have ever seen, and they loved the look and feel, but one teeny error, however petty it might seem, is what got me bumped.
It was heartbreaking, but at the same time a good lift to my spirits in that several of the other instructors in the demon lounge told me I should be giving classes instead of taking them. It was a great experience and I am looking forward to competing hopefully in the coming year.
Thanks for reading to the end. Comments and questions are welcome.
-Gar