BoLS Updates – Omnibus 9-15-2011

We've added a handful of new features on both the BoLS frontpage and the Lounge we wanted you to know about.

On Social Media
First off, you all see those Facebook Like buttons just under the Frontpage BoLS navbar, and in the first post of each BoLS Lounge thread? Well if you like what you're reading, press em!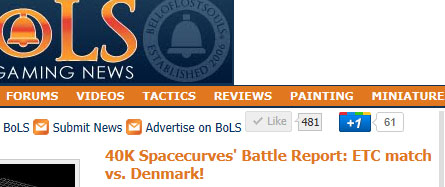 BoLS Frontpage Social Media Buttons

BoLS Lounge Social Media Button
We've also added a Google +1 button just to the right of the Facebook Like button under the frontpage navbar. It only shows up if you are logged into your Google account. Have fun with that one as well.
Trading Forums!
Yes, we finally got around to adding a Buying/Selling set of forums to the Lounge – the Trading Bazaar. So whether you are selling, browsing, or just want to get the word out about something on ebay, you now can.
Thanks gang.
-bigred