Geek Nation Tours does Adepticon 2012 – With BoLS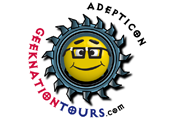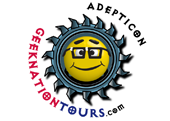 Come hang out with the BoLS Crew at Adepticon – courtesy of Geek Nation Tours.
Geek Nation Tours is happy to present our tour to the world's largest wargaming tournament – AdeptiCon! AdeptiCon has a multitude of gaming experiences for the discriminating wargamer. AdeptiCon offers tournaments using a variety of different wargaming systems, a huge amount of seminars and shopping too. It is a spectacle to be seen and experienced. Game with the very best and meet friends from around the world!
Last year Geek Nation Tours was the first to bring you guaranteed AdeptiCon registration. We offered those that hopped on the tour the opportunity to pre-register before the general public. This year is no exception – book prior to September 30th, 2011 and you will be able to pre-register for all events well prior to them going public. Don't come half way across the world only to have the spots you wanted disappear…
This year however, we have even more to offer you. You will get AdeptiCon's Elite gamer package. Not only will you get Preferred Check-in, an AdeptiCon T-shirt, and an AdeptiCon glass – but you will get ½ hour advanced early entry to the Vendor Hall. That's right! No waiting for hours in the Forge World line in 2012. If you want your resin you will be able to get it. Geek Nation Tours is trying its best to help all our international clients. Don't have access to all the cool gaming venders at home? Come to AdeptiCon with us!
You want more? Geek Nation Tours will be again giving away 10 AdeptiCon weekend passes and a couple of Battlefoam bags to keep your miniatures safe and sound. Travel worry free! These promos are for only those booked by September 30th, 2011 though – so book soon!
We also managed to pull together a few meals for you. The day you arrive take part in our AdeptiCon Welcome Dinner and hear guest speakers from Black Library, 40K Radio and the AdeptiCon crew themselves. We will be adding speakers as we go but are happy to now announce we have the crew from Bell of Lost Souls (Yup you heard it here first! Bigred, Goat Boy, Brent from Strictly Average and Darkwynn (the inventor of the Leaf Blower list – please be gentle) will all be there), some of the Privateer Press staff and maybe the crew from the 11th Company podcast joining us as well. We will meet every night for dinner and if you can join us all are welcome. Friday we will head off for BBQ at Famous Dave's and Saturday night we will venture off to exchanges stories of battle over beer at the Rock Bottom Brewery. Finally, relax on Sunday as Geek Nation Tours has grabbed us some tickets to the AdeptiCon after-con mixer and poker tournament – food, drinks, poker, boardgames and good times!
Want to come a day sooner? Join us to explore Chicago geek style! Is your Spouse a Non-Geek? Don't leave her out! Geek Nation Tours has you covered here too. Check out our Parallel Universes tours for more information. To join us or for more detailed information visit the Geek Nation website or email us!