This Week in 40K Podcasting – 9/2/2011 – 9/9/2011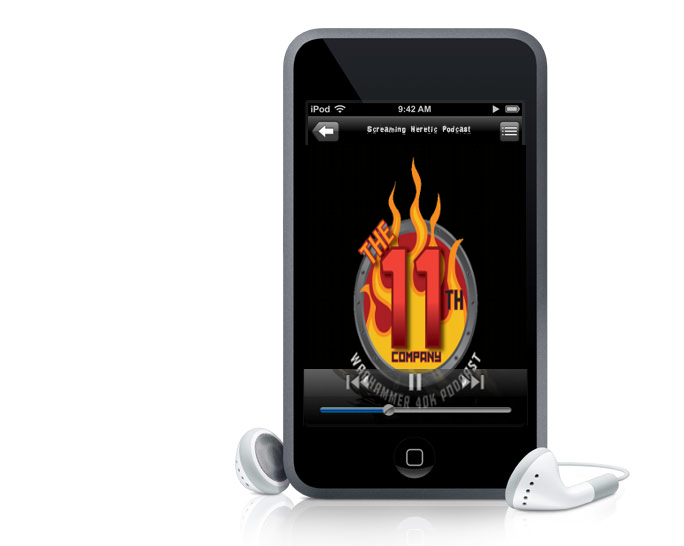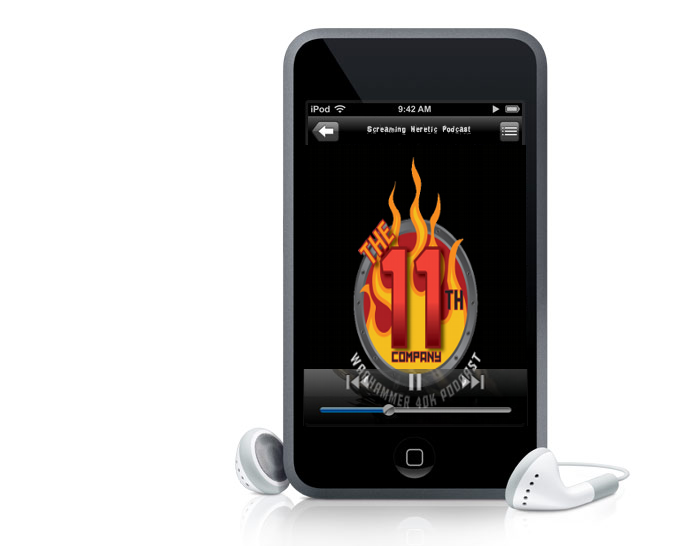 Welcome to another "This Week in 40K Podcasting,"

This week was REALLY hard to pick a top 5 because they all were SO good! Here is this week's top 5!
The Independent Characters – Episode 36
Highlights: This week the guys go back to covering the Imperial Armour books from Forgeworld and are covering IA 4: The Anphelion Project. For those who do not know, this book is all about one of my favorite armies in the game, the Tyranids! They open up the show with their hobby progress this week and talk mostly about painting for the Hobby Challenge. They then move on to talk about some of the games that they have been playing lately. They move on to the main segment of the show, their coverage of Imperial Armour 4: The Anphelion Project! They open up with their overall feel of the book, the quality of the book and how it stands up to more recent Imperial Armor books. They then move on to talk about the story of IA 4, and what drew the Space Marines to this planet in the first place. They talk about how the tension of the story slowly starts to build up to an inevitable Tyranids attack! They then move on to talk about how the Tyranids had adapted to their new environment and some of the new creatures that came from this incident. They then give the gory details of the final battle and talk about how the Tyranids are now beginning to overrun the planet. In the next segment, the guys go into a breakdown of the rules for most of the new units and missions introduced within this great book and an overall opinion of some of the best. They then close out the segment, and the show, with a rating of the book and if you should buy this book or not.
Opinion: Fans of this article will know that I love the Independent Characters coverage of the Imperial Armor books! This was awesome, I was completely wrapped up in the story (making me want to buy the book, so damn you Carl and Geoff!), as it really had an Aliens meets Starship Trooper feel to it. This was just a great podcast top to bottom, all fluff with a little crunch there at the end, and I highly recommend it this week! Great Job guys!
Highlights: Neil opens up the show with some announcements before moving into a full show dedicated to the Nova Open recap! The guys open up with tales of the Paul Dobson T-Shirt before moving on to the talking about the Nova Open itself. They start by talking about some of the great folks that they met there, from forum users to fellow podcasters; overall it was just a great event! They then talked about the challenges of the venue itself, and some of the outrageous fees that they were charging while there. Then then move on to start talking about the games that they played at the Nova Open, starting with the game that Pat played against Kyle from 40K Radio, and Steven playing Ciaran from the Overlords podcast, and losing! They then move on to talk about the Team Tournament on Friday, Where Neil, Steven, and Dave from the Eternal Warriors formed Team Podcast. They unfortunately met with the other Team Podcast, the Imperial Vox Cast guys, who they then beat pretty soundly in their game. They 11th Company took 2nd Place! They then move on to talk about all of their GT games, in which Neil made it to the Championship Round on Sunday Neil then goes on to talk about his Championship Round coverage and his toppling of the number 1 seeded player, to only lose the next game and get bumped out of contention. They also hit on Steven and Pats second day games. Pat also had an interview with Neil Kerr and Nick Rose who both played Black Templar in this year's ETC, and they discuss their rather similar lists. They also talk about a little bit of controversy on how some teams were penalized for illegal lists without an opportunity to correct them. They close out the show with an interview with Sandman Mike who placed 8th at the Alamo GT with Grey Knights.
Opinion: The Nova Open 2011 this year was a really significant event in our hobby, it saw Tony Kopach claim yet another title at such a young age and putting his name up there with some of the greats in our hobby. But it also pushed the live broadcast of events to another level, and hopefully more major events will start broadcasting their top tables like this. This podcast was a great review of this event and made me jealous that I could not attend. A great show from a great podcast! Thanks guys, for everything you did at the Nova this year!
Highlights: This week the crew is missing Commissar Random for the first time in as long as I can remember, but fill that spot with a visitor from the forums! They then open up the show with some news, talking about the Ultramarines Movie HD digital release and Forgeworld Releases. They then move on to talk about some local Overlords news and contest reminders. They then move on to talk about what they have been doing lately in the hobby and what painting have they got done. This moves into talk about the games that they played recently. Next up, the guys get back to Room 40001 with their in-studio guest and this week cover Pre-Teen Gamers, Space Marine Chapters that switch codices on a whim, inter-games snobs, and Apocalypse. Up next in Ciaran's Meatlocker, they focus on members of the staff and their lists and this week they guys close in on Steve's Grey Knights list. They close out the show with Dagmire's Tavern, and in it Dagmire has an interview with David Ploss and Writer Sara and they talked about what it took to become a Black Library writer. They also discuss writing techniques and tips to becoming a professional writer, and some of their personal experiences writing for the Black Library.
Opinion: Overall this was a good show. I am surprised how much I missed Commissar Random's input on show. It would be like it was without Steve, and that is unthinkable! But the crew did a great job without him, Room 40001 is one of my favorite segments and if my work schedule did not conflict with their recording schedule I would have submitted some entries by now. And, and an amateur aspiring writer myself, it was really interesting to hear some free advice from published working authors. Overall, great show guys!
Screaming Heretic – Episode 9***Explicit***
Highlights: This week the crew complete with SheSwizzy and CSwizzy visiting as well! They open up their show with some shoutouts and some listener feedback acknowledgments. They then move on to talk about their hobby updates and what they have been doing in the hobby, and this spilled into the games that they have played lately. In their next segment, they have some product reviews and this week they two Fantascape bases, available on eBay. After that, they moved on to an awesome hobby segment got the new gamer! They start off talking about magnetizing your models and moved on to cover paint thinning, sealing, brush techniques, and more! Then, in 'Kiss My List' the girls review a Hoard Ork list, and the boys lend their opinion to the list as well. In the next segment they move on to talk about new releases in the gaming world. They then move on to a great segment on how to build armies with older Codices to make them more competitive in the modern game. This then moves on to be a conversation about where the game has come to with Net Listing and what they would want the game to be again. Next up was 'Girls on Gaming' and this week the girls discussed CosPlay to your body type, and this was advice for both males and females to dress to something that makes you look good, and is appropriate for your body type. To close out the show the guys discuss the Master's Class that they recently attended taught by Mathieu Fontaine. They discuss some of the master lever painting techniques that they picked up and some of the cool things that they learned while there. This then moves into an interview with Matt himself where he talks about some of his work and his career as a painter.
Opinion: This show always puts a smile on my face! It was good to have the full cast back and CSwizzy from the Eternal Warriors is one of my favorite podcasters so he was a great addition to the show! This week's show was very hobby centered, with information on new bases for your models, tips for the noob on some basic hobby techniques, and a great interview an an accomplished painter. Bravo! One of their best shows so far!
Subscribe to our newsletter!
Get Tabletop, RPG & Pop Culture news delivered directly to your inbox.
Imperial Vox Cast – Episode 58***Explicit***
Highlights: This week the guys are fresh back from the Nova Open, literally fresh off of the plane, so they are a bit battle worn and they are missing Tor. The guys open up the show with what they have been doing lately, non-Nova Open related, in the hobby and painting. They then move on to talk about Dawson and Silas' full Nova Open review. They start by talking about the Friday night Trio's tournament that they participated in, where the met the 11th Company in round 1. They also talked about playing with someone as a teammate that they had never met before, and theirs was a great guy! They then go into the main GT tournament and talk about their experiences there. They give a very detailed review of each round of their games. Silas had a bad first couple of games and finished 2-2 on the first day. Dawson did very well and went 4-0 on day one and when on to the Championship round on day two. The two then reverse roles on day two and Silas does pretty well, finishing off 5-3 while Dawson loses his first two games and finishes off the tournament 5-3. In the next segment, having time to reflect back on the Nova Open, the guys sit down and talk about their experiences and the tournament as a whole, the good, the bad, and the crazy! They open up with the good, some shout outs, venue issues, fans and podcasters met, and the organization of the tournament. They also took the time point out some things they did not like so much about the tournament, including the painting judging and non-standard dice. They close out by talking about tournament prep and what they should have done to get ready for this tournament.
Opinion: A great show, and awesome show really! When I had heard that Dawson and Silas were going to the Nova I really had hoped that one if not both would have made it to the Championship Round, and Dawson did not disappoint! Their review of the tournament was great and it was good to hear their opinions on things that had happened there. A good show for those who, like me, could not attend the Nova this year, check it out!
Honorable Mentions – All great podcasts that just missed this cut this week, but you should still check them out, in no particular order:
40K UK – Episode 19 ***Explicit***
A Complete rundown of this year's ETC with with Neil Kerr, Mike Collins, Nathan Roberts, and Dave!
Initiative 1 – Episode 6 A Guide for New Gamers
40K Radio – Episode 26***Explicit*** – Celebrating One Year!
Preferred Enemies – Episode 11 A great segment on the Assault Phase
Jaded Gamercast – Episode 45 A Strange Aeons Review
So, that is it for This Week in 40K podcasting, thanks for reading. Got a podcast all about 40K, or mostly 40K that I am not listening to? Let me know about it, [email protected] and I'll be happy to add you to my listening schedule! Disagree with my review? Post comments for that too!