This Week in 40K Podcasting – 10/14/2011 – 10/20/2011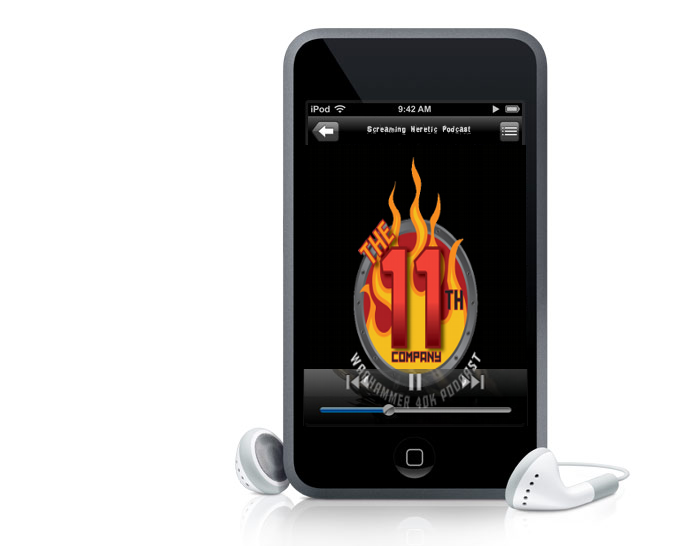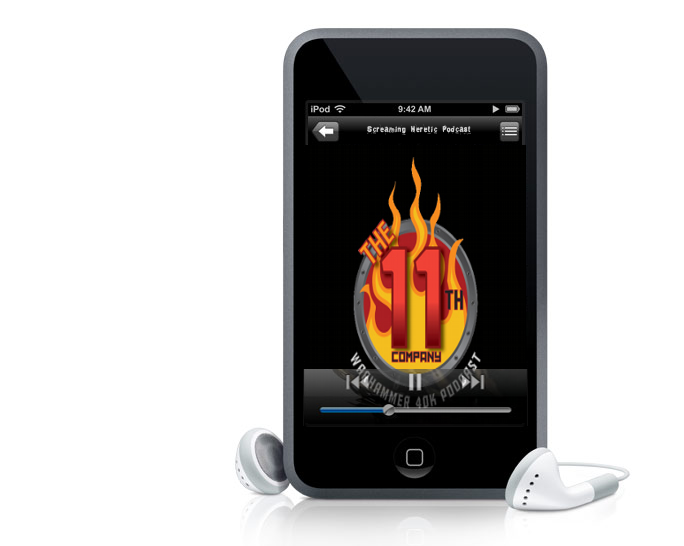 Welcome to another "This Week in 40K Podcasting,"

Here is this week's top 5!
Highlights: After a few announcements, the Myrtle Beach Wild Bunch open up their show with "This Week in Gaming" and start of talking a little bit about their soon approaching tournament. They then move on to talk about their games played, some with new win conditions. Pat played his Daemons versus Alex's first attempt with Grey Knights, and Neil gave Black Templar a try versus Pat's Daemons. Then, in Pat's Corner, Pat has an interview with Aaron Awlong and they talked about his Space Wolves list he brought to 'Ard Boyz this year. Pat also talked to Chris from Da Boyz GT and they talked about their interesting COMP system this year. In the community segment, they talk to the Bugeat GT and recap that event, Da Boyz Gt again, and Feast of Blades. Next up, the guys discuss the Narrative Event they intend to run here soon. They have an open discussion about how they want to run a 'non-competitive' event, and what they would like to see there. They close out the show with the first in a multi-part series on advice to 'Ralph' on how to fight Grey Knights, this week with Space Marines!
Opinion: Easily my favorite podcast this week, the 11th Company comes in with a really great show this week. I loved the interview with Aaron Awlong being a fan of his blog, and as Da Boyz GT gets closer, the more I want to hear about that interesting COMP system they are running. I like that the guys known for tactics and beat-face lists are considering running a narrative event that eliminates the competitive nature of the game. On 'Ralph' and I have a lot in common, looking forward to hearing their advice for 'Ralph' and his Space Wolves! Overall, a great show gang!
Deepstrike Radio – Episode 24
***Explicit***
Highlights: Happy Birthday Deepstrike Radio, now celebrating their first year! The boys open up the show this week by talking about some changes to the show's forum, now free!. Next, in the news, they guys were talking about Necrons, with all of the leaked photos, rumors, and more. Also the hit on some new KR Multicase products and new minis from Titan Forge! Next, in the Briefing Room, the guys look back at the last year of Deepstrike Radio, they talk about their early shows and learning how to podcast. They each send out some shout outs and thanks you (Love the show guys, glad to help!) before talking about how the cast has come together. Next up in the Librarius, the guys go back and redo (now with added experience, yum!) their coverage of the Luna Wolves. They open up by talking about the full origins and back story of the Luna Wolves, where they come from, Horus before his heresy, and the characters that make this one of the most infamous Chapters. This becomes a telling of the beginnings of the fall of Horus and the start of the Horus Hersey. Next up, in the Armoury, the guys do a redo of their lists for the Luna Wolves. Jim did a 1750 point list using Codex Space Marines with some Forgeworld sprinkled in, Chase did an 1850 point list using the Space Wolves list, and Chris did a 2000 point list using Codex Space Marine. To close out the show, the guys dig deep into the Hobby Trenches and they discuss conversions to the Luna Wolves and run down and rate some of the best places on the web to get those wonderful bits!
Opinion: Easily my 1A choice for the week, this was an outstanding podcast. It was nice to see the guys reflect back some on the year that was for them and talking about what they had learned. The Luna Wolves coverage was second to none; even if you haven't read a single Horus Hersey book (and why haven't you???) you can listen to their review and understand what happened to this once great chapter. And they go the extra mile to give you the best places to find conversion bits to create that authentic looking pre-heresy army. Outstanding guys!
Highlights: This week, the guys are running a bit short on Overlords as it is only Ciaran, Steve, and David (random guest) this week. They boys open up talking about the leaked Necron photo on Beasts of War and some of the new rules and fluff changes to the army. Next up, the boys go over some local Overlords news and discuss their week in hobby and gaming. Next up was "The Meat Locker" where this week the boys discuss the final part of their Deployment discussion and focuses on the Psychological aspect of the Deployment phase. Can you make your opponent deploy the way you want to? Then, David gives us his review of the Throne of Skulls tournament the Overlords participated in recently. He talks about the venue, the cost, the food, the armies he saw, and the games he played against interesting opponents. They close out the show with Dean's Dimension where he, Adam, and Steve have an in-depth conversation of the story of 40K Orks. They talk about the different clans, and their individual stories. The also talk about their biology, and how they are created and reproduce. They move on to talk about where it is believed the Ork came from and they dig deep into their history. They then move on to talk about their evolution and how they get to be what they are (nob, Warboss, etc.) and lastly they explore some of the newer Ork fluff in recent editions of 40K, hinting at their future.
Opinion: This was a good show, but I sorely missed the full regular staff. Hey, life happens, so despite losing a man, or three, they guys powered through it and came out the other side with a pretty good podcast. The gem and must here part of this podcast was Dean and the guys talking about the Ork history in 40K. Completely fascinating, and it kept me glued to my ear buds! Great work guys!
40K UK – Episode 26 ***Explicit***
Highlights: Dave opens up the show with some notes and the new email addresses and responsibilities for the staff, and a new list segment coming. Then in Operation Codex, the boys review the Elites choices from Codex Space Wolves. They discuss the tactical uses and on the table performance of the Lone Wolves and the Wolf Guard. Next up in the Tournament Report, Dave and Gary go over their review of Starsmash where they talk about Gary's list and his performance at that event. Gary gives a very detailed review of his games and some of the tactics and mistakes he had made. Then, they went back to Forged in Battle and this week discussed the Deathstorm Drop Pod! They close out the show with a new segment called "News from Across the Pond", and this week we hear from Charles St.Clair in New Zealand and they discuss his nasty Ork list!
Opinion: This week's podcast was pretty good, and I really liked it. Operaition Codex was good, and the review from Starsmash was really good. My favorite segment from this podcast has recently been the Forged in Battle segment where I am learning more and more about Forgeworld and Apocalypse. Overall, a good show guys!
Subscribe to our newsletter!
Get Tabletop, RPG & Pop Culture news delivered directly to your inbox.
The Independent Characters – Episode 39
Highlights: This episode is strictly talking about the campaign the Independent Characters ran this past summer. They open up the show with some hobby progress and the guys talk about what they got done in the last week. They then talked about the games that they played in the last week, mostly team games, and the fun they had on a road trip. In the next segment they get into the details of the IC's Summer Campaign that lasted for about 10 weeks. They followed the format laid out in Imperial Armor 9 on how to run the campaign and Carl developed some special rules and missions for the team-based campaign. They discussed how the games were played, scored, and overall how they ran. They then had a series of interviews with the people who played in the campaign, starting with Lars and Steve. They discuss their lists, why they took what they took, and how they felt the campaign went overall. About midway through the interviews, Carl and Geoff jump back in and discuss the lists that they rand in the campaign. They then got back to the interviews with the players of the campaign, this time talking to Dave and Justin. They close out the show with a full review of the campaign results, who do what and who was the best player in the campaign?
Opinion: I have to say that I really enjoyed this week's show. My local gaming group has often flirted with the idea Campaign gaming and this show helped push me over the edge to want to run one. This gave me a lot of great ideas and anyone thinking about running one might want to check this podcast out! Great show guys, keep it up!
Honorable Mentions – All great podcasts that just missed this cut this week, but you should still check them out, in no particular order:
Screaming Heritic – Episode 12 ***Explicit*** – CSwizzy, Mathieu Fontaine, Kiss My List, Noob Painting help and more!
40K Radio – Episode 29
***Explicit*** – Necrons, Matt Weeks and Imperial Armor Book 09
Life After the Cover Save – Episode 37
***Explicit*** – Hell Jumper, COMP, Grey Knights, and Comics!
Preferred Enemies – Episode 14 ***Explicit*** – Know Your Slot: Heavy Support
Jaded Gamercast – Episode 51 ***Explicit*** – Teaching Painting, Terrain for Fantasy, and Necron photo leaks
Tyrant's Due – Episode 13 ***Explicit*** – Necrons, Comp, and more
El Pee and the Man – Episodes 33 & 34 ***Explicit*** – Internet Roundup and Necron Talk
So, that is it for This Week in 40K podcasting, thanks for reading. Got a podcast all about 40K, or mostly 40K that I am not listening to? Let me know about it, [email protected] and I'll be happy to add you to my listening schedule! Disagree with my review? Post comments for that too!