This Week in 40K Podcasting – 9/23/2011 – 9/29/2011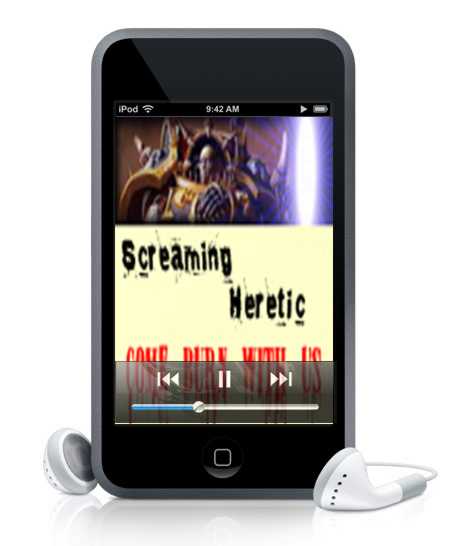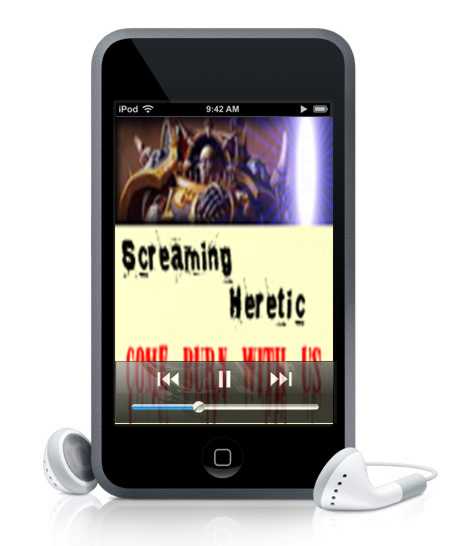 Welcome to another "This Week in 40K Podcasting,"

Here is this week's top 5!
Highlights: This week is a monster of a podcast clocking in at almost 4 hours. The boys open up the show with what they have been up to gaming and in the hobby. They also talk some news, new releases, and Gamesday UK 2011. Then then move on to a review of their 'Ard Boyz Round two experience. They open up by talking about their lists and discussing the missions. Sandman Mike pulled out the win and took home a certificate for a 2500 point army! Up next in the main segment of the show, the guys go in deep with a full, top to bottom review of Codex Dark Eldar. They talk about what is great about the Codex, what isn't so great, the model line, and tactics on the table. Next up was a great conversation about "Counts As" armies and what it an appropriate "Counts As" army. They define the difference between a Conversion Army and Counts-As army and what should and should not be allowed at the GT level tournament. Next up Chen-Dog-Cory has a discussion about Kayvann Shrike, both in the fluff and on the table, including his effects on the army and some tactics to using him.
Opinion: Overall, this week's top podcast in my opinion! We got to hear from a winner of 'Ard Boyz Round 2, had a full rundown on Codex Dark Eldar, and had a great dicusssion about Counts-As Models and armies, all which were awesome. I really like the focus on Kayvann Shrike as well, as it was cool to see what could be done with this special character. And yeah, they finished off the show with Fantasy, gut they gave us three hours of 40K greatness…so I can overlook it. Great work guys!
Screaming Heretic – Episode 10 ***Explicit***
Highlights: This week opens up on a sad note with the recent passing of James Ayles (xxxJammerxxx) (see link below), and after a few goodbyes the gang moves on to talk about their hobby updates and some games played. Then they did a product review of the company Mythicast and their Mark of the Lycan 5-Man pack. They give a brief review of this product and allude to future segments on their Wolves and War Wolf Cavalry models. Next up in "Kiss My Kiss", Jen reviews a Space Wolves list, without She-Swizzy (  ). I have to say, this was a fun, fluffy list that was not nearly as broken as it could have been. To start off the second segment, the guys go into Noob 411 and this week's topic is shadowing and highlighting. They discuss Washes and the quality of that wash and how it can easily be overdone; they also talked about thinning your paints and the color triad. They move on to talk about the latest news and releases, which covered Dreadfleet, more Dark Eldar models, and some eBay fun. She-Swizzy makes it in for segment three where they open up with Girls on Gaming, where they discuss the coolest things they have seen in the world of gaming. They then have a small segment on Warmachine before closing out the show.
Opinion: This was a great podcast this week, and I have to say that I love the Noob 411 segment. Despite being in the game for over 5 years, I am still learning a lot from segments like this. Any chance you guys would put out some video tutorials? A great podcast, I'd check this one out!
Highlights: This week, Dagmire takes the reins as host and this week the guys open up with gaming news, Forgeworld and Black Library updates. Then, they went into local Overlords news and discussed their week in the hobby and gaming. Next up in Ciaran's Meat Locker, the guys continue on with their Deployment Tactics, and this week they discussed placing objectives. They went in0depth and discussed tactics for placing, taking and holding objectives in the game. Next up in Steve's Round Table, the guys sit down and talk about Gamessday UK 2011. They give their overall impressions of the event along with their personal highs and lows. To close out the show, Sam discusses his review of his most recent trip to the UK, which included hanging out with the Overlords.
Opinion: This was a bit of a lighter podcast then most, but still a great one to listen to. Their review of the Deployment tactics and strategies are really quite good and their review of Gamesday UK was great! And if you are a Sam fan, like I am, the last segment is worth a listening to. Great work guys!
40K UK – Episode 23 ***Explicit***
Highlights: This week Dave opens up with some announcements before moving on to Operation Codex and this week the boys cove the Elite choices from Codex Eldar. They give a full rundown of each unit and discuss their more common tactics. Next up, is "Here's something I prepared earlier", Andrew Kirk discusses more painting techniques for getting ready for a tournament. They talk about painting with washes, and how to distinguish specific models with paint. Next up was the 40K GT news segment, and the boys sat down to talk about the ticket sales and some of the prizes. Next up in the "Tournament Report", Ben Appleyard give us an interview with Chris from "Roll with it" who is organizing a team tournament. They talk about some of the lists they plan to take to the event and discuss the tactics they hope to use. They close out the show with Dave interviewing Brett Armittage, and they talked in-depth about his Blood Angels list. They also hit on why he goes to tournaments in the first place.
Subscribe to our newsletter!
Get Tabletop, RPG & Pop Culture news delivered directly to your inbox.
Opinion: Yet another great show from 40K UK, the Operation Codex segment is great, a good full rundown of the Eldar Elite, the painting segments I am finding quite useful, and the inter with Brett Armittage I really enjoyed. Overall, a good show!
Highlights: The show opens up with the standard "This Week in Gaming" where the guys discuss their most recent games played. Steven talked about his most recent changes to his Space Wolves list and Pat broke out his Tau against Neil's Grey Knights. Neil also gave a Blood Angels list a try versus Pat using the Grey Knights army. They also announced that their tournament is sold out, and folks are getting added to the wait list. Next up in Pat's Corner, Goatboy is back and talking about his 'Ard Boyz experience, Sadness Donuts, Feasts of Blade, and DaBoyz GT! Pat then interviewed Dan Eaton from the Space Wolves blog BDS 40K, and they discuss his 'Ard Boyz list and his unusual Space Wolves list. Dan recanted his overall experience at the tournament. Pat also interviewed Chris from Portable Warfare, a discount army transport company who is producing a Breast Cancer Awareness bag. Pat also then talked to Chandler from the Feasts of Blade tournament and they discuss some of the details of their upcoming tournament. Pat also talked to Terrace of Geek Nations Tours and they talked a bit about this year's Tour of Adepticon 2012. Then, Dave is back from the 40K UK podcast, and he, Gary, and Neil all have a great conversation about the current meta game with Grey Knight and their advance on the tournament scene as of late. This conversation then transcends into how the appearance of Grey Knights and Dark Eldar has altered what armies are being run in recent tournaments. To close out the show, the guys give a full Codex Countdown of the recently completed Sisters of Battles. They go over the ins and outs of this so-called Codex, mostly exposing the gaping holes in it and discussing how bad this Codex really is. They close out the show with Deep 6, where they review Warhammer Fantasy.
Opinion: Overall this was a pretty good podcast. I am of course disappoint I cannot make it down to Myrtle Beach this year to participate in their tournament, maybe next year. The interviews were good, the complete rundown of the poor Sisters of Battle Codex was awesome, but I found the 40K UK segment a bit hard to listen to this week. There were some audio issues there, but the content was still good. So I call it a wash. Overall though, still a good podcast this week.
Honorable Mentions – All great podcasts that just missed this cut this week, but you should still check them out, in no particular order:
The Eternal Warriors – Episode 29 ***Explicit*** – Nova Open, Fluffy IG, and some other games
Jaded Gamercast – Episode 48 ***Explicit*** – Strange Aeons, Practice Games, and Spam!
40K for Old Men – Episode 20 ***Explicit*** – Space Marine Review
Gamers Lounge – Episode 40 ***Explicit*** – Malifaux WiKi
So, that is it for This Week in 40K podcasting, thanks for reading. Got a podcast all about 40K, or mostly 40K that I am not listening to? Let me know about it, [email protected] and I'll be happy to add you to my listening schedule! Disagree with my review? Post comments for that too!