This Week in 40K Podcasting – 12/09/2011 – 12/15/2011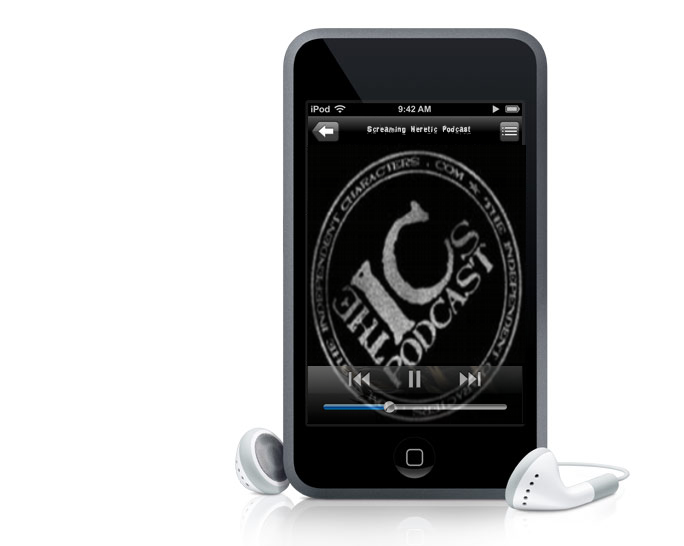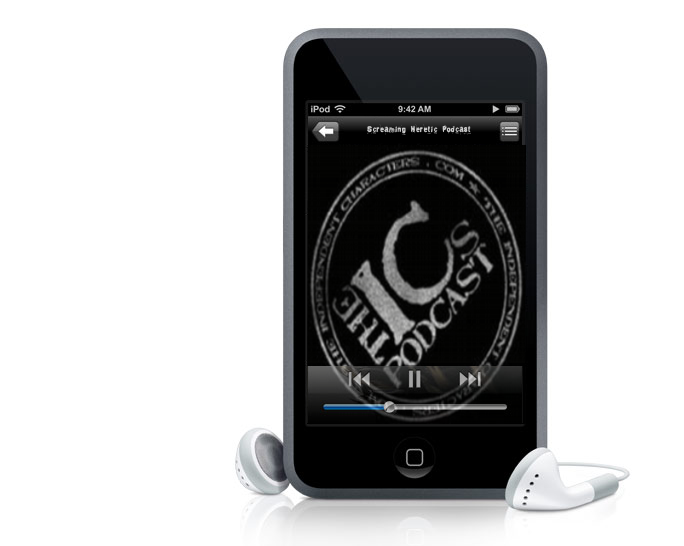 Welcome to another "This Week in 40K Podcasting,"

Here is this week's top 5!
The Independent Characters – Episode 43
Highlights: This week the boys clock in with a monster 4 hour show! They are back to choosing an army for you, and this show is Part 2, 'Choosing a Xenos/Heretic Army'. They open up the show on the 'Workbench' where they discuss the latest painting and modeling work that they have been doing. They also discuss a little about the games that they played, which mostly involved Carl was playing against the new Necrons. Geoff and Carl also got in a game of Battlefleet Gothic! Next up was Part 1 of Choosing a Xenos/Heretic Army and they started off talking about Chaos Daemons! They discuss the model range and some of the fluff changes that have come when they got their own Codex. They also discuss the complexity of running this army and some of the cool conversions that can come from Daemons. Next up was a show favorite, The Chaos Space Marines. They open up discussing some of the older fluff of the Chaos Marines and how they came to be. They also discuss their current place in the game of 40K, the model range, and cool places to get conversion bits. They then move on to the Dark Eldar, and start off discussing the backstory to this great army. They also discuss their different style of play on the table (pain tokens) and the differences between the Dark Eldar and other common 40K armies. They then move on to talk about the Eldar, and open up some of the fluff before moving on to talk about the age of the Codex and the product line. After a break, they moved on to Part 2 and discuss my favorite 40K army, the Necrons. They cover the new fluff, the brand new model line, and some of the fun stuff the new rules have brought about. Next up on the list was the joy of the Orks! They cover some of the character that Orks bring, some of the fluff, and building and converting all of the Orky things you want with your Ork army. They also talk about their power on the battlefield despite being an old Codex. Then, they move on to talk some Tau. They discuss where the inspiration for the race came from and a little about their background fluff. They also talk about the age of this codex and some of the current builds with the Tau. They close out the show with my second favorite army in 40K, the Tyranids. They start off with some of the detailed story of the great army before moving on to discuss 'what happened' with this poor army and their bad Codex. They talk about the lack of support from GW and the stalled out models and product line.
Opinion: Overall, this was easily my favorite podcast this week. Their rundown of every single army in the game of 40K has been informative, insightful, and a load of fun to listen to. This show was especial good as they covered 2/3 of my own armies and have inspired me to return so my Xenos background. Great work guys!
Highlights: This week the guys are a little short-staffed but still muscle through another show. The boys, Neil and Pat, open up the show with 'This Week in Gaming' and they discuss their games played this week. Next up in 'Pat's Corner', Pat talks to Mike Brandt from the Nova Open and they discuss some of the things we will see in the Nova Open 2012, including changes made to the GT format and new events. Pat also had an interview with Joseph from the Unorthodoxy blog and they discussed his Sisters of Battle list. Then in 'The List' and they open up with a rather interesting, all random, Ork list and a very Piranha heavy Tau list. After the community segment, the guys get back to the eighth installment of the 'Ralph' Segment and this week they talk about Matching Firepower with the Grey Knight army. Neil gives some rather specific examples of how one could build a list to put out similar numbers of shots and go toe-to-toe with Grey Knight firepower. They also build a power armor spam Blood Angels list designed to fight Grey Knights.
Opinion: This was a good show despite the fact they were short staffed this week. It was also one of the shortest I can remember as well. I love hearing as much as I can from Mike Brandt and one of these years I want to make it out there. I really liked all random Ork list and of course I am glued to the Ralph segments. Great work guys!
40K UK – Episode 34 ***Explicit***
Highlights: This week is the long awaited Tau Roundtable Episode, and clocks in with a monster 4 hour show! After some announcements, the show opens up with Round 4 of 'The Big Fight!' and this week pits the Sanguinor up against Skulltaker. Next up in the 'Tournament Report', Gary has an interview with Ben Appleyard and they discuss in detail the most recent Team Tournament that Ben had attended at Maelstrom Games. Ben discussed his Space Marine list that he took to the event and a blow-by-blow account of each of his games at the event. They also interviewed the Tournament Organizer Tim and some of Ben's opponents. Next up in 'News from Across the Pond', Dave talks to Charles St. Claire from New Zealand and they discuss in great detail the comp system in place in New Zealand. To close out the show is the long awaited Tau Roundtable. Dave have several interviews with top Tau tournament players and discuss their lists and how the run their armies. Dave started off with Franco Marrufo, and moved on to interview Mikey Newman, Bob Wolstencroft, and Chris Green.
Opinion: A great show overall, but there were times in the interviews where it was hard to hear the person being interviewed, most notable in the first Tau Roundtable interview. Aside from that though, this was a great podcast with tons of great information. I personally loved hearing from all of the Tau tournament players and they had tons of great ideas on the army.
Highlights: This week the guys are missing Ciaran but are joined by a special guest Jonny, a member of their gaming club. And a very happy birthday to Shaga by the way! They open up the show with a rather light news segment, where they talked about some upcoming Black Library releases and the rumor mill being in full swing. After a break, the guys move on to local Overlords news where they announced their forum winners based on their number of posts. They then move on to what they have been doing lately in the hobby and gaming. Next up in Steve's Roundtable, the boys close out the series on Controlling the Battlefield with some of the shenanigans that can be pulled off in the deployment phase. This includes fun stuff like Skimmers, Deep Striking, and outflanking. They close out the show this week with Room 40001 where Jonny tries to get his four things about 40K he wants removed from the game. These topics covered things such as better Codex Marines, the fabled Summer of Flyers, and a rescue of 40K shame.
Opinion: As usual this was another great podcast from the Overlords. I have found their series on controlling the battlefield quit interesting and stocked full of great tactics and strategies one can use in the game. For a 'fluffy' podcast, these guys do know their 40K tactics as well! Room 40001 was fun as well! Great show gang!
Subscribe to our newsletter!
Get Tabletop, RPG & Pop Culture news delivered directly to your inbox.
Imperial Vox Cast – Episode 64 ***Explicit***
Highlights: This week Bill, Tor, and Dawson are back after their holiday vacation. No Silas this week, sorry. They open up the show with some talk about the team tournament that Dawson and Silas will be attending and move on to talk some about upcoming Forgeworld purchases they hope to make. They then moved on to talk about what they have been doing lately in the hobby and some games played. Next up was the main topic for the show this week, the Games Workshop Megaforces! The guys break down the contents of the Dark Eldar and Space Marine Megaforces released this year for Christmas. They discuss what it would be like to build armies from the contents of these forces; they also discuss what you might have to buy in order to get this up to a playable army. They also discuss some additions they would make, including bits, to finish these off and make a good army out of the box sets. They then move on to discuss what they would want for Christmas in a 'Wish-List' segment. They close out the show with a discussion of the some changes they would like to see Games Workshop make in the coming year.
Opinion: A really good show this week, I personally myself am looking at the Dark Eldar megaforce so to hear what the guys would do with them to make them more complete and more competitive was eternally helpful. IT was a fun show and quite enjoyable to listen to. Great work guys!
Honorable Mentions – All great podcasts that just missed this cut this week, but you should still check them out, in no particular order:
40K Warcasting – Episode 43 Tournament reviews and Breaking Imperial Guard
Deepstrike Radio – Episode 27 New, Cleaner format covering the Blood Ravens (A great show)!
Preferred Enemies – Episode 17 ***Explicit*** – Local League Results and Deployment tactics
Jaded Gamercast – Episode 59 ***Explicit*** – Nathan is out, Bretonians, and Organizing Tournaments
Signals from the Frontline – Episodes 12 & 13 Run of the Rumor mill, IA: Apoc 2nd Edition, and Tournament results
Tyrnat's Due – Episode 17 ***Explicit*** Loss of the local game store
The Bone Dice – Episode 8 ***New Podcast to me*** Check them out
Skared – Episode 3 ***New Podcast to me*** 40K Law of Nines and Tournament Recaps
Noobhammer – Episode 12 ***Explicit*** Skaven and Necrons
So, that is it for This Week in 40K podcasting, thanks for reading. Got a podcast all about 40K, or mostly 40K that I am not listening to? Let me know about it, [email protected] and let me know about it. Also you can find me on My YouTube Channel for Battle Reports, Tactics, Reviews and more! Disagree with my review? Post comments for that too!