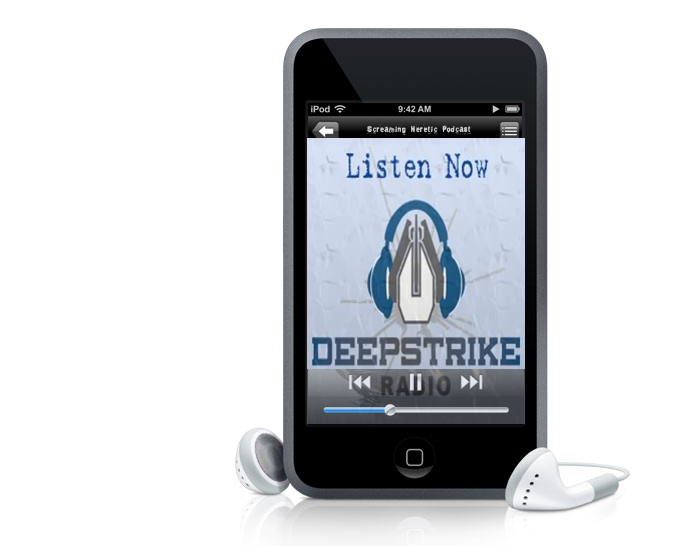 Welcome to another "This Week in 40K Podcasting,"

Here is this week's top 5!
Highlights: The guys open up the show with what they have been doing lately, Chase has a quest thread going on in the forums and is learning his Necrons, Jim is painting and playing, and Chris has been to a tournament. They move on to discuss the latest in 40K related news, including the 25th Anniversary model, the Black Library release for 2012, and some Forgeworld releases. Next in the Libraius, the boys dig deep into back story and history of the 19th Legion, the Raven Guard! They talk about the founding of the chapters, their primarch, and what happened to them during the Horus Hersey. They also go into where the chapter is now, how the army is broken up and their color scheme. They then move on to talk about some of the special and more well known characters from the Raven Guard and their major engagements. Then, in the Armory, each cast member creates an army list for multiple point values. Chase did a smaller 1000 point list, while Jim did a 1500 point non-Shrike list, and Chris built a 2000 point list with some Imperial Armor 8 characters to lead the army. Next up in the 'Hobby Trenches' the boys have a conversation about preparing for your first tournament. They give you some helpful tips for getting ready for the event, dealing with that guy and not being that guy, and the things you should bring to your event, like dice, rulebooks, and templates, and much, much more. To close out the show, Chris and Jim interview Reese from Frontline Gaming and they talked about the upcoming Bay Area Open.
Opinion: These guys always put on an outstanding show each and every time they release one, and this week was no exception. The Raven Guard are a chapter I thought I knew a lot about, but I have to say I learned a lot from this show. It was educational, entertaining, and a blast to listen to. My top pick for the week!
The 11th Company – Episode 105
Highlights: This week's show opens up with 'This week in gaming' where the boys are joined by special guest Travis, Sinister on their forums, and they discuss what the games that they have been playing. This included Neil's Super Friends Necron list, which I have to try! They finish off the segment with some announcements about events they plan to attend. Next, in 'Pat's Corner', Pat has an interview with Rob Madeley and they discuss his tournament Necron list. Next, Pat talked to Paul Murphy and they discussed the team he will be taking to the Adepticon team tournament this year, and what it take to make a good tournament team. Next Pat interviewed Todd from their forums and discussed his 'Crazy Ivan' deep striking method. Next up, it is back to the 'Codex Countdown' and this week they review the Imperial Armor Apocalypse: Second Edition and they cover the Eldar the units listed there as 40K ready. Then, in 'Tactical Terrain', Eric continued on with his discussion about Ruins and Buildings on the battlefield and takes an in-depth look at the GW terrain kits and reviews them. After the community segment, where we heard from the 19th Legion and some representatives from upcoming tournaments and events, the guys moved on to 'Guest Quarters'. This was a great conversation about Unit Coherency and some of the more interesting scenarios that can come about thanks to these rules. Next up, in 'the List', the guys build a Crack Shot Eldar list and a 'Company of Heroes' Space Wolves list full of special characters. To close out the show, Pat talks to Vince from the Black Library and they talk about some of the offerings that the Black Library is now offering, like eBook versions of their books and audio dramas!
Opinion: I really enjoyed this show; I am quickly becoming a Rob Madley fan and hear his interview was awesome. I also like the guys look at the Imperial Armor books and I hope they keep it up. And the conversation on Unit Coherency was quite fascinating as there were some situations in there I had never thought off. A great listen this week!
40K UK – Episode 42 ***Explicit***
Highlights: This week's episode is a monster, at just over 4 hours, and is dedicated completely to the Caledonian tournament that the boys recently attended. It is a qualifier tournament for the ETC and the first major event of the year. After an apology for a making a mistake in the rules on the Masters Episode, the boys move on to talk about the 1850 point, six round Caledonian tournament. They cover the volume of people who were there, the cost, and how the event was run. They then move on to a round-by-round review of their games at this event, opening up by talking about the lists that they took and their games. They cover the missions played for each game, the details and tactics of each game, the greatest moments of those games, and the overall victor. Josh finished off in 4th place, Gary placed 28th and was the top Dark Angel player, and Nathan finished off with a controversial ruling and finished 2rd overall.
Opinion: It is always a joy to hear the guy's tournament coverage, and this show was jam packed full of it. Tactics, strategies, and more, this episode had it all. I always seem to learn something new each and every show, and this was another gem.
Highlights: This week the Overlords have a full crew, including the legendary Dagmire! The guys open up with a light News segment, as GW has only mentioned the 25th Anniversary model and not much else recently. Even Forgeworld and the Black Library were light this week for news. Next, they move on to local Overlords news, and they have a few contests running and their Broken Alliance event coming up. Next, the go over what they have been doing lately, and this included hobby projects completed and games played. Then, on 'Bid Up I.C.', Adam attempts to sell the gang on the big man himself, Ghazghkull Thraka! He goes over his stats and weapon load out before the boys begin to debate exactly how much he is worth. This is also mixed in with what Gaz does to an army and they bid on him with points for their army. Next, in 'Sprue Peter' the boys look into Adam's conversions on his Skaven Doomwheel for 40K purposes. He moves on to discuss the massive amount of conversions he has made on his Space Marine and Chaos Marines armies. To close out the show, Dagmire does a quick review of Hammer and Bolter issues number 1. He breaks down all of the articles/books that are found is this awesome online magazine!
Opinion: While I always feel like the Overlords put on a great show, this one was a bit more special. The unit conversions that Adam described were awesome, I just hope that there are some pics for all of us to see. Gaz is one of my personal favorite characters in all of 40K and it was great to hear their opinions on this great character. And of course I was glad to see Dagmire back in studio with a great review.
The Independent Characters – Episode 47
Highlights: This week the Independent Characters are joined by Zach, Adan, and Mike as they discuss narrative gaming. They guys open up the show with some announcements before moving on to 'The Workbench' where they discuss the hobby progress they have made lately. This then rolled into the games that they have been playing since the last show. Next, they move on to part one of the main segment of the show, 'Bringing story to the 40K table', and open up by introducing Mike and going into his path to 40K and what his impression are of the current game of 40K. They then let Adan and Mike catch up on their hobby progress. After a break, they guys define what they believe a Narrative Game would be, and this usually turns out to be a series of several games. Most importantly is that the story needs to drive the game, and it might take some work to set these kinds of games up. They move on to talk about what you need to run a narrative campaign and the story, and planning is number one. They then talk about some techniques to building that story and how fluid and expanding these stories can go. They then talk about the massive campaign that 40 Fight Club put out, and talked some about the overall story. They then move on to talk about some of the campaigns that they personally have run and how they turned out. They close out the show with a look ahead at the next episode, and a little bonus content.
Opinion: This show had a really interesting premise, which I was looking forward to. They were a bit lighter on the 'Narrative Gaming' aspect of it though, focusing a lot of time to their hobby progress and gaming and less on the main topic. I thought that there could have been more. Overall, however, still an outstanding show.
Honorable Mentions – All great podcasts that just missed this cut this week, but you should still check them out, in no particular order:
The Eternal Warriors – Episode 32 ***Explicit*** Finally back on the air! Welcome back guys!
Preferred Enemies – Episode 21 ***Explicit*** Armies for Noobs: Tau
Signals from the Frontline 40K Rumors, Ireland's ETC Team Captain, and more!
Jaded Gamercast – Episode 65 ***Explicit*** Dark Eldar and what to do before an Edition Change
So, that is it for This Week in 40K podcasting, thanks for reading. Got a podcast all about 40K, or mostly 40K that I am not listening to? Let me know about it, [email protected] and let me know about it. Also you can find me on My YouTube Channel for Battle Reports, Tactics, Reviews and more! Disagree with my review? Post comments for that too!