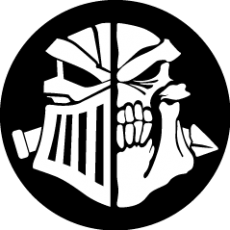 Well, it's 2012, which means that a new version of the Steamroller tournament format has arrived for Warmachine and Hordes players. There's a lot to talk about, so you'll be getting this review over two or three articles. Today we'll be discussing the base rules, where later articles will look at the specific scenarios.

Of all the iterations of Steamroller, this new version is by and large the biggest shake-up we've seen to Privateer Press's official tournament format. The first notable change applies to round length determination. Under Steamroller 2011, round length was decided by taking a base length dictated by the size of the game with a random addition (which was known only by the tournament operator) of d6*2 minutes. While the game length was still not the same every game in 2011, it wasn't hard to gauge when your game should be wrapping up, making late game tempo control something that a player could exploit in order to secure a victory that might otherwise be a loss. All a player would have to do is keep track of when the base game length was up, then stall and win on victory or control points.
For example, in a 50-point tournament, game length was 100 + d6*2 minutes, putting the overall length between 102 and 112 minutes. Once your approaching 100 minutes, if you're up on VPs, CPs, or have more models contesting the scoring areas, you could play a cagey game for those last remaining minutes and win that way.
Under the new system, round length is determined by randomly adding or subtracting time from the base value. The length of time added or subtracted is not only random itself, but it's also partially affected by the size of the game. A 35-point game has a base length of 70 minutes with d3*3 minutes being added or subtracted to give you the actual game length, while at 50 points the base game length is 100 minutes with an added or subtracted value of d3*5 minutes. This might seem like a subtle change, but it promises to make late game VP/CP sniping tougher to benefit from since the game length will be harder to determine.
The next notable change comes from player turn length, which has been decreased under the default format. 35-point games used to use 10-minute turns, but now use 7-minute turns instead. 50-point games used to have 12-minute turns, but have been reduced to 10 minutes. While this sounds intimidating, a good deal of tournaments have been using these turn lengths for the past year anyway under a popular event variant referred to as "Death Race". While some might have to adjust play styles or list builds to accommodate this, others won't notice it since they've been playing with these turn lengths for some time already. That said, tournament operators that are a fan of the old turn length can use the "Casual Time Limits" game timing variant that effectively puts turn length back to their 2011 length.
Next on the list of changes are a new scenario mechanic referred to as "artifices", mandatory special rules used under specific scenarios. The first artifice, Kill Box, which used to be its own scenario, has been incorporated as an artifice into the rules for the Center Scenario category, which consists of the old, familiar Close Quarters, Gauntlet, and Overrun scenarios.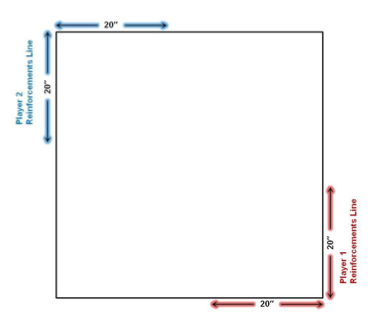 The second artifice is something brand new to the format, Reinforcements, which is used with the Outflank, Outfight, Outlast Dual Scenario, as well as A Flag Too Far, Bunkers, and Envelopment from the Flank Scenario category. The Reinforcement rules give players an additional value of models that are effectively placed "in reserve" that may come in during a player's maintenance phase after the second player's second turn.
The amount of points a player gets for reinforcements is determined by the game size, with a 35-point army getting 7 points and a 50-point army getting an additional 10. These models must come in from the lower right corner of the player's board edge, being placed within 3″ of board edge extending 20″ inward and upward. Warjacks that are brought in via the Reinforcement rule that are controlled by a warcaster get three free focus on their first turn, and warbeasts may be forced even if they are outside their controlling warlock's control range. This is an interesting new concept for the game, and certainly lends itself well towards taking fast-moving units like cavalry or long-ranged fire support units. Since players will have to deal with a larger volume of models in games using the Reinforcement artifice, players will gain an additional turn extension to accommodate.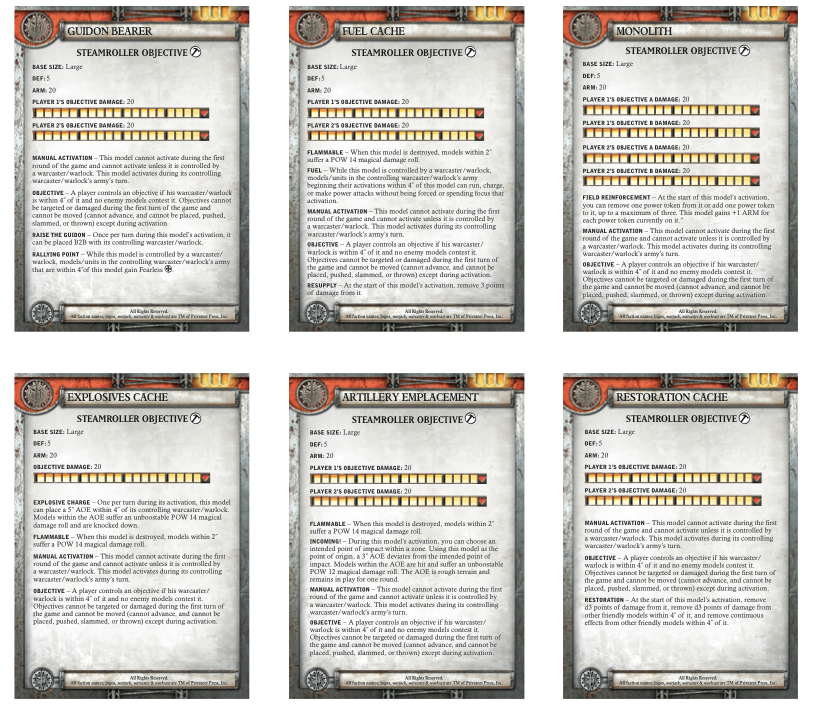 Interactive Objective Cards
The third artifice is the Interactive Objective rule, which is host to a series of new rules for 50mm-based objectives. These models are DEF 5, ARM 20 with 20 wounds. There are six unique interactive objectives, including the Artillery Emplacement, which can be used to fire 3″ AOEs into scoring areas, doing POW 12 magical damage rolls, but only if it is controlled by a warcaster or warlock. The Restoration Cache heals itself and models nearby when it activates. There are several others, but I'll get more in-depth with them when I discuss their corresponding scenario.
The last notable change to Steamroller is the new Flank Deployment setup, which has players deploy their models in 7″ x 28″ rectangle in the left corner of your table edge if going first or a 10″ x 28″ rectangle in the left corner of your table edge if going second. This deployment type is somewhat of a hybrid of normal and radial deployments, confining the player from using their entire table edge of the former, but giving them a bit more horizontal access than the latter. All three of the Flank Deployment scenarios also use the Reinforcements artifice, which has models come in from the right corner of the player's table edge, meaning that only your Reinforcements will have easy, immediate access to that part of the board.
SR2012 is definitely a big-shake up. Our next few articles will look at the different scenarios. Stay tuned. PS, all you PP players keep this stuff in mind for WarGamesCon!