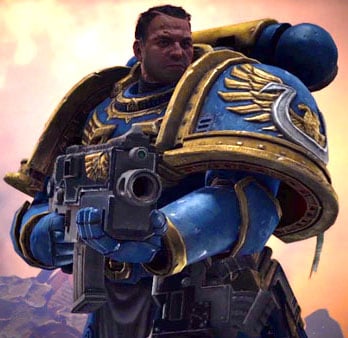 We all say we hate the dull repetitive nature of Marines and MEQ armies. But with 6th Edition fast approaching, what's the answer?
As is stands right now, Warhammer 40,000 has the following armies:
Space Marines (MEQ – duh)
Blood Angels (MEQ)
Space Wolves (MEQ)
Dark Angels (MEQ)
Black Templars (MEQ)
Grey Knights (MEQ)
Chaos Space Marines (MEQ)
Sisters of Battle (3+ T:3)
Tau Empire (4+ T:3)
Eldar (4+ T:3)
Imperial Guard (5+ T:3)
Dark Eldar (5+ T:3)
Orks (6+ T:4)
Necrons (4+ T:4)
Tyranids (4-5+ T:3-4)
Chaos Daemons (Crazytown)
So that gives us 7 Power Armor codices (8 if you count Sisters), and 9 (or 8) other types. So clearly the game revolves around the mighty Marine and his even more mighty power armor. The way the "all or nothing" AP system works came in with 3rd, and been giving PA forces a definite air of superiority since then. Back in Rogue Trader and 2nd Edition in the era of armor save modifiers, Marines were much more fearful of even moderate armor piercing weapons like the -2 save Shuriken Catapult.
As a result, we get the indirect effects of PA forces (especially foot heavy ones) giving much less credence to cover compared to the other armies out there. This in turn effects the overall level and respect given to terrain from local clubs to the big tournaments.
Which brings me to the biggest compaint we see in the player community – MEQ armies are too prevalent and make the game too homogenous and dull. So what's the answer. Well we certainly have several options out there.
1) The AP system could be revised to make PA troops more susceptible to small arms.
2) Cover could be revised to somehow benefit non PA troops.
3) Codices could start to consolidate and take the high volume of PA ones down to a smaller level.
Now I'm thinking #1 and #2 aren't happening, so that leaves #3. Do we really want something like a unified Space Marine book that would take Dark Angels and Black Templars out of print. Is it even possible to make a single "Codex Astartes" book that would do justice to the existing armies and not completely make the existing variant Space Marine players go absolutely BONKERS (just imagine the hollering)…
If you assume for a minute that that is a worthwhile goal, then who gets "the axe"? Who is worthy of keeping their own books? Would a return of the Doctrine system be enough to keep the playerbase happy? Finally if this happened, what would the Design Studio do with the new open codex slots. It would be a shame to phase out some PA books, only to replace them with new exciting PA books. So think for a minute about exactly what Armor/Toughness combos you think the game needs right now to even out the balance, and make a lot of weapons that are hardly ever used be viable choices again.
~Discuss – If ONLY I had the answers on this one, but I'll gladly hurl the first grenade. Do we REALLY need seperate Dark Angels and Blood Angels codices? Don't get comfortable Black Templars – I'm keeping a critical eye on you too!