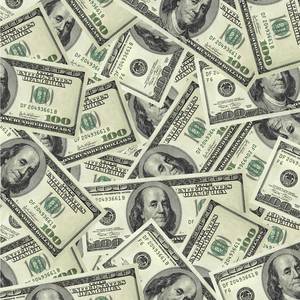 Jwolf here. When Bigred asked for a Xenos army with models or reasonable conversions, 1850 points, a chance to compete, and a relatively low price, I was pretty stumped. But you can't keep an old general down…

I looked at some Ork builds, but adding enough Trukks or Battlewagons to make a solid list drove the price up quickly past the $500 mark. So I went with Necrons, and here's my favorite budget list (warning – conversion required!):
Imotekh the Stormlord
Anrakyr the Traveller (with Command Barge)
Royal Court 1
Lord with Resurrection Orb
Harbinger of Eternity with Chronometron
Harbinger of Despair with Veil of Darkness
Harbinger of Transmogrification
Royal Court 2
Lord with Resurrection Orb
Harbinger of Eternity with Chronometron
Harbinger of Despair with Veil of Darkness
Harbinger of Transmogrification
C'tan Shard Writhing Worldscape and Sentient Singularity
10 Pyrrhian Immortals in a Night Scythe
8 Necron Warriors in a Ghost Ark
10 Necron Warriors
3 Wraiths, 1 Particle Caster, 1 Whip Coil
Caveat: I hate Scarabs, and I hate how many lists I see that seem to be focused or at least heavily dependent on Scarabs, so I restricted myself from having any Scarabs for the list.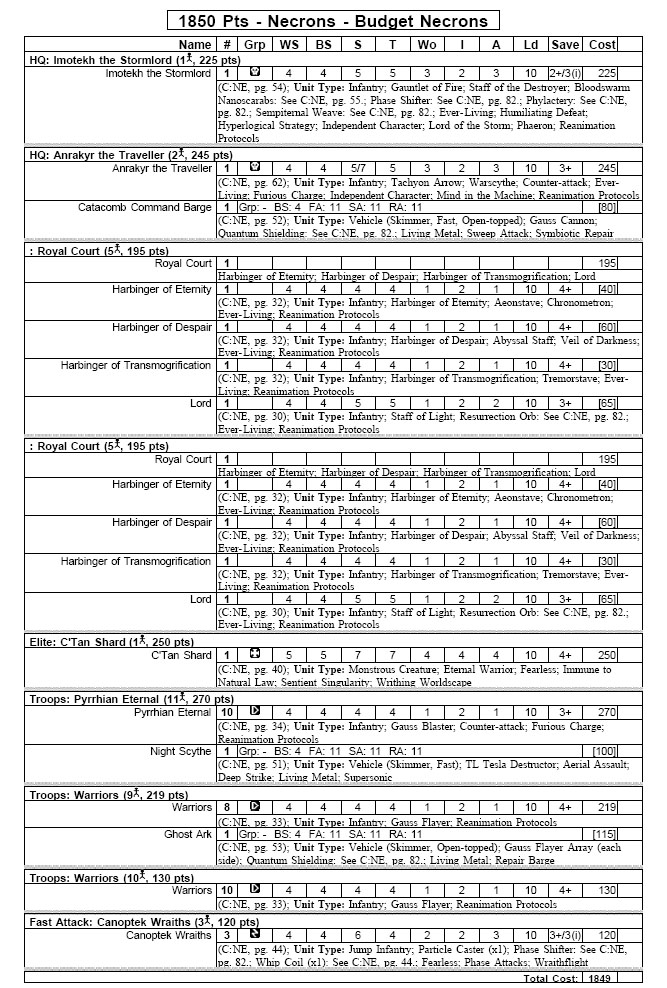 How the list is designed to work:
Imotekh keeps night up with the help of a two Chronometrons in the unit he is hanging out with – probably one of the Warrior units. The Chronometrons can be used to squeeze a bit more performance out of his lightning bolts, too. Other units try to pick at the edges, eating squads and vehicles that get close and dancing away with Veil as required.
Keeping up the Night Fight is good because the army can't trade long distance blows with any other list and is playing for late-game objective grabs and contesting, giving away few kill points and likely earning few as well.
Close Combat is tricky – best to get the characters out of any of the troops units before charges reach them, where possible. Anrakyr can kill weak units pretty easily, and the C'tan has a reasonable chance against anything short of large Terminator units. There are also a fair number of tricks in the army for dismounting your opponents, even without meltaguns or close combat.
This is not an easy army to play with – I have no interest in playing a Crowe/Purifier/Psyfledread army, no matter the Codex. Careful and thoughtful play should give you a shot against almost all lists – I'll give it some plays and see how it turns out for me.
Enough of the boring gameplay, how do we make this army?
We buy the following Necron Boxes:
Imotekh
Necron Overlord
Necron Lord (x2)
Cryptek (x2)
Immortals (x2)
Warrriors (x2)
C'tan Shard
Ark
Barge
Praetorians
From the GW Tomb Kings line we buy Sepulchral Stalkers
Our Night Scythe is the Moebius Cylon Raider
Total Price is $459.99.
Conversions
We make 4 more Crypteks from the Deathmark heads and 4 of the Praetorian bodies. Modify the staves to match your vision of their respective Harbingeriness. This is the easy one.
The Stalkers take a bit of work to get them down to fitting on 40mm bases. You can greenstuff part of the lower body and change the tails to end in the space, and steal bits to make the Particle Caster from the Praetorian box. The lower body is tricky, and I haven't done it yet (I eyeballed the sprues and I can see how to do it, so I figure pretty much anyone else can do the same). You can either use the Stalker heads or steal the Praetorian heads and use a little greenstuff.
As for making the Cylon Raider into a Night Scythe, consider replacing the cockpit with a blank – something like a plastic bottle cap might work (might need a smaller bit), and then add a gem or prism (if you don't have that sort of stuff lying around, there are tons of them on kids toys) to the end of the cap to be the gate. Or you can totally just play it without changes, or add a lot of plasticard and change it a lot – this is one of those "can't get it wrong" opportunities.
~That's my idea for a bargain Necron army that looks fun to play, is unlike the Necron armies I am seeing, and I think a skilled player can use competitively. It's definitely not an easy mode army, with a lot of maneuver and avoidance rather than bludgeoning your way to victory. Give it a proxy try and see what you can do!