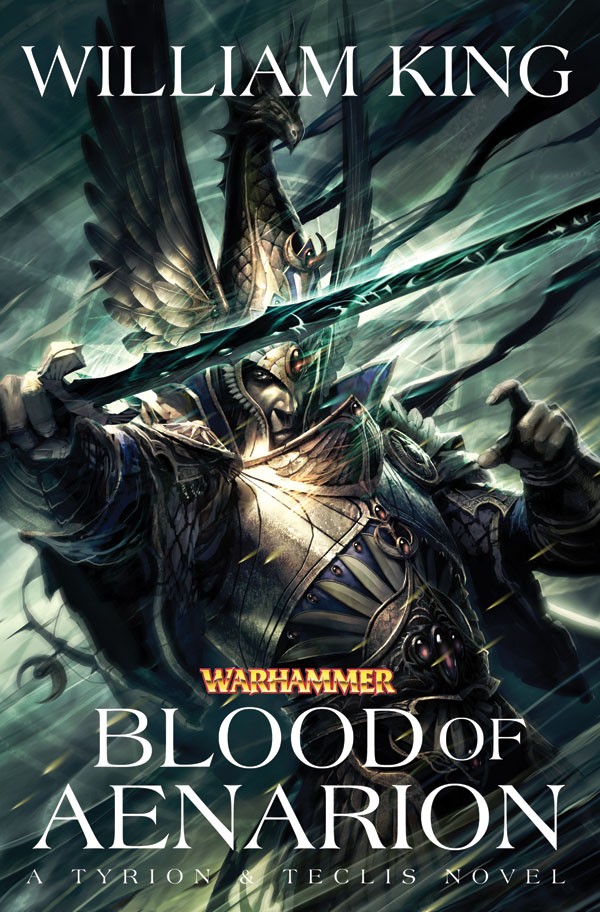 Spanky Harrison back from the woods with a review of Blood of Aenarion, the first in the new trilogy about everyone's favorite High Elven duo, Tyrion and Teclis!
Blood of Aenarion is written by William King (if you cant tell from the picture up there), the author of the Gotrek and Felix series. It clocks in at a decent 315 pages. The other two books in the trilogy are already named and have cover art, and are due in December of 2012 and 2013.
Now that I've given you the technical details, lets get to my impressions!
Cause really, what else could you possibly want to read other than my opinion?
First off, I haven't read any of the Gotrek and Felix books. So this was my first introduction to Mr. King as an author. His prose (as in, his actual use of words and language) is good but not exceptional. So no problems there. The characters were well presented, and the story does give insight into the early history of the famous twins. The book also gives some interesting insights into High Elven society as it exists outside of the High Elf army book, which is always something to look for in novels like this.
Unfortunately, the book feels more like the first third of a novel than the first book in a trilogy. The story regularly gets bogged down in little details. Things really started to drag around the 8th time I had to read a paragraph or two about how magical and pretty and magically pretty Ulthuan is. Also, the major climax and the resolution of said climax seem to occur almost simultaneously as the book ends.This made the book feel really short for its page count, and really long for its content.


So overall, I recommend the book for High Elf fans, but you should wait till its in paperback, and also probably until the rest of the trilogy comes out. Blood of Aenarion is a good start to an interesting story, but spends too much time talking about window dressing and not enough time focusing on the main plot.
~ 3/5 pointy ears for this one. I have read two different High Elf novels so far, (review of the second one coming soon) and I have found that they both spend WAY too much time talking about how magical Ulthuan is. Agree? Disagree?