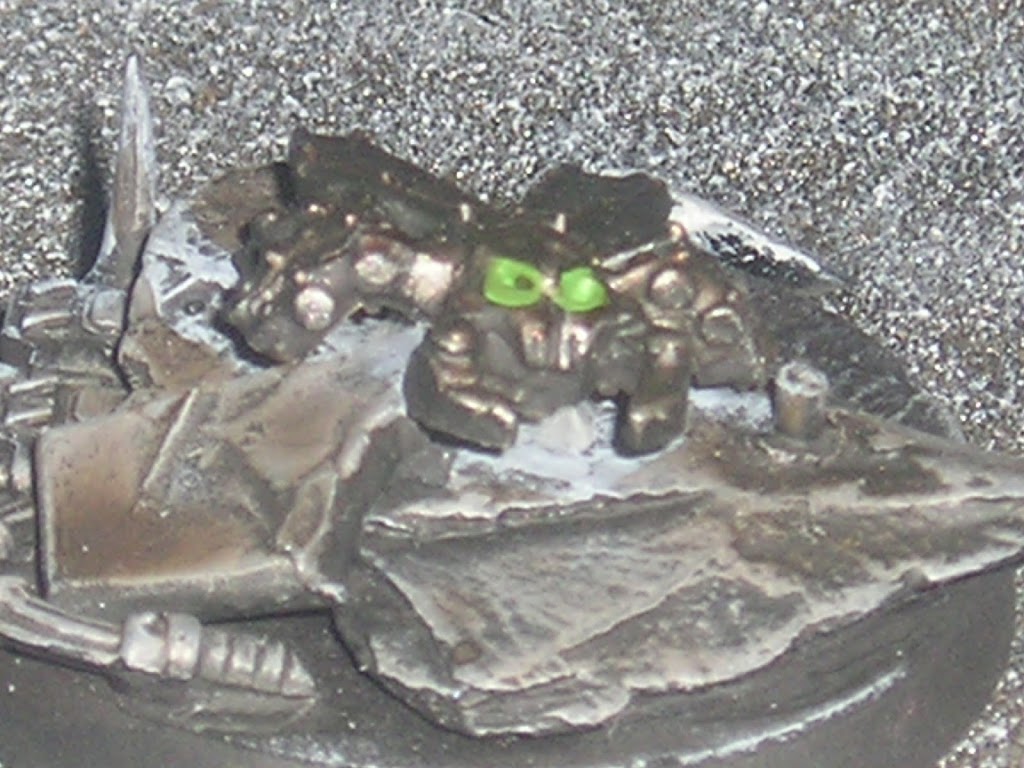 Last week we talked about Spyders and their relation to scarabs, so this week let's take a look at running such a build.

Fritz here– For a while there things were getting out of control with my Tyranids. All the gaunt spawning- running five Tervigons will do that for you, sometimes spawning over a hundred gaunts a game, so naturally when I saw Necrons could scarab farm it was a natural conclusion…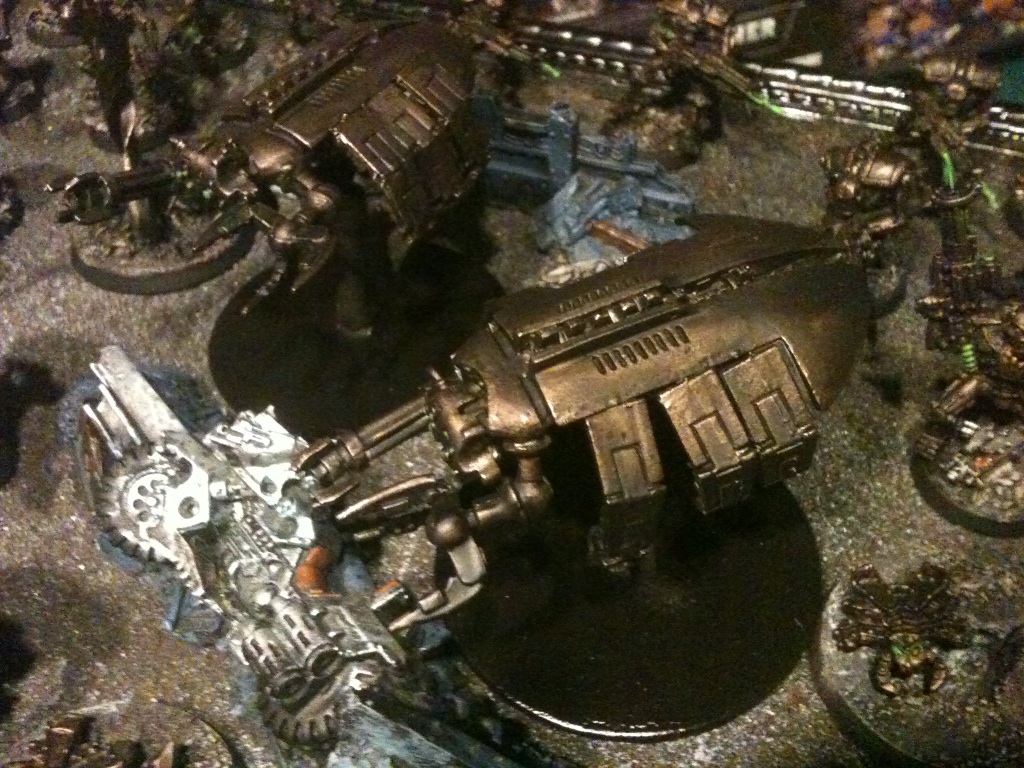 Being the second xeno army to spawn units the first question to ask is if your scarab units are going to be the main thrust of your army or merely a small component of it. If you want to farm, then it is going to be a primary focus so we are going to need both critical mass and hitting power.
Critical mass means you have enough scarabs to get your opponent's attention, along with enough so that when they hit your opponent's lines there are enough models to some damage.
Looking to build that mass we of course go with redundancy- one is none, two is one, three is some, so three units of ten scarabs was the starting point for me, and not really an expensive investment in points based on the model count.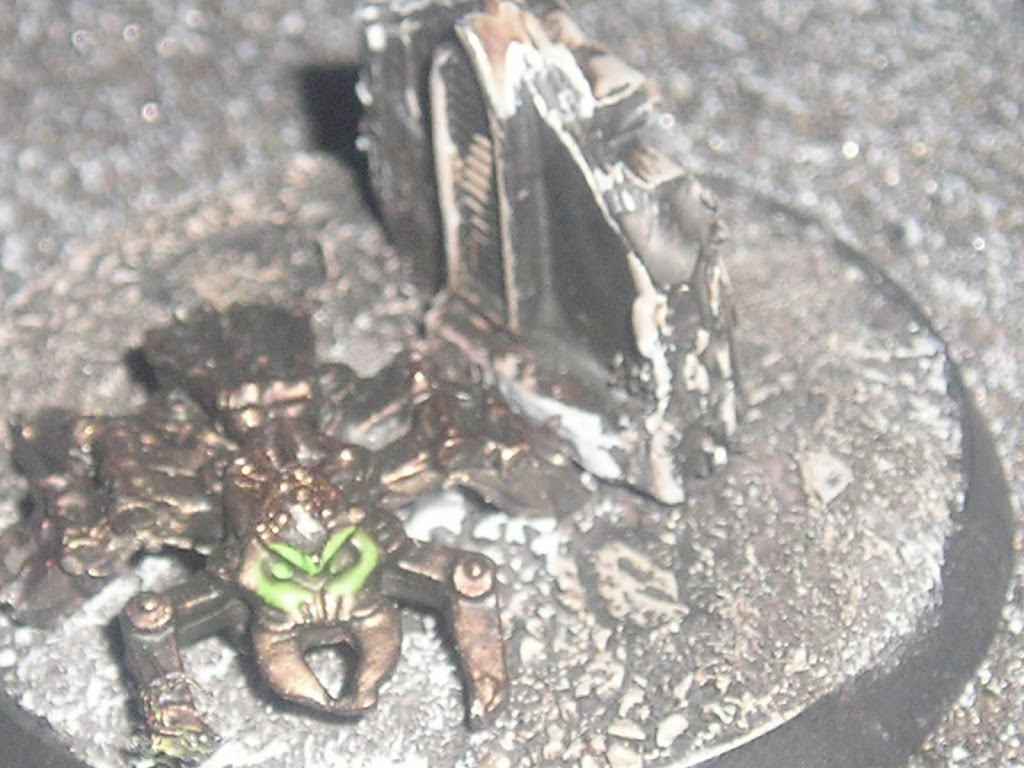 The next step was to add some spyders and this is where the points start to add up…
Initial trial and error of one spyder per unit didn't really spawn enough mass for when the scarabs hit, and each spyder gave up a kill point which felt like I was back playing Tyranids in a kill point mission.
Another issue that I was finding was that against certain non-vehicle units like assault terminators and large Grey Knight squads the scarabs were taking a beat down and vanishing in a turn or two of assault.
Time to rethink and experiment some more, which brought me to two units of scarabs and a single unit of three spyders. Tactically the three units act as one, moving forward in an "L" shape on the table.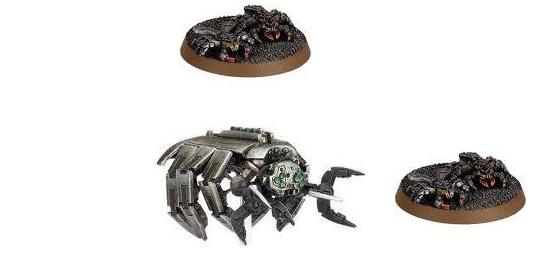 One scarab group goes in front and gets pumped up by the three spyders while the second scarab unit goes on the right or left, also in range of the spyders. When the first group hits if they need to continue being pumped to offset losses then it happens, if they are bogged down and going to be lost then the spyders start pumping the group off to the wing.
Wargear options for the spyder are just a single gloom prism so the scarabs have a layer of psychic defense vs. Grey Knights, Space Wolves, etc. As much as I would like to abuse the wound allocation the points just aren't there as I have some supporting characters to think about and the rest of my army to outfit so I can accomplish the mission goals.
Feeling good about having enough mass of scarabs I then needed to refine the hitting power of them, again through trial and error, taking some real beating on the table to find that balance.
Things are about to get even more pricy, but the difference on the table is too great to pass up…
HQ # 1: Imotekh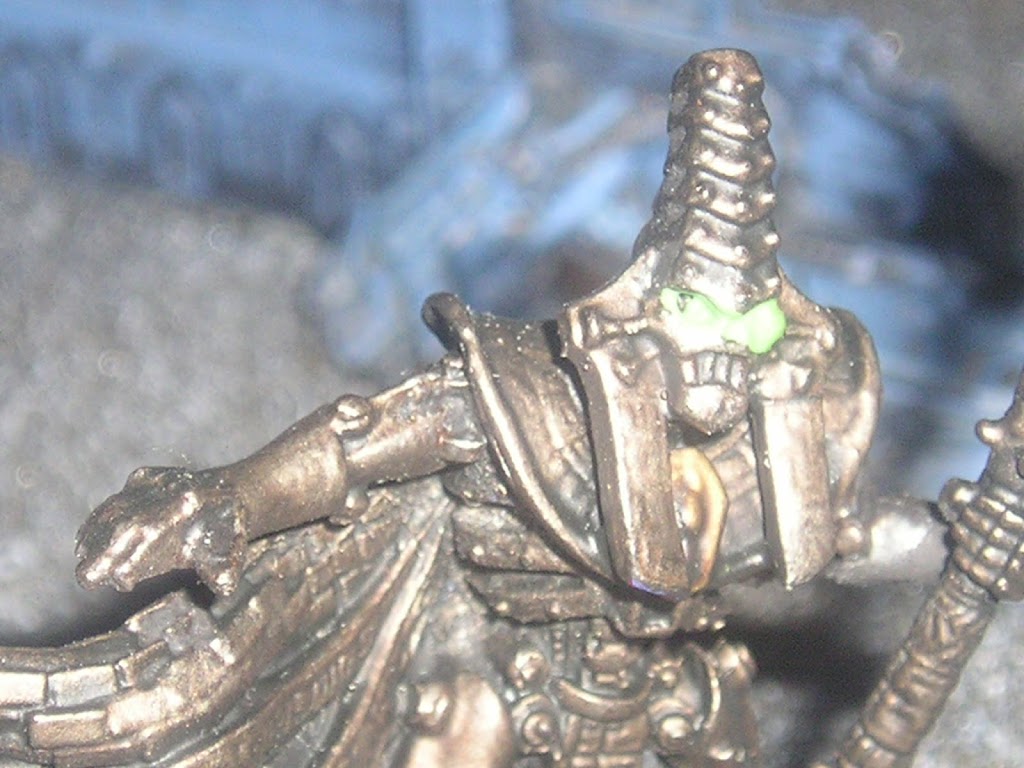 Imotekh is the first piece of the puzzle for hitting power. Now that the FAQ allows the chronometron re-roll I can usually get three turns of night fight out of the guy, which is key for the scarab farm. Being aggressive with the scarabs means they are going to be in my opponent's face, can't be ignored, and will be shot at on the way in. Spawning scarabs deals with taking a volley of shots at point blank range, and night fight gives me that cover to get in.
As for the lightning attacks in a scarab farm army, they are just kind of a bonus. Game wise it has been real hit or miss for me, which is expected for a random power- sometimes I blow up two or three razorbacks or dread spam on turn one, and other times I can't hit a single thing for the entire game. Although it does help and feel good when a MSU razorback goes boom and the five marines inside spill out, now vulnerable to my swarm to gobble up…
Imotekh's ability to seize on a 4+ is also handy for the farm- I find that I want to take first turn to try and get off a pseudo-alpha strike with the lightning attack, farm some scarabs with the spyders, and get the jump on advancing them- quite a personal game shift from the guy who likes to go second, reserve, and contest objectives turn five.
So now I've got the mass (spyders) and delivery system (night fight) so everything should be good right?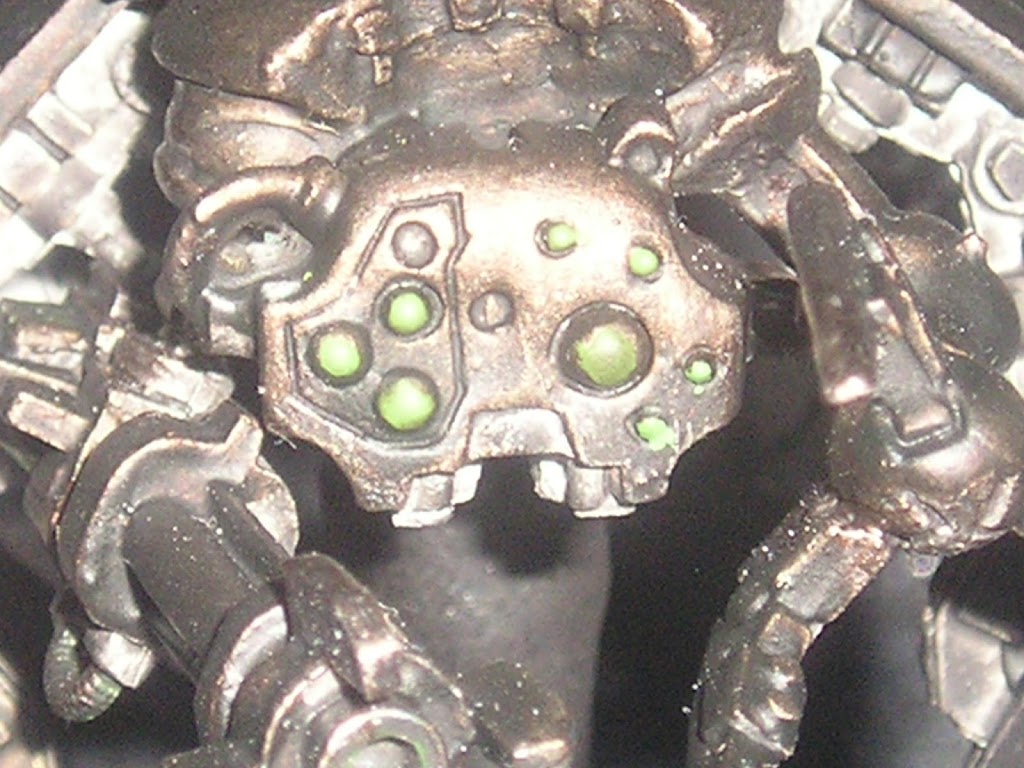 Almost.
More game testing found I needed one more tweak, something to take the scarabs to the next level from annoying or a problem, to deadly.
HQ #2: Zahndrekh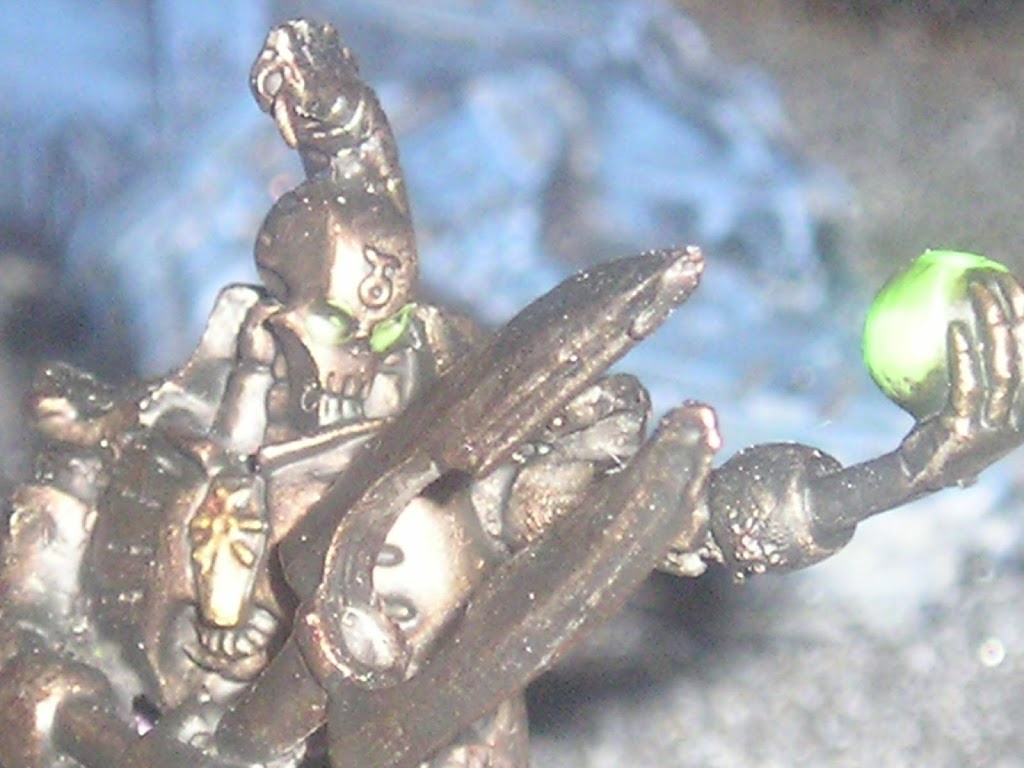 Two expensive HQ choices in a 1750+ list- yes I know, but let me share the results for your consideration.
The Z man's adaptive tactics were the hidden gem when combined with scarabs- the ability to zap the lead unit with furious charge or tank hunters makes a HUGE difference. S3 scarabs vs. marines are so-so, but suddenly S4 and wounding on a 4+ with fifty plus attacks…
Doing the same to tanks combined with entropic strike means what I hit is dead, period, and now I can multi-assault a parking lot of tanks if the opportunity is there- unlike before where I didn't have enough punch to split up the swarm.
If I have to take the charge due to tactical reasons or for just plain messing up giving the scarabs counter attack is another big boost. If I want to gamble on freeing them up ,then I go for hit and run.
Zahndrekh's reactive tactics are another layer- denying furious charge on the scarabs which every marine unit seems to have these days, along with denying Space Wolves their counter attack, etc. Players really don't like it when you take away their USRs.
So that kind of wraps things up for the scarab farm right?
Almost.
With the mass, delivery system, and boost for Z there were still a few situations that needed a little more help…for example boosted terminator squads.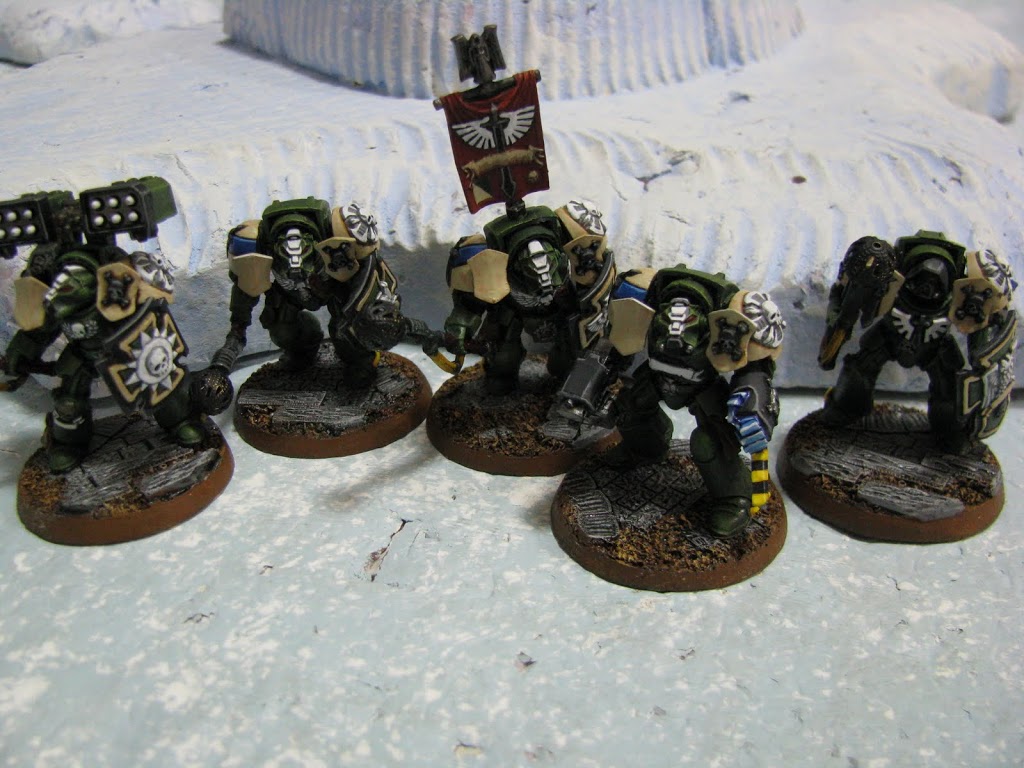 Deathwing has become very popular where I game, and I regularly face my buddy Matt's Deathwing army with a Belial command squad and apothecary. Of course the 2+ save is beast, and normally I can break though that on sheer weight of dice with a bid spawned scarab unit and boosted Z powers, but when you throw in feel no pain and the power fist attacks back it becomes a bit of a chore.
I can drag down the Deathwing but it may take two or three turns, and this is two or three turns of my scarabs being bogged down- every turn they need to be killing something, forcing a reaction by my opponent, so the rest of my army (immortals and deathmarks) can do that mission stuff.
What I needed was a tag-along unit to assist the scarabs, and after some more experimentation a group of destroyers fit in perfectly…
Destroyers, I know, the new carnifex of the codex, but in this unique situation they had the perfect slot to fill. Three heavy destroyers and two regular destroyers cruse along on the opposite wing of the group blasting targets to soften them up before the scarabs charge.
Now vs. those same terminators I first pop off three heavy shots and two regular before Z buffs and the charge. AND this will only get better in a few months when preferred enemy is extended to shooting attacks.
So there you go, my journey in the adventures of scarab farming, from just taking the on paper looks good 3 X 10 + spyders to refining it, adapting, and really giving that half of the army some real bite.
Those of you running other scarab farms out there, what is the magic combo that you found works?