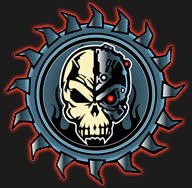 Goatboy here again talking about my thoughts on Adepticon.

I enjoyed my experience again this year even though I didn't make day 2 of the championship (3-1 with Demons is not too shabby). I did well enough during the team with our group still being in the hunt till the end. So with that in mind – I think 5th edition just needs to go.
I am sure you all saw the percentages of certain armies during each event. It was a pretty miserable sea of metallic painting mixed with some howling werewolves. In fact it seemed that so many people were almost ashamed with what they brought to the table for one of the last events of 5th edition that it made me question "was it worth it to throw dice into this competitive hole?" I tooled my list to face Grey Knights in the championship and I didn't even get a chance to face one. Of course that all came back at me when I played 4 Grey Knights during the team event. Lucky for us we tooled our lists to be anti Grey Knights (hooray henchmen? Or Asshatmen if you prefer).
I did an interview on a live cast with Alex from Apocalpyse 40k where I discussed the idea that the game isn't just you – it is the experience of yourself and your opponents. This is an interesting thought as every game I try to play – I bring the idea of making sure wasn't a waste of time for the person across the table from me. I know we all like to win and this has been harped on a lot – but with the field consisting of a ton of Grey Knights and most players looking like they just took the last cookie from the cookie jar – it made me wonder what the whole point was?
I know people don't always believe me when I say my plan is to always have fun with any game I decide to jump into. I usually pick one to be competitive as that is within my nature. I leave the others for whatever nonsense sounds interesting in the hopes that said nonsense will at least let me live past turn 3. So with this in mind I start to come full circle with my thoughts on 40k.


Things I like:
1. The models are awesome. In fact that is the best thing about this game. I can order, build, and convert models to my evil goat heart's content. There is not another game out there that gives me these options.
2. The player group for the most part is awesome. We had some nonsense happen to a friend during Gladiator that was pretty upsetting. I know we all get heated but still it is just a game of plastic dudesmen, dice, and maybe a few beers or rum and cokes. I didn't have a single bad game while I was there and I played tough players. Every single person I would play again and again. In fact I would love to play the guy who beat me again because he was good and it was such a relaxing game.
3. Tournaments are still fun when you come at them with the right attitude. They are not for everyone but I say everyone should at least try one or two.
4. I also liked the missions. Forcing players to get away from the sit back and shoot aspects of the game is a good thing. Too much firepower makes for a boring game.
5. I got to talk to a lot of new people there. It was a lot of fun just meeting people and laughing at whatever nonsense decided to spill out of my mouth. The Goatboy has a very small brain filter.


Things I didn't like
1. I don't like Win/Loss. When I lost game 2 I felt like I didn't want to play anymore for the day. There was no real hope to move on because the options for day 2 were for the most part closed off. I had some unfortunate dice rolls on game 2 mixed with a decent player that created a lovely 0 on my score card. I know WargamesCon is the poster childs for this battle points versus w/l nonsense but I know from the 3 times I have experienced it that I just don't like it. I always enjoyed Magic's cut to single elimation after a set of rounds and I think that would be ok with W/L. I know Feast of Blades is working on an idea and I think it has merit as we all know that last day is the day to drop out after a loss.
2. The painting scores were pretty bunk. I know they have a rubric and I scored higher when I went through it. Sure it is a painting contest and the judges have the say for anything but still if you have a rubric use it. There were some scores that were higher for what I feel were not the same level of paint job. I know not everyone is the same judge wise and that is life. It is also one of the reasons WargamesCon has a very basic paint scoring system designed to be very very simple. Still I am going into their house and me complaining about it afterwards doesn't matter as in the end it is up to them not me. I will just go back to sucking on my pacifier.
3. I am not a fan of small margin victory conditions. I don't like to lose by 185 victory points. That isn't fun to me. I spend all this time working during the game to lose by such a small margin that it is frustrating. Just like losing to that lovely Fritz turn 5 rush, this is one of the more frustrating things in the game. It makes the W/L format a frustrating one for myself as there are a few of these that I lost by such a small margin that it left an annoying taste in my mouth. I might be the minority but losing that way is just bunk.
4. Those vendor halls need to be open longer. Our games end after the hall closes so there is always this rush to try and buy something during the breaks in the round. Mix that with trying to get food, booze, or food/booze and you got a mad rush to get anything.
The question is will I be back? Of course I will be. No matter what I saw about feeling on the aspects of Win/Loss, the team tournament full of Grey Knights (we were only half full), and hike to the potty room I will still show up shouting whatever things I feel like sound interesting for the day.
Goatboy out. What was your take on your last big Tourney?