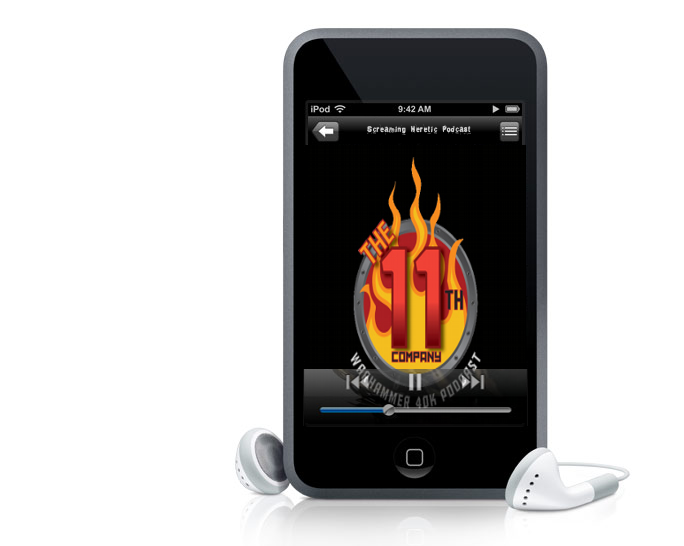 Welcome to another "This Week in 40K Podcasting," Here is this week's top 5!
Highlights: This week is another monster of a podcast, clocking in at over 4 hours long! The guys open up the show with 'This week in gaming' where they talk about Neil's preparations for Adepticon. Next up in 'Pat's Corner' Pat talked to a lot of people about the armies they will be taking to Adepticon this year. This list included Goatboy and his Daemons list, David Light and his Blood Angels list, 'TastyTaste' and his Daemons list, and Will from Frontline Gaming and his Daemons list. Then, it was back to the '
Guillermo' segment where the boys are on Part 3 of the Kill Point denial lists. This week they talk about how to stay alive and win the game! Next up was an extensive community segment where we heard from Table War, KingdomCon, KR Multicase, Battlefoam, Anvil Industries (custom bits) and more! The, in Codex Countdown, Neil and Steve start their coverage of Codex Necrons a little early, as they truly believe Necrons are a top tier army. To close out the show, Pat has a Black Library book review with Pig from Three Color Minimum and they review Legion of the Damned.
Opinion: I have been waiting for the guys Necron review since November, and I can tell you I was not disappointed! This show was also jam packed with the usual mix of great 40K content, with a ton of interviews and pre-Adepticon talk. Oh, and I lovethe 'Kill Point Denial' stuff, makes me want to play Grey Knights! My top pick for the week!
Highlights: This week the guys are joined by Baz, and they open up the show with the latest in GW, Forgeworld, and Black Library news. Next up was some local Overlords news, then this rolled into what they have been doing lately in the hobby and gaming. Next up in 'the Meatlocker', Ciaran leads a conversation about the Iron Hands army he is building. They all discuss and which Codex (or fan-Dex) is the best fit to represent this great army. Then, in 'Bid Up IC', Baz pitches Chaplin Cassius, and they staff bid to have him in their army. Next, the guys did a third party product review of the Pig Iron Kolony Rebels to help convert your Imperial Guard. After that was an Interview with Daryl from KR Multicase and they talked to him about his updated website and some of their new products. They close out the show this week with 'Dagmire's Tavern, where he and Steve are back with the 'Hobby away from home' segment. This week they discuss what they read on the road, from books to codices, to the software you can use to make army lists.
Opinion: The boys were back to their regular schedule this week and turned in a pretty good show. The discussion about which codex was the best fit for the Iron Hands was pretty good, and I am really liking the 'Hobby Away from Home' series. And, I always love to hear about new bits companies I have never heard of!
Highlights: This week's show main topic was their preparations to cover Adepticon 2012. After some announcements, the boys opened up the show with 'the Workbench' where they talked about their last minute Hobby Challenge projects. This also included talking about their most recent games. Next, the guys discuss their Adepticon plans, and they basically give a day-by-day itinerary, including the lists they will be taking to the friendly tournament, the team tournament, and recording the final games of the Grand Tournament. They talked a lot about what they thought they would see at the final tables. Next boys introduced a news tactics and strategies called 'Rights of Battle'. Zach leads a discussion about some basic ideas and terms of the segment and how they will be used in segments to come. This moved on to their first topic of the segment, army legists and how they affect your list building and winning, and maneuvers where they talked about some basic 'actions' in the game. To close out the show, they announce the winners of the hobby challenge!
Opinion: I really liked this side of the ICs this week, a good tactical discussion, also with a lot of incite about covering the biggest event of the year. You'll be watching right? I know I will! I hope the boys reconsider their hobby challenge, as it got me motivated to paint my Space Wolves. While I missed the deadline (as did our hosts), I still am a lot further along then I was, and I credit them! Bring it back guys!
Highlights: After catching everyone up on what they have been doing in their personal weeks, the boys send out a request for questions to the LAtCS staff, so then can answer them on the air. Then, they move into a conversation about what they have been doing lately in the hobby and gaming. This included a good conversation on the Ramming rule. In the final segment, the boys talk about a trend in their local area of people dropping the Tyranids and picking up more competitive armies. They talk about how the Tyranids are not doing well in the heavy Mech era of 5thedition and what can be done about this.
Opinion: It's been awhile since the boys have made to the top 5, but it was well earned this week! This week the guys hit on a lot of great 40K topics that I found engaging, including a discussion about an army I too have walked away from. And of course I made a fool of myself laugh at the show while at work! Overall, and outstanding show guys!
Highlights: This week is the show's one year anniversary! They are joined but several members of their local gaming group to help celebrate the year in podcasting. They open up the show with then news and talked about the new GW paints and this merged into what they have been doing in the hobby. They then move on to a reflection of the podcast, how it started, the work that went into it, and all of the fun they had doing it. They hit on the Codices that have come during that year, Finecast fun, GW and prices in Australia, the games they have been playing latterly and more! They also talk some about their Deathwatch game and Black Crusade.
Opinion: Congratulations guys, on celebrating a year of podcasting! This week's show was basically a review of all the big news stories in 40K and the hobby during the first year of their show. They had a ton of guest host, a lot of laughs, and hit on a lot of great topics. This was a fun show this week.
Honorable Mentions – All great podcasts that just missed this cut this week, but you should still check them out, in no particular order:
So, that is it for This Week in 40K podcasting, thanks for reading. Got a podcast all about 40K, or mostly 40K that I am not listening to? Let me know about it, [email protected] and let me know about it.
Also you can find me on
My YouTube Page
for Battle Reports, Tactics, Reviews and more! Disagree with my review? Post comments for that too!