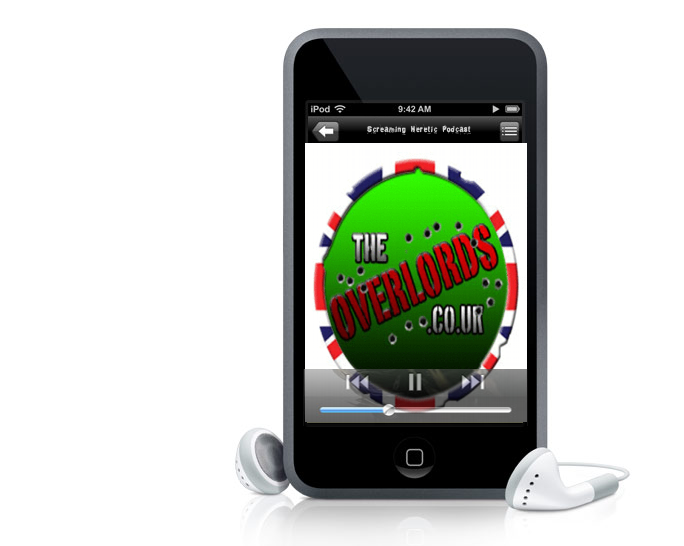 Welcome to another "This Week in 40K Podcasting," <!– more –>
Here is this week's top 5!
Highlights: This week's show is almost completely dedicated to Salute 2012, with a cherry on top! They open up the show with a brief news review, which included GW, Forgeworld, and Black Library releases. Next up was local Overlords news before moving on to their review of Salute 2012! They start off with some highlights of the people and things that they saw at the event, fans that they met, and much more! They go over some of the great products and companies that they saw and discussed possible 40K uses for them. In the next segment, the Overlords talk about what they had bought from Salute this year. Then, Steve has an interview with Aaron Dembski-Bowden and they talk about Black Library Live, what they like to read, and some of ADB's 40K novels. To close out the show, Dagmire has a book review of 'The Emperor's Gift' by Aaron Dembski-Bowden.
Opinion: This was the crown jewel of podcasts this week, easily my favorite, as the guys had an interview with my favorite Black Library writer, Aaron Dembski-Bowden! Now, ADB has been known for his language, so expect that during the interview; however it is totally worth it and a great conversation with a great author! And the guys once again gave a great review of Salute 2012, which makes me sad I could not attend!
Highlights: This week, the boys open up the show with what they have been doing lately in the hobby and gaming. They move on to discuss the latest news and releases from GW, Forgeworld, Black Library, and third party products. Next up, in the 'Librerius', the guys have a discussion about the backstory of the Ultramarines Space Marine chapter! This covered a lot of the Black Library book 'Know No Fear' as well, and explained the chapters beginning, their absence on the Assault on Terra, the breaking up of the Legions, the Codex Astartes, and some of the most noted characters and engagements. Then, in the 'Hobby Trenches', the guys talk about painting those boys in blue, and give some great tips for painting up your Ultramarine army. They close out the show in the 'Briefing Room' where they discuss the evolution of the 'vanilla' Space Marine codex and what has changed over the years. They point out rules changes, overall changes to the codex, and much more.
Opinion: A really great show this week, with a lot of background on everyone's favorite smurfs, the Ultramarines. This really focused a lot on the Dan Abnett book, "Know No Fear', so there is a spoiler alert here. And I am a huge fan of their lore segments, and this one did not disappoint. They a lot hit on a thought provoking subject of how the codex itself has evolved over the editions of the game, some of which I had missed out on, so that was great to hear.
Highlights: This week Big Jim and Jeff discuss the rather controversial subject of broken codices in 40K. They open up the show with some news and updates from the Codex Project, Forgeworld, Black Library and GW. They then discussed the finals of Adepticon, and how it was dominated by Grey Knights, IG, and Space Wolves. They talk about the imbalance between these three codices and the rest of the 40K armies and how far behind GW really is in updating their codices. They then briefly discuss what they have been up to lately in the hobby and a rumored release schedule. Then it was on to the main topic, a very detailed discussion about what they believe is a fundamental flaw is the design of the 40K codices. They then break down the Grey Knight Codex and some of the units that seem fairly under-pointed. They move on to point out other units in the game that are grossly underpriced, and talked some competitive versus non-competitive gamer conversation.
Opinion: This was a really fantastic show, with a great topic I have a great interest in. IT was really insightful to hear from genuine game designers break down a codex and a unit and point out some of the major failing in their design. We all love this game, but we all have also felt that there are some inequalities out there, and to hear it from them was quite interesting.
Highlights: This week the cast and crew apologize for their previous show before moving on what they have been up to in the hobby and gaming. This included some no-Adepticon blues for the cast. Then, in their second segment, the boys talk about getting new players into the game with 6th Edition looming, and some tips for preparing for an edition change for us all. Then, in a segment called 'The Beating of the Hobby', the guys discuss wound allocation. They cover how this done in the rules, how it is exploited, and how to play against it. To close out the show, the guys have a discussion about beating the common Necron net-lists, such as the 'Scarab Farm', 'Wraith/Barge Spam', and the 'Kill Point Denial' lists.
Opinion: Very good show this week, with a lot of great topics! The 6th Edition discussion was good, as well all need to be ready for that, and the wound allocation discussion will help those who do not know how to defeat it. And their final segment was all about beating an army I love, what more could I ask for. Great work gang!
Highlights: This week it is Bill, Dawson and Mike and they open up this show with what they have been doing lately. This included a report from Dawson on KingdomCon, Bill playing his 'Fantasy40K' list, and Mike playing in the league. Next, the main topic of the show was 'What point limit should you run for a tournament?' They run down some examples of big events and what they ran their points and time limit at. They then discuss what their army composition would be like at different point levels and what they would add as the limit goes up. They close out the discussion with what point limit they all prefer.
Opinion: I really like the main topic of this week's show, one in which made me think about where 40K really is balance before it tips into overkill. They each had arguments for smaller and larger point sizes, some of which I agreed and disagreed with. It was a topic that I left the show still thinking about, so it had to be thought provoking! For the record, I feel 1850 is that happy medium. Great show guys!
Honorable Mentions – All great podcasts that just missed this cut this week, but you should still check them out, in no particular order:
So, that is it for This Week in 40K podcasting, thanks for reading. Got a podcast all about 40K, or mostly 40K that I am not listening to? Let me know about it, [email protected] and let me know about it. Also you can find me on My YouTube Channel
or Battle Reports, Tactics, Reviews and more! Disagree with my review? Post comments for that too