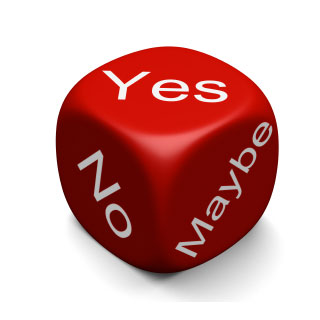 Games Workshop says Warhammer 40,000 is a ruleset meant for "casual play" and never designed for tournaments. But does that really make it more fun?

Introduction and Caveats
I posted this article on my blog, Whiskey & 40k, last week. When Bigred asked me to post it, I figured I would polish it up and incorporate some of my revised views based upon commentary.
Overall, the purpose of this article is to share a couple of personal thoughts/opinions on rumors of more randomness in 6th Edition and Wargaming in general, and how different "types" of random effect impact the enjoyment and execution of a game by different people.
I should state first and foremost that I will be speaking in generalizations here – and I'm looking forward to the Comments section where people share their own outlooks, why I'm wrong, why I'm right, why what I'm saying is totally irrelevant, etc. We share a diverse peer group of gamers, and I recognize everyone will have different levels to which they resonate with my comments, disagree with them, etc.
Also, I at some point in the article create a silly acronym, largely b/c it saved me a ton of space that I spent repeating and editorializing on a certain effect around which some of my arguments flow. For those who live in acronym-heavy worlds as it is … I'm sorry!
The Forming of an Outlook
A note on me: I started out 40k playing mostly once weekly at a friend's house. We got together, drank whiskey, enjoyed the occasional cigar, and played Warhammer. Generally, we played lists intended to beat up on each other, and our lists would evolve as editions and Codices brought evolved. Having a good close game on the tabletop was important, as was socializing 'above table.' Everything about how I play 40k since has been shaped by this beginning, leading me to multiple "National" GT wins, local RTT wins, etc., but also the development of literally hundreds of local and national friendships that I cherish and engage with to this day.
I have since played in and won a couple of GTs, a fair number of local RTTs, and enjoyed myself while placing around 10th at each of three AdeptiCon Team Tournaments. I consider myself a casual player, but I'm often considered out there to be a competitive player. Most of my tournament experience and success has been with mechanized close assault Imperial Guard using Al'Rahem, Col. Straken, and occasionally Guardsman Marbo. My playstyle and list selection reflects the group I played with – strong lists that don't really reflect influence from the internet, but occasionally share some common themes by nature.
More importantly, over time and love of Blood Bowl (plus an ENFP personality type), I fell into organizing events, blogging, and thinking about games as they applies to a wider range of people than just myself. The NOVA Open is the end and continually revised product of this change in my hobby activities, and its formats and events reflect a deep desire to design an event (or series of events) that caters to the widest range of personality types possible. I firmly believe you can run an event that rewards casual fluffy hobbyists at the exact same time as rewarding hardcore competitors, while also ensuring these types quickly end up playing their peers for the majority of their games. I blame Bigred for giving me the encouragement to sneak in a little bit of a NOVA Open Plug.
Getting to the Point – "Randomness" … and PS – I'm Not a Math Guy
When I roll 20 lasgun shots, I'm "for sure" going to hit with a few. When I roll a single save for a terminator, I don't really have any right saying I'm "for sure" going to pass it. Statistics or poker geeks tell me you need to roll a dice 10,000 times to get a more or less appropriate and statistically correct distribution of the odds. Even in the dice-heavy environment of 40k, you aren't going to get even close to that … and even if you can, so what? You don't roll 10,000 dice to determine whether each roll to hit or wound or save succeeds, so you can't ensure the odds will hit in a fair and evenly distributed way relevant to the importance of each wildly different roll … a shot with a lasgun is not as important as a shot with a meltagun, so it's a misnomer to say it's "fair" when you roll your 4+ to hit with the las, and your 1-3 to miss with the melta. As a result of this, some people frequently just get unlucky, b/c in this small a number of rolls, it's not statistically improbable for what is perceived as "bad luck" to occur. Those people rapidly stop playing Deathwing armies, as through bad luck they've hit the "1's on armor saves" phenomenon … one too many times.
Where am I going with this? I tend to think there are completely random effects, and predictably random effects. If I take a dangerous terrain test with a vehicle once in a game, it's a total crapshoot whether I am going to immobilize myself or not. If I shoot 20 lasguns at some terminators, I'm pretty confident I'm going to get a wound or five. I'm also pretty confident if I get five that I might kill a terminator, while totally not expecting it (because by nature I don't).
A lot of people take issue on a semi-regular basis with "crazy random" effects, or with games that turn entirely on them. Sometimes it can straight out ruin a game if your Ld10 deathstar takes 3 unlucky casualties to bad dice on turn 1, rolls an 11 for leadership, and off the board it goes. MANY players "cringe" at Leadership tests for this reason. They cringe at dangerous terrain tests. They cringe at assaulting through cover. Additionally, a super awesome deathstar running off the board turn 1 isn't bad because it impacts you winning or losing. It's bad because you wanted to use a cool deathstar, and now it's gone and didn't get to do anything, entirely because of a single roll or 4, and the game's natural mechanics. Irrelevant whether you SHOULD take a deathstar – some people want to for reasons that have nothing to do with winning or losing.
Cringe Inducement Effects (CIE)
Many of us can handle even the strangest of things or worst luck ruining our game, but many of us can't. We've all seen the player that has something awfully unlucky mess up their entire game, and seen it ruin their entire day. I have sympathy for these folks … they may not reflect my own outlook, but I'm not one to judge others for owning a different make-up. Many of these types build their lists in such a way, or play in such a way, to avoid the things that make us cringe in 40k, and something nice about 5th Edition (hey, just something) is that MOST of these "Cringe Inducement Effects" (CIE) can be avoided. It's not necessarily SMART to always avoid them, but you don't have to take dangerous terrain tests; you don't have to assault through cover; you don't have to take an army of 1-wound terminators and hope you don't roll a lot of 1's.
What happens if the ability to avoid CIE vanishes with the release of 6th edition? What happens if players whose mood and games are ruined by CIEs can't avoid them? What if EVERY assault feels like assaulting through difficult terrain … or if EVERY time you enter any terrain it might end up being a dangerous terrain test? What if it's a totally random roll to determine what your expensive psyker purchase can actually do? What if unavoidable game components become unavoidably random? By this I mean random in a way that's not at all the probability-insulated style of "shoot with 30 lasguns to ensure inflicting some damage."
CIEs that dramatically affect a game can be frustrating for ANY player type, and not because of whether they impact Winning or Losing. I often read that more random effects are perceived by game designers and armchair hobbyists as creating a more laid back, unpredictable, beer and pretzels feel to a game. I tend to disagree.
Random effects in terms of CIEs, like what Terrain actually is when you go into it or not … and how far you can move … and how far you can charge … these things are factors you often cannot insulate with how you design your list. Problematically, player types and mindsets that do not gel well with that kind of white-knuckle hope-based gameplay cannot avoid them if they become … well, unavoidable components of the game.
It is fair to say these types are frustrated regardless of their competitiveness. Whether a tournament player or casual hobbyist, CIEs can tick you off a little bit if you're susceptible to that sort of irritation. Doesn't matter if what you wanted to happen was "win the entire tournament," or "get our mutual deathstars into a funny brawl in midfield." That said, I think CIEs in wargaming tend to have a worse impact on casual players than on competitive players.
"Competitive" players (here's where my generalizations get big, so please tolerate me) spend a lot of time factoring in the odds of what they're doing, and the best ones put themselves in situations throughout games where the CIE is far less impactful, or where they dodge it altogether. Rolling 1s repeatedly is always bad, but there's a reason the more competitive list-builders and gamers master the movement phase, build highly redundant and durable lists, and win a lot of games … even the extant CIEs in 5th at present are managed ahead of time in the list-building phase, and during the moments of the game preceding the moment where you "need" the dice to not be bad. Relevant to CIEs, the most competitive gamers are going to spend the time and money to build and field the list that best interacts with these effects to prevent their frustration, and they're going to do so efficiently and effectively through the amount of time they spend thinking about and preparing their lists for competitive play.
NOT SO for many casual and laid back gamers.
While a competitive tournament-prepping gamer might dedicate a significant chunk of time to brainstorming, building, practicing, and preparing, it is commonly the super casual types that don't really have time for it. What about the beer and pretzels gaming father, who gets one night a week to hang out with the guys and roll some dice? He gets his ONE night off family duties for the week, gets over to his buddy's house to join the guys … and that week happens to be his crappy dice week. Between the day after game night the week before, and the next game night, his ONLY chance to game is potentially ruined by random bad dice. That's a 14 day period in which he gets one game, and his memory of it is: "My dice screwed me over."
Maybe it's "this new edition is so much more random and weird, man!" Worse, if there are more competitive types in his group who are playing more often and adjusting their lists more quickly, he might more and more start to feel it must be the 'dice' that are screwing him, as his former peers (all equalized in time over a mature edition) seem to be tolerating it better and better, while his army keeps rolling those unlucky rolls on assaults and everything else.
The more unavoidable CIEs introduced in a game system, the greater the odds of players blaming game mechanics on disappointing game experiences (instead of powergaming friends, falling behind the curve, just not playing often enough, or doing something wrong they had "control" over). This also, of course, leads increasingly to the "YOU DIDN'T BEAT ME, THE STUPID DICE AND MECHANICS DID" phenomenon.
In Conclusion
The long and short here is if some of the rumors about a more CIE-intensive 6th edition come true, you're going to see 3 things happen …
1) People are going to get a feel for the game, and make the general choice (internally) of moving toward quitting, or sticking with the game, based on how it feels. This will happen no matter what the changes are, "bee tee dubs." Then, simultaneously …
2a) Competitive and/or more regular gamers are going to adjust their lists and gaming styles to match the new rules, CIEs, etc.
2b) Casual and/or less regular gamers are going to be increasingly frustrated as an increasingly random game screws over their "feel" for how things used to be, or how their games should go.
This is especially true with regard to new and improved codices, the 'meta,' etc. The more the game changes, the less the casual players are able to comfortably stay up with it … the more frustrated they become when they 'waste' their playtime feeling like they have no chance against those with more time, and/or feel like how they play or what they purchase has no real impact on the result, due to how random/unbalanced/etc. the game is.
YES, competitive gamers won't enjoy going to a tournament, and losing a game b/c of a CIE, but tournament play as a whole will adjust to that. If it's REALLY bad, something Fantasy-ETC-style will come up, and the game will develop a modified tournament system that's generally agreed upon, and that eliminates more random components. Tournament players of 40k will adjust, because they always have. Warhammer 40k is not a natural tournament game. Organizers work very hard to MAKE it one (and we do a damned fine job, I'd say) … even in the simple ways of creating points or conditions assigned to the basic book missions to create value for winning/losing/tying them.
The real issue is not how 6th edition will impact Tournament 40k, because it won't really. The real issue is how 6th edition will impact the fun of the game at the casual and beginner level. If the game becomes more 'who cares, it's random,' or less fun in general for those who don't constantly keep up with it (aka, NOT tournament players), you'll see a lot less people taking the game component of the hobby seriously, or keeping up with it. Obviously, buying entire armies so you can play the game generates more sales than simply buying a small handful to paint. Sales will go down if this happens (as they apparently have with Fantasy, though don't quote ME as a primary source for that), and you'll at THAT point start to see an impact on Conventions, Tournaments, and presence at game stores … because as with any hobby, the advancement of 'new' or 'casual' gamers into the tournament/traveling player sphere inherently replaces the attrition due to life of those who preceded them.
I'm personally excited for a new edition. How can you not be? I don't take any of the rumors all that seriously, and I'll wait to see some more concrete information. Either way, no matter who you are, don't freak out until you KNOW things vs. THINK or FEAR things. You'll have plenty of time to rejoice, or to run over your GW collection with a car, once you've got the actual rules in your hands. Until then, it's just speculation and wonder, and there's nothing wrong with that.
-Mike Brandt