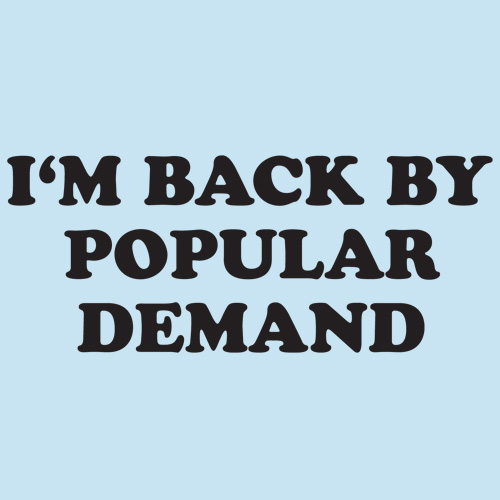 The best laid plans of goats and men couldn't keep me down…

Dear readers, it's been far, far too long, and I missed you all dearly. We've missed so much time, so many events, and for that, I apologize. I wasn't there when you needed me, and our relationship has hurt because of it. Can you ever forgive me? I understand if you don't… Not that I'm going away in either case… But I do want you to know, I am sorry. But I'm back, and we can continue our little lives like nothing ever happened… I'm sure we can make it work… Where was I? Well, I do suppose you deserve an explanation.
That is a map of Georgia, my home state, for those of you who did not know. Now, I'm sure you can't see if from that map, but there are numerous small islands right off the coast- It's actually quite diverse with many small crags of land. I was on a small trip out to sea when our ship capsized on our way out to international waters for… Well, you know that part really isn't important. Long story short, I washed ashore one of these small islands with no other companions aside from a rather large and strangely out of place sea turtle which I named Squishface.
He was my only companion for the short time we were together… I ate him after three days. Now, I'm sure exactly sure why I did that, as we had plenty of island vegetation and easy access (from the small sandbar) of various easily caught marine life… And the fact I quickly discovered raw turtle is almost inedible… I think I did it out of a dominance thing, you know, show him who's boss… He was getting rather smug, with his hard, protective, shell, squished-face, and "I can leave anytime I want" attitude…
Anyway, after two months I was rescued by the local coast guard, who later suggested I build some kind of beacon rather than merely shout obscenities at any passing ships… Sorry, that's just not how I roll.
Another month of rest and reintegration to society and I am back!
… …Ok, so that's not really what happened. I would tell you truth, but frankly… it is too dark for your minds to comprehend.
Whatever the case, dear readers, I have spend a long time away from the hobby- Oh I have still watched it, but from the eyes of someone on the sidelines. Basically, a lot of work (or removing thereof) issues came up, along with family/personal things- all of which have been resolved, but only after quite a few grueling months of change, both for the worse and for the better. Good news, worse is (hopefully) behind, better news, despite some shake-ups in the job market, I have found myself currently working for Cool Mini or Not, specifically in dealing with their Dark Age range…
I won't be getting into that here, but I say this will complete endorsement as not only a writer of gaming articles but as a gamer for many years- you should check out this game. Sure, that may not carry much weight, given that I work for the company now, but I assure you I wouldn't work for them doing this unless I had faith in the game and system as a whole. As I said, we'll hold that off for later articles, for now, however, let me speak about my recent trip to Adepticon (and the Goat-Hunting that followed):
Basically, for this trip CMoN was shipping me up there, bad news? I was going by Uhaul truck with two other people, meaning very tight condition and a thirteen hour trip…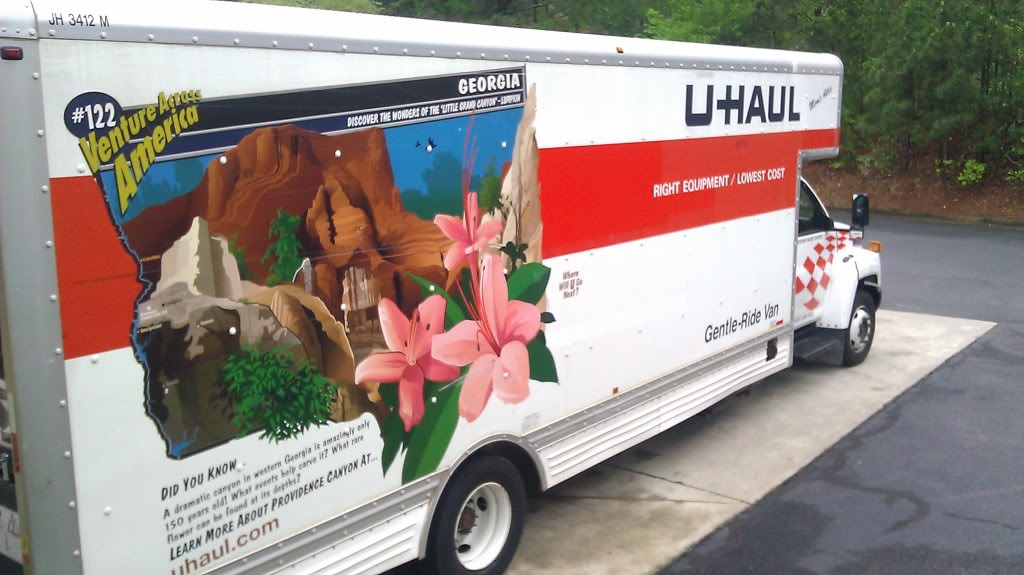 For those of you who have never had the unique experience of piloting a U-Haul truck, specifically a bigger one, I will describe it as such: Basically imagine a sleek, well controlling street car- the kind with an exactly tuned steering wheel, pinpoint brakes, and a smooth ride at 80 MPH… The exact opposite of that, in every way, shape, and form. I had never had the privy of driving one of these things before, so naturally it was strange to me that you could turn the steering wheel almost a full 20 degrees before the vehicle began moving, coupled with the fact the brakes required being pressed about 1/3 of the way down before they would begin acting as "brakes"… And no, I did not drive most of the way, we had a veteran for that, and our trust was in him.
I would like to say the trip was exciting, full of all the adventure that one would expect from the zany idea of a group of gamers traveling 'cross country, but in all honesty this is literally what you have to look forward too the entire way there and back: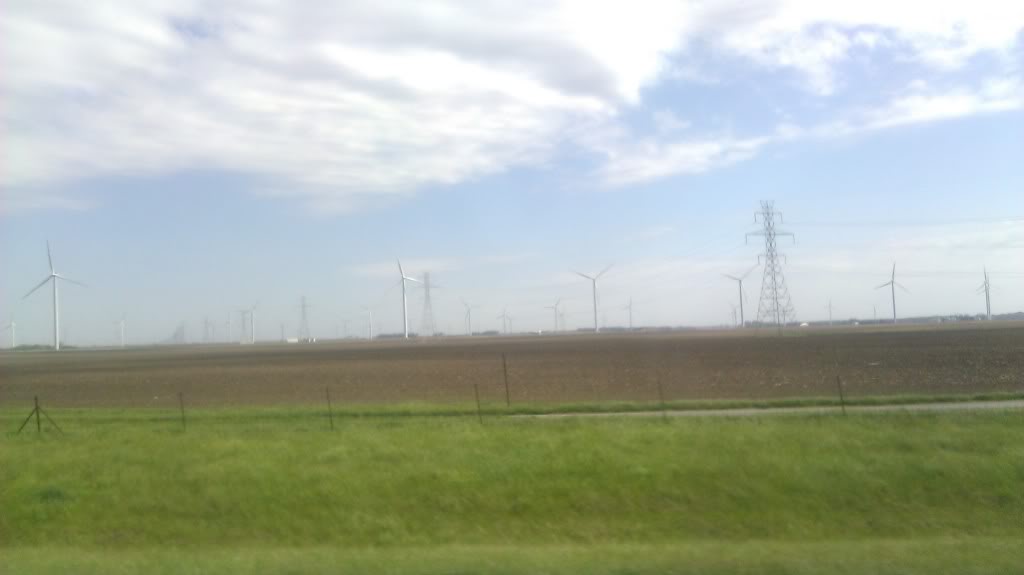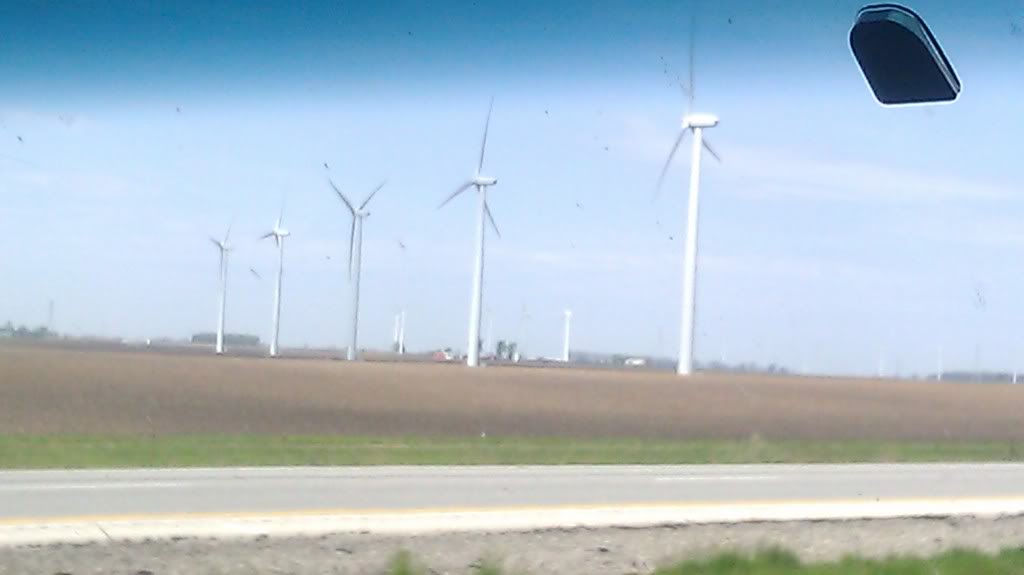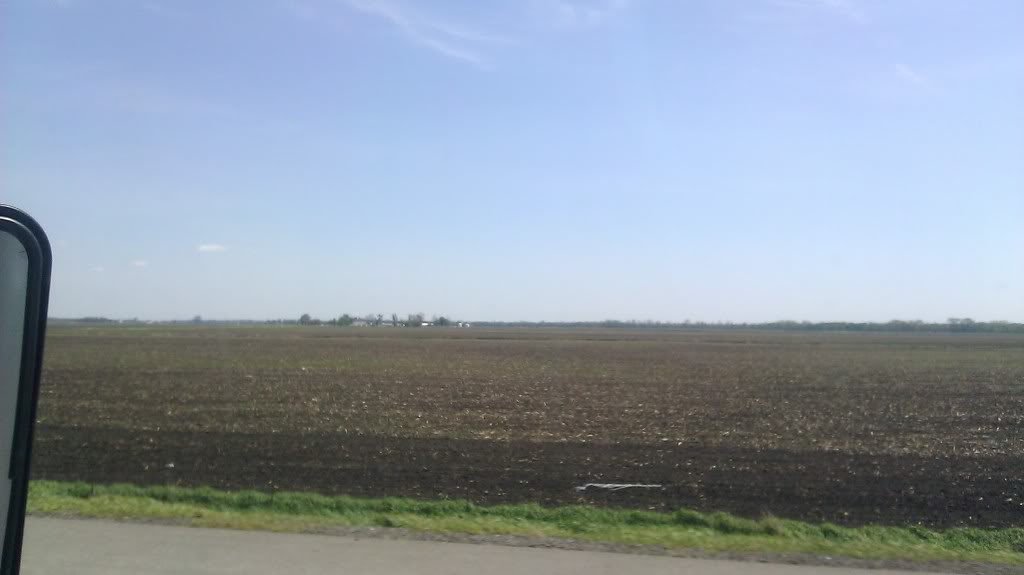 Those are pictures of Tennessee, Kentucky, and Indiana… In which order I am not exactly sure, as it's a funny thing, after a while all those states just begin to run together.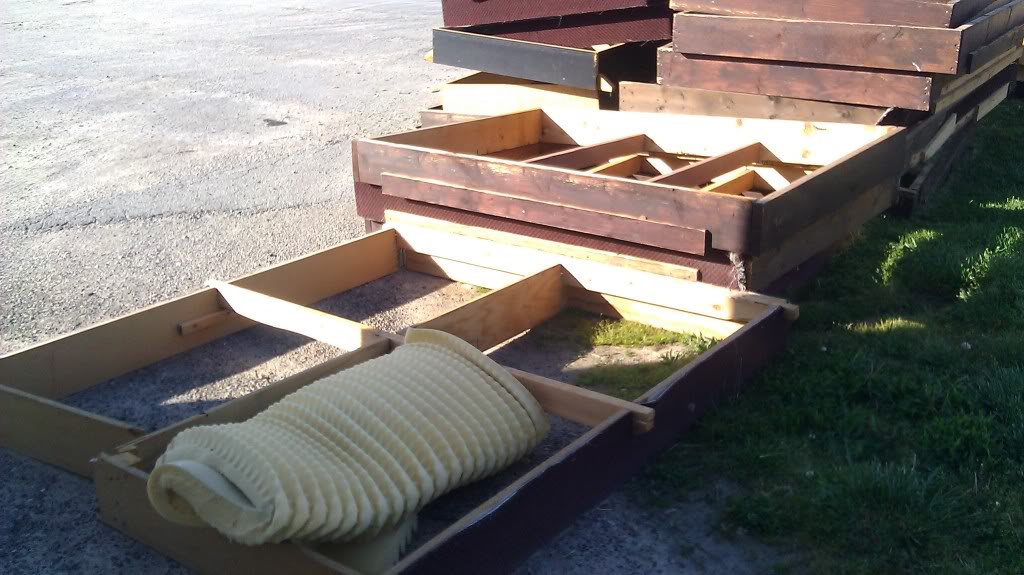 Those are some abandoned bed-frames that where sitting next to the truck stop in Indiana… They were literally the most exciting thing I saw over the course of thirteen hours…
Does this sound exciting yet? I'm sorry if it isn't, so you can just consider this a warning if you are planning anything similar, and take this one bit of advice with you: take a funny friend along with you. In our role we had Mike, whom I sadly do not have a picture of. I will, however, say this: had he not been with us to constantly find a way to make each and every thing we passed funny we surely would have driven off a cliff… Ok, that's a lie… I doubt seriously there are even cliffs in any of the states we passed through.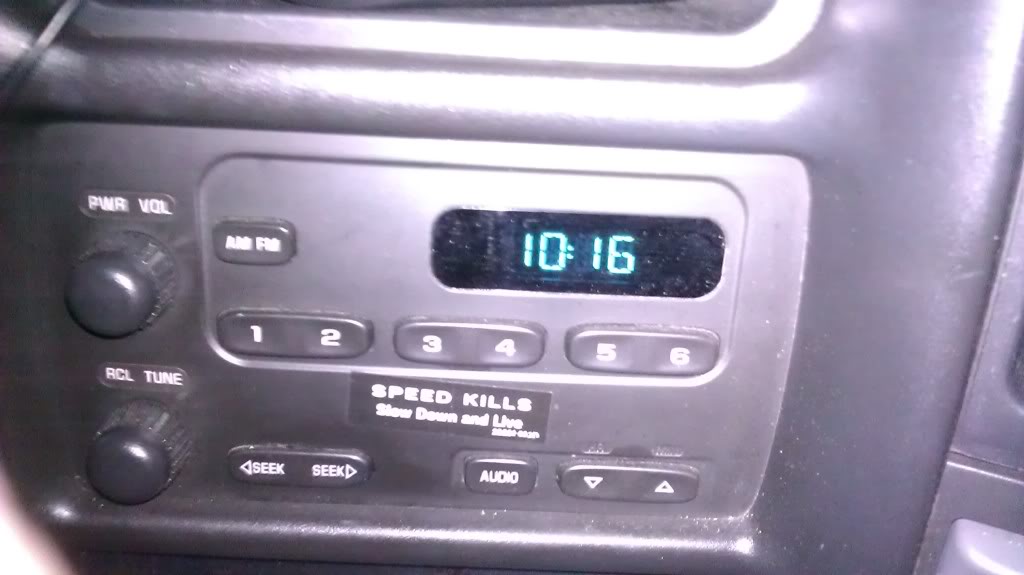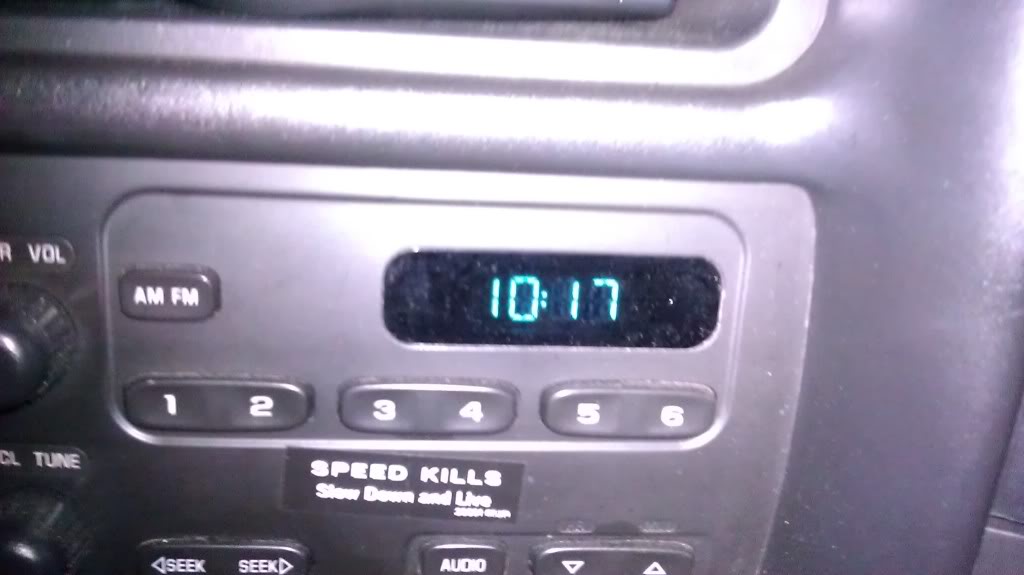 You might be asking why I posted pictures of a clock with a one minute difference… That's because it's a damn twelve hour difference.
Unfortunately, I was unable to get any during the hours of operation of the con. Why, you may ask? Well simply Dark Age exploded at Adepticon! Between Justin and Chris running non-stop demos, myself giving lectures about the backstory of the factions, and of course everyone answering the numerous questions all the excited new players had we were simply busy non-stop from the time the doors opened at 9 am to the time they shut at 7:20 (noting the hall closes at 7:00 PM).
After the hall closed, however, I began my hunt… The target?
Goatboy, that little [email protected]#%! who had been taunting me even in my exile… It was time for him to pay. Sadly, my phone had died early on, and having left my charger four states away I have no pictures of the actual hunt or the capture… Needless to say I am sure a picture of me beating up Goatboy would be the highest viewed picture in the history of the site…
I found him quickly, the orange Fezzes Bigred provided us made that task rather easy- not that someone could miss Mr. Thomas… Well, ok, you totally could, guy turns out to be like 3 feet tall in real life… But I knew I couldn't strike out in the open, no, too many witnesses… Not that I think anyone would have stopped me had I just simply yelled "I now plan to KILL Goatboy in the middle of this crowded room!" Hell, I might even had received a standing ovation… But I didn't want to mess up the floors of the Hilton and make some poor cleaning crew deal with that, they had enough going on as it was…
So, I waited. Luckily, Bigred got us all together for a dinner at a local restaurant, real high end place- type of place where the waitstaff don't wear two-pieces and there aren't stages precariously set up around the dining area… In short, not my kind of place, but I attended anyway.
And I waited… Oh yes, I carried on casual conversation with him, speaking of movies, games, showing Bigred various Google Image results (the poor man is sheltered), and chatting up Goatboy about his Fursona and costumes for the team-event next year ("My Fursona's name is Aloysius Delicious, he's a lemur in a smoking jacket and a beret, his best friend is Montego Jones." -actual quote, Thomas aka Goatboy).
And then it got to the time to strike… And, I fear, dear readers, I just couldn't bring myself to do it… I don't know what it was, but, frankly, I had spend so long planning it, thinking up schemes and mechanisms to make it possible and… I couldn't do it… I think the issue was, well, have you ever wanted something so badly that, once you have it you don't really want it anymore? The chase, the want was more exciting than the finish? I think that's what happened to me…

On the trip home I realized the error in my ways: It was a stupid move brought on by being blindsided by that damn furry conversation! He had tricked me! Well, there was always Wargamescon… And believe me, there will be a reckoning…
So, while I know that whole bit wasn't really "gaming" related, I would have felt weird just coming back and suddenly talking about things without a proper reason as to why it was friggen December the last time I posted.
~That's what I have to say, and that's how things currently are… I'm back, dear readers, and I have to double-up on my efforts to please you all since I've been gone so long… Oh, what fun we'll have…In the mean time, why don't you kiddies tell me about the fun you all had at Adepticon? Did you run into me without even knowing…? -Mr. Black