*Snap-Snap* – Here's Everything You Need to Know About 'Wednesday' Season 2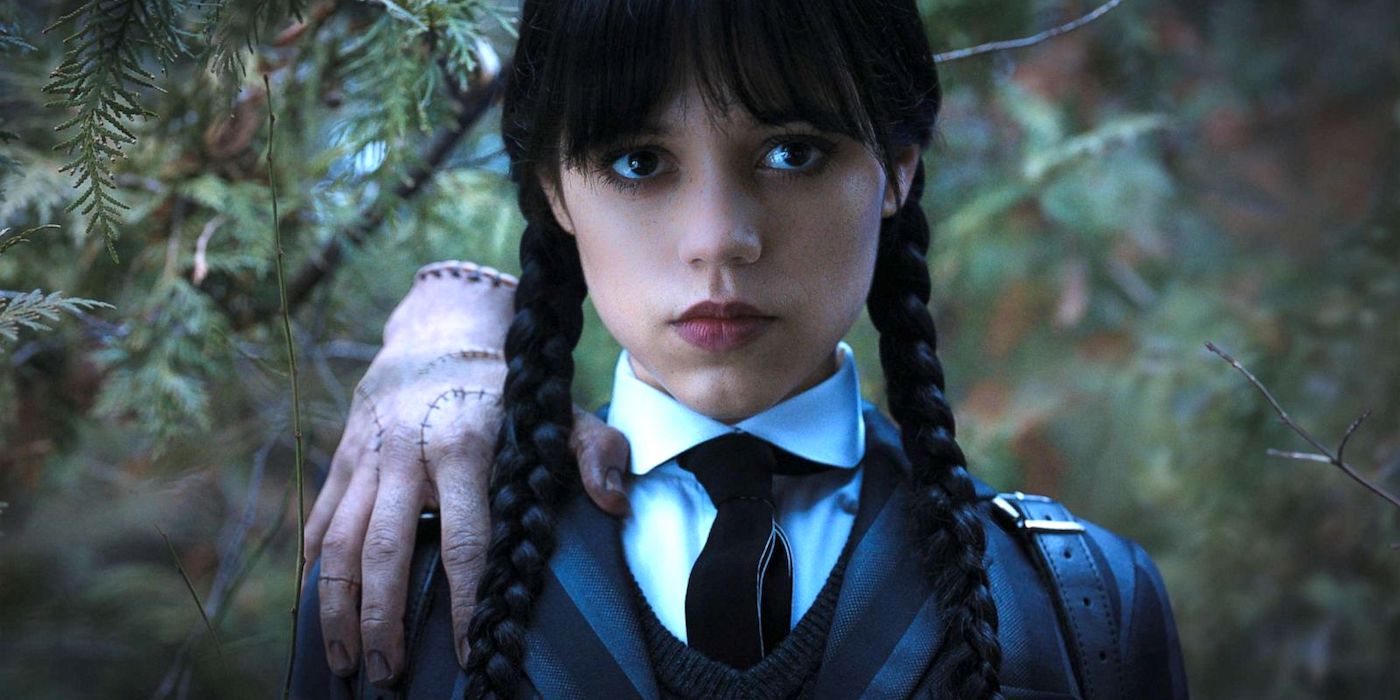 Wednesday Season 2 is in production, but when can we see it, who is in the cast, and what is it about? Here's what we know.
Wednesday made a big splash on Netflix last year. The series–based on Charles Addams cartoons and directed by Tim Burton–about the aristocratic family of macabre weirdos drew an international audience of millions. It shows fans that being different is admirable and that marriages don't have to be miserable or cookie-cutter. It's ok to be weird. In fact, it's terrific to be weird.
What is Season 1 About?
The story takes inspiration from an original Wednesday Addams storyline created by Charles Addams. Multiple 'normal' schools expelled Wednesday for her homicidal antics before she attended a more fitting one–Nevermore, a school for outcasts. Her first year there holds a supernatural mystery for the cynical teen.
Along with her werewolf roommate, Enid, and several other Nevermore classmates, she tracks down a monster no one expects.
The show brilliantly balances a relatable coming-of-age story and the world of the iconic family. The first season is streaming on Netflix now; you can check out our review here.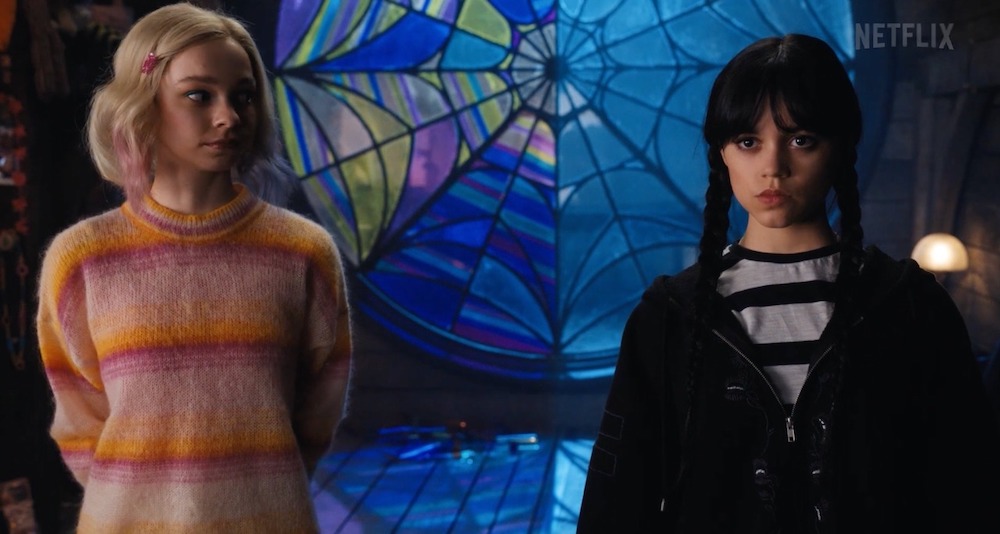 Who Plays Wednesday Addams?
Jenna Ortega portrays Wednesday Addams. Before taking this role, she was known for playing Tara Carpenter in the Scream franchise and Harley Diaz in Disney's Stuck in the Middle. She will star in Beetlejuice 2 with Winona Ryder and Michael Keaton, slated to hit theaters in 2024.
Who Else is in the Wednesday Cast?
Along with Jenna Ortega, the Addams family includes Catherine Zeta-Jones as Morticia, Luis Guzman as Gomez, Isaac Ordonez as Pugsly, George Burcea as Lurch, Fred Armisen as Uncle Fester, and Isaac Ordoñez as Thing.
The Nevermore students are played by Emma Myers (Enid), Moosa Mostafa (Gene), Percy Hynes White (Xavier), Joy Sunday (Bianca), and Georgie Farmer (Ajax). Outside of classmates and family, the Wednesday cast also includes Christina Ricci, Gwendoline Christie, Hunter Doohan, Riki Lindhome, and Jamie McShane.
Who is the Monster in Wednesday, Season 1?
Spoilers for Wednesday Season 1 Below
As the bodies pile up and the mystery unravels, Wednesday discovers that a Hyde being guided by someone is to blame for the deaths around Nevermore.
The monster, named after the violent character created by Robert Louis Stevenson, is born with a mutation that lies dormant until a traumatic event, chemical inducement, or hypnosis unlocks it. If someone unlocks a Hyde, it becomes the instrument of their nefarious agenda. As Fester tells Wednesday: "Anyone willing to unlock a Hyde is a next-level sicko."
In this case, the one with a dark secret, dual personality is 'normie' and coffee shop employee Tyler. He received the Hyde gene from his mother, who vanished from his life when he was young.
What is Season 2 About?
The creative minds behind the series haven't revealed much, but we know there will be a time jump from the end of the first season. The story will take us out of Nevermore. Based on some comments by costume designer Colleen Atwood, we'll see more of the Addams' mansion and the everyday world.
Subscribe to our newsletter!
Get Tabletop, RPG & Pop Culture news delivered directly to your inbox.
Showrunners Al Gough and Miles Millar have shared some themes we'll see in Season 2.
"We wanna sort of explore and sort of complicate all of those relationships going forward. The school was closed when they left, which gave us the most possibilities for season two, and I think that's something that we're excited to explore. For us, the show also is really about this female friendship, with Wednesday and Enid really being at the center of that. The fact that they really connected with audiences, it has been really gratifying.

So, we're excited to explore now that Wednesday's dipped her toe into the friendship pool, what's that gonna look like? It's like, she hugged. That was her big arc for the season, right? So it's like now, we do that. Then, the other thing that's really interesting is to continue to explore the Wednesday-Morticia mother-daughter relationship as well, which now that Morticia knows about the power, it has given her sort of an idea of how that's going to go. How is their relationship going to evolve?"

– via THR
When is Wednesday Season 2 Coming Out?
Wednesday Addams' first year at Nevermore Academy continues to break Netflix viewership records weeks after its debut. The first season is a massive hit for Netflix, with 1.237 billion hours viewed within the show's first 28 days. Fans have fallen for Jenna Ortega's take on the Addams' youngest daughter, turning her biggest moments into memes. The reaction has convinced Netflix to order a second season.
Showrunners Alfred Gough and Miles Millar added in a statement…
"It's been incredible to create a show that has connected with people across the world. Thrilled to continue Wednesday's tortuous journey into season two. We can't wait to dive head first into another season and explore the kooky spooky world of Nevermore. Just need to make sure Wednesday hasn't emptied the pool first."
The statement came with an announcement video highlighting some of the show's great moments.
While we know that a second season is on the way, a Wednesday Season 2 release date has not been made public. The show is currently in production.
---