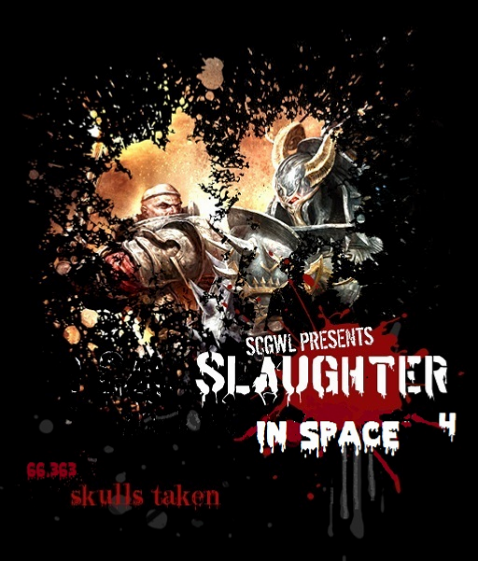 Hey everyone, Reecius here from Frotnline Gaming to recap and share some insights from the recent GT we attended, the SoCal Slaughter in Space 4.
We do so love our tournaments at Frontline Gaming. They are such a fun way to spend a weekend with friends, drinking beer and chucking dice! Beyond the social aspect of it, you get to scratch your competitive itch, too which is a lot of fun. Casual games are great, but there is just something about competitive play that really engages me and gets the blood pumping. I don't take tournaments too seriously (as anyone who watched me in the Adepticon finals can attest, sorry for all the dirty jokes! haha) but when there is something at stake, even just bragging rights, it makes the games more interesting for me.
SCGWL puts on a great event and this year was no exception. I attend the Slaughter in Space every year and have always really enjoyed myself. Top notch terrain, nice people to play against and a lot of skilled players.
Team Zero Comp came in force this year with a good chunk of our team making an appearance. We also finished very well, taking 1st (Farnkie and his Dark Eldar), 2nd (ChristianA and his Grey Knights), and 3rd (Me with my Footdar) as well as Best Painted (Blasto with his Orks). We also had some of the top Sportsmanship scores, showing that you can still have fun while playing to win. Frankie actually had the highest sportsmanship score and he won the event.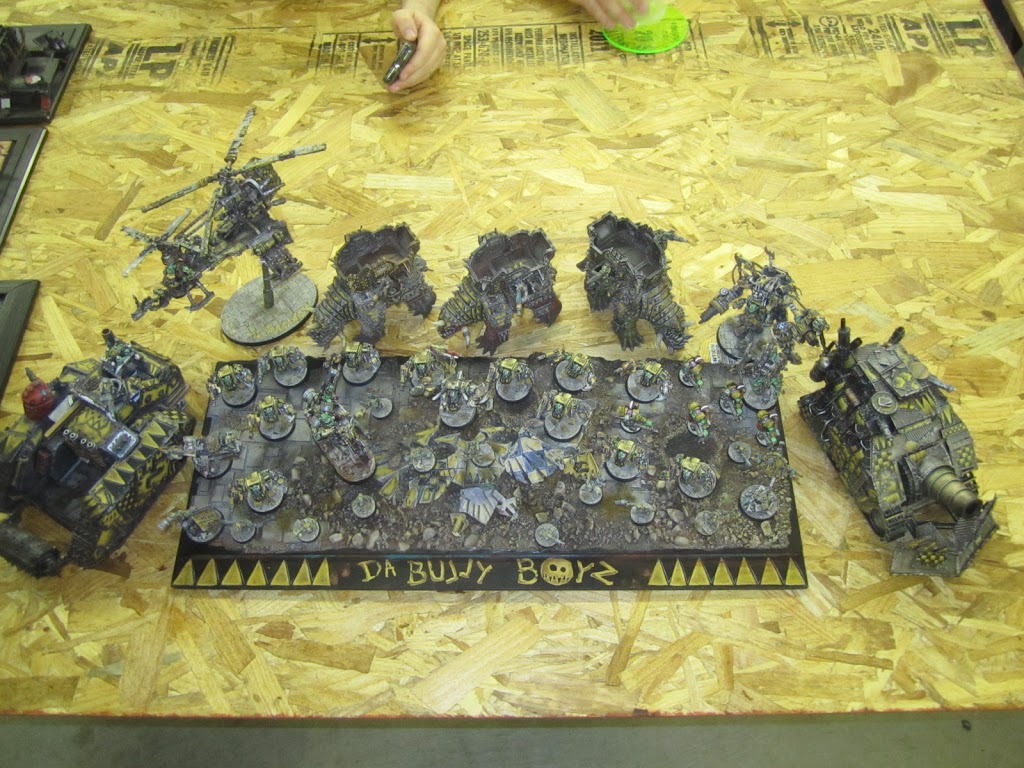 What was interesting was the lists the top finishers used. Frankie played his really awesome looking orange, white and black Dark Eldar (of which I unfortunately have no pictures at the moment). His list was fairly unique. He uses both Vect (with a squad of wyches) and Urien (with a squad of wracks) in the same list with a mix of Venoms and Raiders (3 of each) as well as the ubiquitous triple Ravagers in heavy support. 3 Trueborn with 2 Dark Lances, a Blasterborn squad (4 Trueborn with 4 Blasters) and a squad of 5 Scourges with 2 Heat Lances. His troops consist of a Warrior squad of 5 and 10 with a Blaster in addition to the above listed Wracks and Wyches.
The list is very flexible with a ton of fire power (14 Dark Lances alone) and maneuverability. He also has two very hard hitting assault units in Vect and Urien. Vect is just a beat-stick and can and will win the game for you in some match-ups by himself. His 4+ to seize is just icing on the cake. Urien is surprisingly powerful and I think a lot of players overlook him. Instant-death attacks are nice (he walks through Scarabs for example) but his defensive abilities are awesome. With a Clone Field, toughness 5 and the ability to heal a wound every turn, he can serve as an amazing tar pit. With Wracks they start out fearless and are fairly tough. Frankie said this unit was routinely his best performer.
The Scourges are also very powerful and flexible. While many players may overlook them, Frankie has found them to be a great addition to his army and is considering taking another unit. They can deep strike or start on the board and with 18″ on their Heat Lances, can take out heavy armor from a distance that may take your opponent's by surprise.
So congratz to Frankie for taking the event with his Dark Eldar! His only loss was to Christian's Shooty Grey Knights in a Kill Point mission with Dawn of War deployment, the wort match-up for him.
ChristianA who has been on a huge hot streak the past year (currently ranked #2 in the USA on RHQ) beating Goatboy to win the Bay Area Open and Dave Fay to win Comikaze this year. He went on to win Best General again this year at the Slaughter in Space (he won it last year as well with his Imperial Guard).
His list is brutal, a trim-all-the-fat army that will smash most players on the strength of the list alone (one of the reasons I really don't like Grey Knights is that the army has few to no flaws and really requires little skill to play well). He brought 3 units of Acolytes with Psybacks (Razorbacks with Psybolt Ammo), Death Cults in a Redeemer and Coteaz to make them all troops, 2 units of 10 Purifiers with the usual kit plus Psybacks, 1 Psyfilmen Ven Dread and 2 Psyfilmen Dreads (Dreadnoughts with 2 twin-linked Auto-Cannons with psybolt ammo). It is an army with a tool for everything and only a slight weakness to psychic powers.
ChristianA smoked everyone he played with overwhelming firepower and assault capability. The thing about the list is that even if you do make it across the table, you are going to get minced by Deathcults and Purifiers. The army out-shoots, out-fights, out-scores and out-maneuvers most armies in the game. When you combine a codex as powerful as Grey Knights with a player as good as Christian, it is a bit of a one sided affair in most cases. I was the only player to slow him down, tying him with my Mighty, Mighty Footdar in round 4. The game looked to be a route turn 2, and I damn near conceded but decided to play it out and bum rushed him with what forces I had left…and it worked! My little Space Elves managed to kick the Grey Knights just hard enough in the junk the last turn that I stole the victory from him.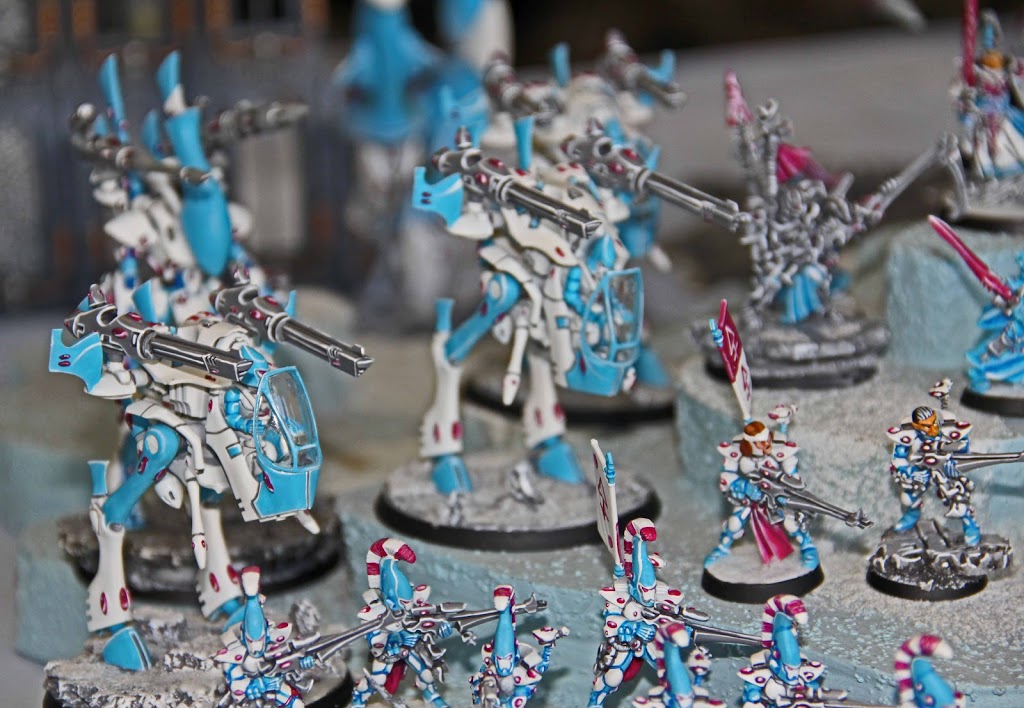 Anyone who has read my articles probably knows how my Footdar run. For completeness I will give a brief recap again. I run Eldrad with the Avatar, lots of Dire Avengers and Guardians with minimal to no upgrades, some naked bikes for taking objectives, dual Wriathlords, War Walkers, Harlies and Fire Dragons, all on foot.
My list did what it does and took people by surprise with its resilience and firepower. I won all my games quite handily apart from ChristianA whom I tied as stated, and the final match against Frankie for all the marbles. It was a really cool championship match, with Eldar and Dark Eldar battling it out in proper fluff fashion. Unfortunately, Dark Eldar are my bane, and with no LOS blocking terrain on my side of the board, it was a shooting gallery. My dice utterly failed me on top of the huge mismatch (I failed every single morale check apart from my Guardians, who apparently are made of sterner stuff than the rest of my army!) and I took the biggest loss of my Footdar career, dropping me from first to third place. Ouch!
The cool thing though, was that there were 5 other Footdar players there, including Blackmoor who deicded to bust his out. Awesome! The madness is spreading! I love seeing people trying out new ideas and not being afraid to experiment and get away from the silly net-listing you often see at bigger events.
Another list that bore mentioning was the highest ranking Necron player who finished in the top 5, if memory serves. He had a list similar to what Alex Fennel took to the final 4 of Adepticon. A sort of grab bag mix of units that seemed to have little to no harmony yet when played by a skilled player, performed admirably. He used an Overlord with all the kit, a Destroyer Lord with Wraiths, 2 min Immortal squads with Cryptek support, a brick of 5 Warriors with a Lord, a C'Tan, Monolith, Annihilation Barge, 2 small squads of Scarabs and a 5 man Deathmark Squad with a Cryptek sporting a veil and abyssal staff for the 2+ to wound template. Nice! He did very well with this list, only taking a big loss to my Footdar (who tend to steamroll other foot lists).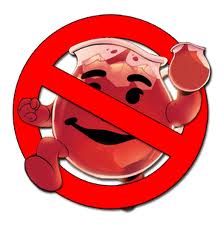 This just goes to show that you do not HAVE to drink the internet Kool-Aide. Build your army how you want to build it and don't be afraid to take it a tournament and give it a go! All of the lists above are non-standard (apart from the Grey Knights) and did very well in a competitive environment. Experiment with your lists, fine tune them, and then have fun doing well with a creation that is uniquely yours. Trust me when I say it is a far more satisfying experience.
Thanks again to the SCGWL for putting on the great event, and I look forward to seeing all our buddies and meeting more new friends at the next tournament!