Any game like Warhammer has a ton of rules, literally hundreds of pages of things to remember, so it is no surprise that people forget the details from time to time.

Hey everyone, it's Adam from TheDiceAbide.com, and today I'm going to talk about some of the little things that many people seem to forget. This is by no means an all-inclusive list, so if you have any to add, please do so in the comments!
Movement
1″ Apart (p.13)
This is probably the most overlooked rule in all of WFB, and most people really don't mind (especially in friendly games), but it is still a rule. Units may never approach to closer than 1″ of another unit (friend or foe) or impassible terrain. The only time you ignore this rule is when the unit in question has charged. This also means that a unit cannot maneuver if it would come within 1″ of a friendly unit at any time.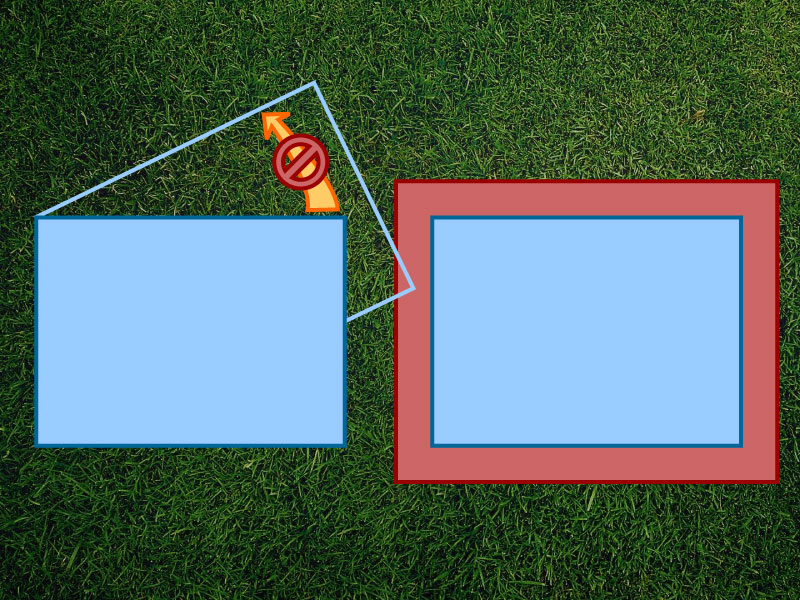 As you can see in this graphic, the unit on the left is trying to wheel, but because of it's proximity to another friendly unit, it cannot wheel as far as it might like, since that would bring part of it to within 1″ of your other friendly unit. If they were declaring a charge, which resulted in this wheel, you'd ignore it, but for regular movement, you can never come within 1″ of another unit, regardless of the reason.


Charge Order Matters (p.16)
Something I pointed out last week in my charging article, is that a unit which is trapped behind another unit can actually declare a charge, but only if the unit in front charges first. Allow me to illustrate: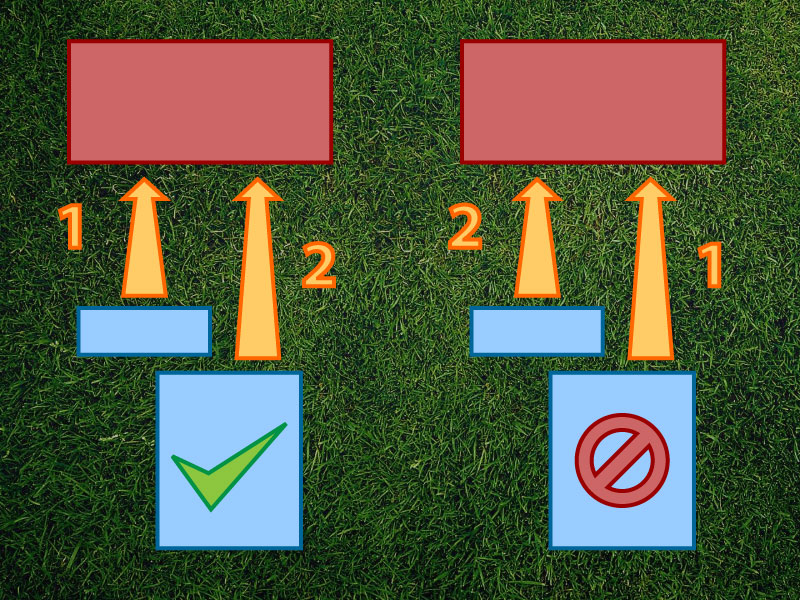 The reason for this is pretty simple. A unit cannot declare a charge if at the time the charge is declared it is impossible to complete. If you look at the illustration above, the first example shows the smaller unit in front declaring a charge first, followed by the larger block. Since the unit in front has declared a charge, it will be moving in such a way that the unit behind can move and complete the charge. In the second example, the unit behind is not allowed to declare the charge first, because at that moment in time, the front unit is not charging and therefore wouldn't be able to move out of the way.
Multi-charging (p.18)
You cannot charge two units, unless it is impossible to complete the charge against one without hitting the other.
Flank and Rear Charges (p.21)
You count the majority of models in the front rank only to determine which side you're charging into. For example, it is possible that a majority of front rank models are in the flank, but a majority of the unit is in the front, which would still be a flank charge.
Impossible Charges (p.22)
So lets say your target is in range and it all looks good, there is actually still a chance to fail the charge. If for whatever reason (i.e. interfering units or terrain), that the charging unit cannot close the door on the target, and the target cannot close the door on the charger, then the charge fails. This isn't very common, but it does happen.
Successful Charge against Fleeing Troops (p.23)
Not only do you destroy the unit, but if you pass a LD test, you may also make a reform maneuver. This is an important one to remember so that your unit doesn't end up getting flanked all over the place.
Swift Reform (p.95)
First of all, people tend to forget this, you need a musician to Swift Reform. Should a unit fail their LD test, they must make a normal reform move, you do not get to test first, then decide if you're going to reform or not. Lastly, after reforming you can still shoot, though you do count as having moved.
Magic
Natural 1-2 (p.32 & 35)


If you roll a 1 or 2 as the sum of your dice, you automatically fail to cast or dispel a spell. That means on 1 dice, you have a straight 1/3 chance to disrupt your own concentration, regardless of any modifiers that you have.


Failure to Dispel (p.35)
Similar to when you're casting, if you fail to reach the spell casting value when dispelling, your wizard cannot dispel any more spells that turn. This is why it is important to nominate who is dispelling a spell before you roll the dice.
Remains in Play (p.36)
Nobody forgets this rule when asked, but they always forget to do it in the game! You can dispel enemy spells in your own magic phase! But like failing to dispel above, if you do not reach the base casting value of the spell, your wizard cannot cast or dispel any more that phase.
Shooting
Cover (p.41)
First of all, hard and soft cover doesn't stack, you always take the higher of the two penalties. Also, if a target is obscured from half of the firing unit, then you roll the two halves separately, applying the penalty to only those models who have their vision obscured by cover.
Combat
Supporting Attacks (p.45-46)
A model cannot make a supporting attack if it is in base to base contact with an enemy itself. That means if your unit gets flanked, the models on that side must attack the unit that they are in base to base with.
Steadfast (p.54)
You determine steadfast by the total number of ranks in the unit, not their rank bonus, and the total number of ranks does indeed include the front rank.
Combat Reforming (p.55)
You cannot make a reform maneuver that would take models out of base to base, no matter what. So if your single chariot, or other monster gets charged on the flank, it may not be able to reform to face. Here is how that looks in practice: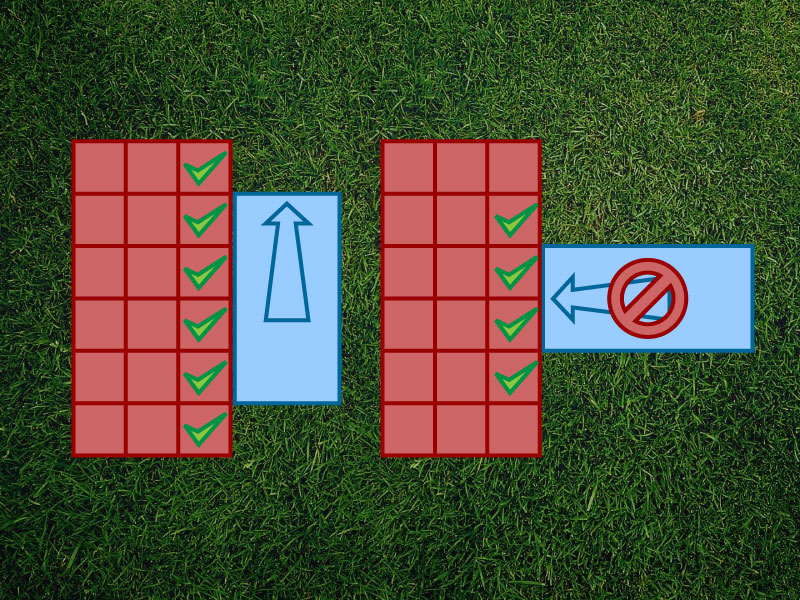 Combat Reforming Cont. (p.55)
If your unit is Unbreakable or Steadfast, you get to test on your unmodified LD to make a reform after losing combat. Additionally, if your unit is engaged in more than one facing, it cannot make a combat reform at all.
Terrain
Open Ground (p.116)
Open Ground is a type of terrain, just read the first sentence "Open terrain is the most prevalent type of battlefield terrain." So logically, anything which affects "any terrain" will affect Open Ground as well.


Dangerous Terrain (p.117)
You only take a dangerous terrain test when a unit does one of the following: march, charge, flee or pursue. A unit can freely walk, wheel or reform in dangerous terrain with no problem whatsoever.


Buildings (p.126)
There's a lot that gets forgotten here… First of all, any flaming attacks, including ranged get to re-roll failed wounds to units inside of buildings. That is great news for Screaming Skull Catapults and Dwarf Cannons! On top of that, if the center hole of a stone thrower is over the building, then the models inside which are hit, take the hit at the higher strength value.
When a unit abandons a building, a model in it's rear rank must be placed touching the building within 1″ of the building (BRB FAQ), and no model can be more than double it's movement from the building, which means dwarfs aren't great in a fire drill. Also, units failing Frenzy checks, or are otherwise forced to charge, must abandon the building as close to the enemy unit as possible, but still may not charge.
A unit cannot multi-charge when assaulting a building! If you cannot charge a building without causing a multi-charge, then you cannot charge the building. Additionally, only one unit can declare a charge against a building, so you cannot declare with multiple and see which ones make it. If multiple units are forced to charge the building (i.e. frenzy), then after one makes it into combat, the other charges will automatically fail.
Forests vs Rivers (p.119 & 120)
If a unit has a majority of their models in a forest, they will lose steadfast, but if the unit has even one model in a river, the unit will lose steadfast.
Special Rules
Special Rules are Cumulative (p.66)
Unless noted otherwise, special rules are indeed cumulative. So if you have Armour Piercing twice, you inflict an extra -2 to saves, or if you have Extra Attacks multiple times, you get an extra attack for each instance of the rule.


Armour Piercing & The Razor Standard (p.67)
The Razor Standard gives a unit the Armour Piercing rule, which only affects melee. For a unit to have Armour Piercing ranged attacks, it's actual weapon must have the rule.
Flaming Attacks (p.69)
Unlike Armour Piercing, Flaming Attacks gives it's bonus to both ranged and melee attacks, unless specified otherwise. Also, even a wizard, which doesn't have the Flaming Attacks rule will cause fear in the appropriate enemy units if they have any spells with the Flaming Attack rule.
Phew, that was a long list! I'm sure there are plenty more, but these seemed to be the ones that come up the most frequently in my experience. What easily forgotten rules do you guys run into a lot?