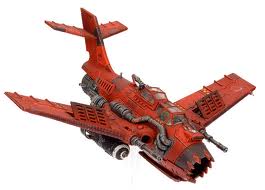 The Ork Fighters have been pretty much slammed by the net, but I feel that the Dakkajet can be a lot more useful than people think…
Reecius here from Frontline Gaming to discuss the much maligned Dakkajet.
Let's take a good hard look at this sucker. Weighing in at 135 points with all the upgrades (and you do want all the upgrades) for 9 twinlinked BS3 (BS4 against most targets) Str6 AP4 shots with the Pinning special rule (that is really useful in and of itself) this little bugger has an effective 42″ range, averages 8 hits against most targets and will almost always have a 4+ cover save (thanks to Red paint).
That alone is pretty awesome. But, it is the Waaagh! Plane special rule that really puts this baby in center stage. When a WAAAGH! is called, the plane doubles its shots. That means an average of 16 Str 6, AP4 pinning shots a volley. That is damn near the firepower a squad of Guided War Walkers puts out! Against a squad of T4 targets, that is an average of 14 wounds. Plus, you force a pinning check, and probably a morale check, too. That really increases the odds of the target unit failing one of them (if they are around to take the checks at all). Against vehicles you will be dropping or maiming light vehicles per volley, easily.
But, you may be asking yourself, you only WAAAGH! once a game….right?
Wrong, you punny Umie! Weirdboys allow you to get a WAAAGH! every turn with a little luck (Big thanks to Dugg from Tablewar for telling me about that combo!). Take two with the Warphead upgrade and you have a 4/6 chance of getting a WAAAGH! off ever turn. Plus, you have your normal WAAAGH! to call. In a 6 turn game, assuming your Weirdboys get to try and take a psychic chance each turn and don't fail the roll, you will average 5 WAAAGHS! per game!
That is pretty crazy. So, you take three of the Dakkajets and every turn you do WAAAGH! you get an average of 48 Str6 hits a turn, that is pretty deadly. Plus, your mobs of Boyz will be fleeting all over the board to boot!
Combo this with a solid core of Lootas and Kannons and you have a scary shooty Ork army, particularly in this day of Light Mech spam. Take some Claws for the rare AV14 you run into, and Boyz for taking ground and you have an army that will be very solid. Plus, you have the satisfaction of beating someone with Dakkajets, Kannons and Weirdboyz! Style points right there, my friends.
So give the Dakkajet another look. I feel that you could really take people off guard with this unit, plus it looks awesome! And if the rumored rules for vehicles being destroyed with accumulated Stun/Shaken results, units such as these could become even better.