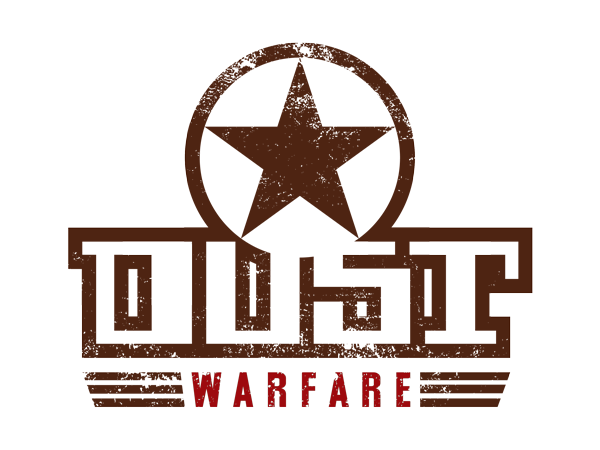 Howdy everyone, its OldHat from Dust-War.com here again. Let's talk about DUST Warfare and tourneys.
While it hasn't been long on the scene, Dust Warfare has drawn some serious interest from the gaming community. Locally, it is spreading like a wildfire as players seeking a cheaper game with as much depth as their other staples. For many of us coming to Dust from other games, such as Warhammer 40,000 or Warmachine, a lot of the community finds a need for a competitive outlet to test their mettle – be it from locals at a gaming store or against people from all over at a convention. So being the new kid on the block, what will Dust offer in the way of tournaments for us old salts?
For starters, the system seems designed around being a competitive game. Tournament rules are included along with campaign rules, in an effort to appeal to a broad base of players. However, what is not included are things such as format or time limits, so for those of us who fancy themselves a Tournament Organizers (TO), we need to find solutions to fit this new game.
With a five turn limit recommended for competitive games, which in the hands of competent players doesn't take long at all, the system seems suited for a Swiss format with a top tier squaring off in a single elimination set-up. This has the benefit of giving players more opportunities to play, which is always good. In addition to that, it allows players who get a bad match-up to still ascend to the top tier – unlike other games where a three game format punishes losses very heavily, meaning one bad match-up will ruin your day.
In this format, three or four rounds can accommodate your average tournament, with a Top 4 or Top 8 to accommodate the finals. As a former Magic player, this resulted in a good, steady day of playing and if you didn't make it to the top, you could always watch those who did as they did their best to take the day. It wound up a spectator sport for dozens at the larger tournaments and the tension was often palpable.
Terrain – Yes or No?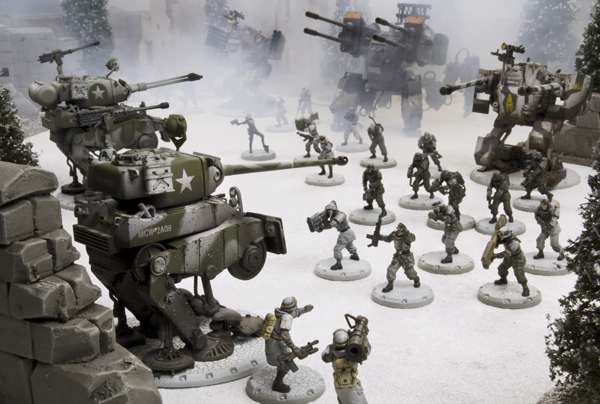 That being said, there are some unique elements to the Dust Warfare rulebook that will need specific addressing. Terrain and the Battle Builder set-up seem to present a TO with some options, depending on the desired complexity of the event.
For terrain, the Core Rulebook has options for the tournaments that have the TO place an amount of terrain on the table equal to 25% of the board space. Players then would alternate in placing pieces until the table had been arranged. However, this presents some major issues for a tournament as it would eat up precious playing time, which doesn't seem worth it.
In my opinion, terrain should be placed on tables ahead of time factoring in all available deployments and missions. This allows for specific items to be addressed as well – such as "Key Positions" labeling. To eliminate confusion with secretly chosen terrain pieces, each one should be either clearly numbered or identifiable in a word or two (ex. Oil Drums). This will ensure a clear winner when needed, as any game can result in "Key Positions" when using an open Battle Builder format.
On another specific note, organizers need to be aware of the rules. I know this sounds silly, but sometimes this isn't the case and can have a terrible outcome for players. If a table has a hundred sandbags on one side and only barbed wire on the other, players might get a bit annoyed as the imbalance is obvious to anyone who has played the game.
Furthermore, it might not be bad to enforce the "Sample Terrain Table" on p39 of the Core Rulebook as a standard. This means what players tend to use in casual games will most likely show up in their tournaments as well, whereas not using this table might cause problems for a player assuming Tank Obstacles were Hard Cover, but according to a TO ruling that day might only be Soft Cover. So, enforcing the Table would certainly help avoid such needless discrepancies.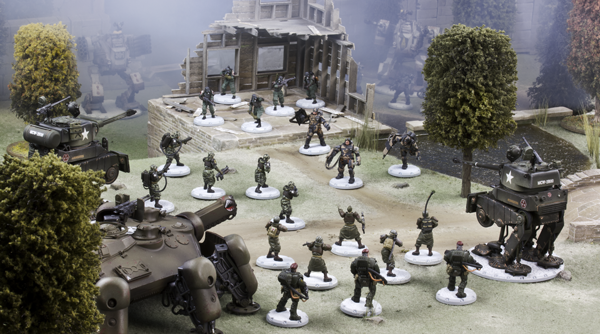 Within Dust Warfare, there exists a simple system that allows players to spend points to determine just what sort of game they are playing. So, when organizing an event, is it most prudent to outline the missions for the players or let them enjoy the cunning and craftiness of the Battle Builder? For me, I feel the latter really encourages strategy more and can be easily accounted for during a tournament.
Given proper documentation, players can spend their points in a pre-game "bidding" set-up that will be timed (5-10min), then submitted to the TO. When all of the "bidding" is finished the TO can start the game clocks and the games can start. This means that before a model even hits the table, players need to be strategizing on how their Objective, Deployment and Condition choices can lead them to victory (or defeat).
For people who think this might be too time intensive or simply wish to have a general theme, the TO could easily choose the missions for the players, but doesn't that seem like a wasted mechanic? I think so.
Time Limits, Tiebreakers and Soft Scores
Now, my own group has managed to get a good grasp on Dust Warfare that has led to some rather quick games. Even with our talking and goofing off, we were done in a reasonable amount of time. It seems that the encouraged 300AP games should be more than attainable in a 45-60min timeframe, with the aforementioned 5-10min "bidding" phase added on to each round.
This means in a normal eight player Swiss event with a Top 4 would come in at three total rounds with two Top 4 rounds – for a whopping total of five hours of playing if erring on the side of 60min. That seems daunting, so perhaps enforcing a more serious time limit would be suitable, such as a 30min limit on games. As it stands, this is one issue that is a bit harder to resolve, but forcing players into a narrower time frame means quick thinking and a firm grasp of strategy are needed, rewarding competent players.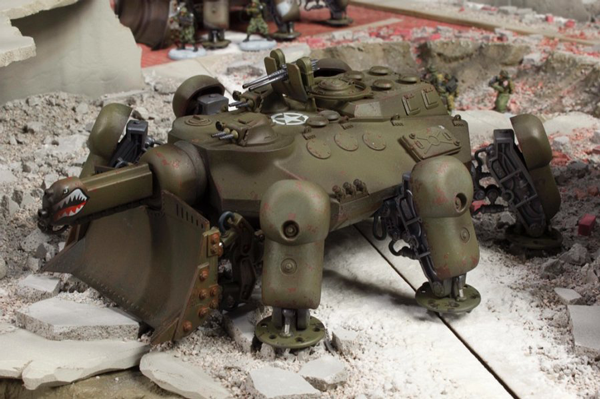 Naturally, this brings us to the issue of ties and tiebreaking. Now, in the Core Rulebook the answer is given, though this seems intended only for solving singular game ties. However, it does provide organizers with a practical option, albeit one that necessitates a bit more record keeping, that being the use of AP to determine end-of-day tiebreakers as well. With the use of simple score sheets, this can be easily kept track of. This would often favor aggressive players, I feel, and I think that would be healthy for the game.
Now we come to a somewhat tender issue in the gaming community – soft scores. Dust Warfare doesn't seem to need these, outside of rewarding players and not punishing them. The game is too young for composition to be an issue, as there isn't a "metagame" or enough factions to really enforce this on without causing further imbalance.
As for sportsmanship, this should always be included as a way to reward someone at the end of the day, but I personally do not feel it should be involved in actual event standings. Crowing a "Best Sport" is fine, but allowing bad losers to score down an opponent who beat them soundly seems a horrible precedent. Of course, this is all my opinion.
Sample Tournament
Army Point Total: 300
APGame Length: Standard (5)
Terrain: Pre-Set
Format: Battle Builder, Swiss w/ Top 8
This is most likely how I will be advertising the events that I will be organizing in the future. Using this, we can ensure that players know what size force to bring, how long each game is, the terrain layout, and tournament format. Obviously, details will be included in a packet until things get more or less standardized over time, but this seems like a logical way to keep things simple and accessible.
Dust Warfare seems to be ready for a tournament scene – so feel free to let us know just how you will be running your events, because encouraging the community to develop this will result in a happier player base and, in the end and that is the ultimate goal.
We heard that DUST Warfare had a very good reception at Wargamescon 2012. What did any of you attendees think of it? For more original Dust Warfare content, visit my website
Dust-War.com
!