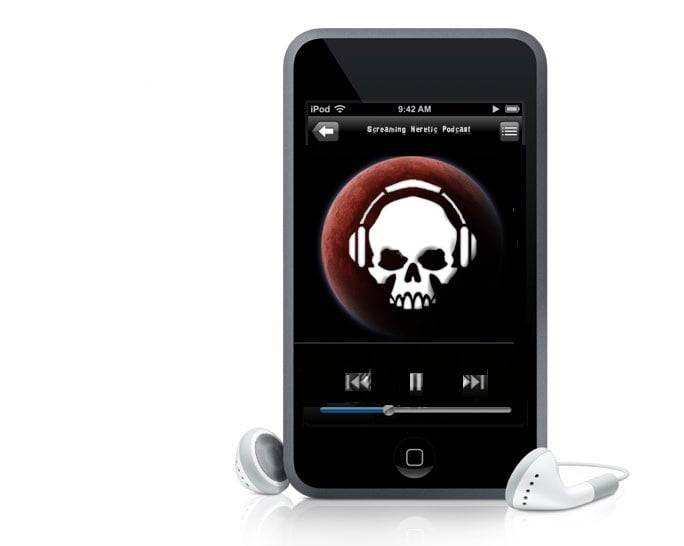 Welcome to another "This Week in 40K Podcasting,"
Here is this week's top 5!
Highlights: This week's show is dedicated to terrain and tournaments and how to improve them. The guys open up the show with what they have been doing lately in gaming, hobby, Diablo 3, and the weather in Australia. Next, the guys talk about the latest news and updates in the world of 40K and the rest of the gaming world, discussing upcoming model releases and much more! Then, the guys have an open discussion about 'game proofing' your gaming table and terrain. This included ideas for building a game table and terrain to make it portable, more durable and game-use friendly. Next up the guys have an interview with Andrew Galea from Rankings HQ and they discuss some of the new tech of wargamming and how it has changed the hobby. This included devices like the laser-site markers, iPads, Smart Phones, Facebook/Twitter and several software packages that have been produced in the last two years, like Army Builder and Overlord. They close out the show by addressing a question from a fan about gamers putting down games they do not.no longer play.
Opinion: It has been a long time since World's End Radio ended in my top spot, but I have to say that they really earned it this week, and I am glad they are back to recording regularly! This show was absolutely invaluable to me and anyone who has ever tried to build a gaming table and terrain. This show is loaded with a wealth of great ideas, tips, and tricks to building durable and portable tables and terrain, and has impressed the heck out of me. I will be listening to this one multiple time just to get all of the ideas down on paper. Plus, they have some great discussions about the tech of gaming. Outstanding! Check this one out!
Highlights: This week's show is a farewell to 5th Edition! They open up the show with the 'Workbench' where the guys discuss what they have been up to in gaming and the hobby. This included Zach's experience as a ringer and rules judge at the Bugeater GT. Next up was part one of their 'Farewell to 5th Edition', and they open up this discussion with where they were in the game when 5th Edition launched and their earliest memories of playing in the new edition. They then moved on to discuss what it is they liked about 5th when it came into being, specifically what rules came about with this new rule set that fixed broken things in 4thedition. This included Run, random game length, true line of sight, wound allocations, the new vehicle damage chart, and more! In their second segment on 5thEdition, they guys open up their discussion on Kill Points and how they changed the game. They moved on to discuss the drop in quality to White Dwarf, some of the Supplements that came out for 40K during 5th Edition, the vast amount of Imperial Codices that were released. They also discussed things they felt they didn't get to do enough in 5th Edition and things they got to do for the first time in the new edition. They close on a discussion about how the world outside of GW has helped to expand the game, including new models and events, and the ever rising prices from GW.
Opinion: I really enjoyed the 'looking back' that this week's show made me do, and this show severed well as a farewell o 5th Edition. With 6th Edition quickly descending upon us all, 5th will soon be a distant memory and it was great to look at the edition as a whole body of work and recognize how much fun it really was. A really good show that I'd recommend to everyone before reading that new rulebook!
Highlights: This week the gang opens up the show with 'This Week in Gaming', where Pat and Neil discus the latest RTT they attended at Hit Point Hobbies. Neil took his Wraithwing list and took 1stplace; Pat took his Fate-Crusher list and scored 9th. Next in 'Pat's Corner' Pat talks to CJ who scored 'Best Overall' and 2nd place at the Bugeater GT with his Grey Knight army. Pat also talked to the legendary Bill Kim who took the 5th seed on the first day of the Adepticon GT with his Chaos Daemons. Next, in 'Tactical Terrain', Eric is back and this time discussing woods, forests, brush, and other foliage in 40K and how to best represent them on the table. In the community segment, Pat talked to Falk from the Black Crusade 2012 charity project, Elliot and Drew from the blog E.D. Wargaming, and Carlos from Mechanical War Horse who makes laser cut gaming aides. Then to close out the show, the Pat and Neil review their Codex Countdown for 5th Edition as it comes to an end. They start at the bottom of their list with Sisters of Battle and Tyranids, and move on to look briefly at the remaining armies on the list. They discuss what tiers each codex falls into, including the wild card codices, and hit on some of their pluses, minuses, and common builds of each army. This included a pretty detailed review of the top four armies in the game at the end of 5th Edition.
Opinion: As usually the guys turn in with a great show, and this week I had a lot to chew on. First, I love hearing about Neil's Wraithwing army, as it is the army I run as well. I am really looking forward to hearing what he does with it in 6thEdition. They interviews were awesome, and as I am a huge Bill Kim fan it was great to hear from him. Once again Eric turns in an awesome Tactical Terrain and has given me a ton of good ideas for building forests. And to hear the end of the Codex Countdown in 5th was both happy and sad, but I look forward to hearing it all again in a new edition of the game.
Highlights: This week it is just Bill and Mike as the rest of the cast is stuck working. The main topic of this week's show is alternative models, and if it can be better for your hobby to use some of these third party miniatures. They open up the show with what they have been doing lately in gaming, and this included Mike's league games and Bill building the Storm Raven. This also included their latest hobby updates and the cool stuff they have been doing. Next, the guys move on to the main topic of the show, alternative models. They discuss some great companies out there who are producing fine quality miniatures that could easily be used in your standard game of 40K. They talk about some of the miniature lines from companies such as Kromlech, Warlords Games, Mantic Games, Kabuki Miniatures, Chapterhouse Studios and much, much more! They close out the show with a discussion about one of their favorite non-40K games, Dominion.
Opinion: This was a pretty good topic to cleanse the pallet of all of the 6th Edition talk out there. The subject of alternative models has always been one of my favorites and now as GW is pulling further and further away from the tournament circuit, more alternative models are being seen on the table top. I think that there are a lot of great model companies out there producing great miniatures and it was great to learn of more.
Highlights: The guys open up the show this week with what they have been doing lately in gaming and the hobby. Mostly this involved their goodbye games to 5th Edition. They move on to discuss the latest releases from some third party companies, Forgeworld, and the Black Library. Next they discuss some of the rumors out there about the quickly approaching 6th Edition of 40K! Then in the 'Librarus', they guys continue their coverage of the Badab War with their second halve of their review. They recap where they were before with the story, and how the Badab War had reaches its boiling point. They discuss the loyalist chapters clean up the outlying systems and Huron's descended into madness. They discuss the value of the Star Phantoms and the Carcharodons in the war, winning the final battle and defeating the Astral Claws. Then, in the 'Armory', Jim makes a 1,000 point boarding action Carcharodon list, Chris builds a 1,500 point Mantis Warriors list, and Chase finished off with a 2,000 point Tyrant's Legion list. In the 'Hobby Trenches' the boys discuss the expansions that came out during the 5thedition rule set and how they were not really well received. They close out the show in the 'Briefing Room' with a thought provoking discussion about the 'blog-o-sphere' and its effect, either positive or negative, on the game and hobby of 40K during 5thEdition, and how this will continue on in 6th Edition.
Opinion: I have to say first that I am disappointed with the audio quality of this week's show, as they were having some technical difficulties during the recording. Chase and Jim would cut out during their portions of the show, and it was difficult to follow what they were saying. This was especially prevalent in the main topic of the show, the review of the Badab War. Truly disappointing as they also do a great job reviewing 40K fluff. However, if you are able to see past this, the show was still good with an outstanding closure to the Badab War. They also hit on a great subject at the end, discussing the effect of blogs on the 40K hobby. A great topic for someone like me! Cheers guys!
Honorable Mentions – All great podcasts that just missed this cut this week, but you should still check them out, in no particular order:
So, that is it for This Week in 40K podcasting, thanks for reading. Got a podcast all about 40K, or mostly 40K that I am not listening to? Let me know about it, [email protected] and let me know about it. Also you can find me on My YouTube Channel for Battle Reports, Tactics, Reviews and more! Disagree with my review? Post comments for that too!