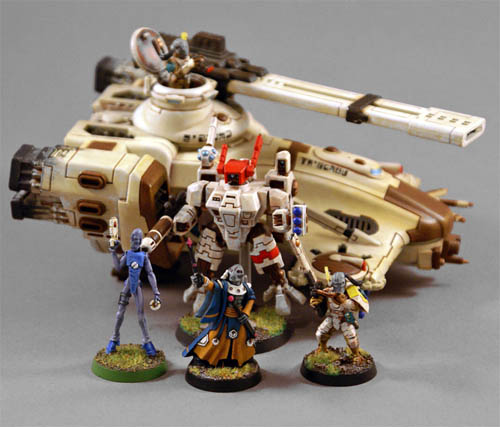 I never thought I'd say this, but boy are the Tau back! Warhammer 40K 6th edition has been very, very kind.
Now first off, I've been playing my beloved Tau during the twilight of 5th, so I was already used to gaming in a "difficult environment". Imagine my squeals of glee when I discovered that:
1) 2d6 Jetpack assault phase moves give the old scoot-shoot-scoot longer legs. Combined with running, your suits (and those game winning harassment drones) can really get somewhere when they need to.
2) Stealthsuits (and Shadowsun) are so much nicer with +3 cover at all times. Now they actually live to get in weapons range.
3) Fire Warriors are BACK. 6″ of movement and one 30″, or two 15″ shots at S:5 – yes please.
4) Reduced standard cover saves means markerlights get more efficient and used more for increasing BS (see #3 above).
5) Snapfire means Pathfinders and Broadsides can move and do something – aircraft especially hate twin-linked railgun snapfire.
6) Night fighting – what's that? The Tau are one of two armies that can completely ignore nightfighting – but the Tau have the standoff range to exploit the advantage.
7) All our vehicles now have jink – making disruption pods nice, but not mandatory.
8) Hull points make EMP grenades dirty.
9) Railguns are phenomenal in 6th. 72″ range with S:10 AP:1 (+2 on the vehicle critical table), means the Tau aren't affected as much by the entire hullpoints mechanic. One-shot kills happen quite a bit.
10) Etherials still suck eggs. See its all not good news.
In general, I'm finding an army that that can move much more quickly, and uses its markerlights hits much more efficiently than before. The lack of any psychic defense (without allies) is irritating, but as always I find the classic Tau answer to all the game's problems is still a railgun to the face. If you markerlight it up to BS:5 and no cover it makes it all the sweeter 🙂
~For the Greater Good!