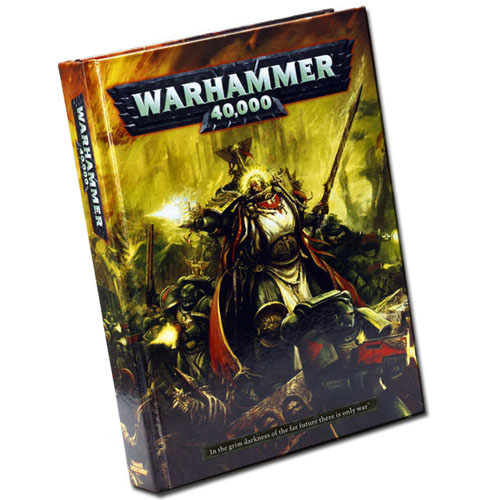 Lots of cool info breaking across the tubes boys and girls. Here's what we know.
First up, here is the current word on the minis included in the boxed sets. We are past what armies are in there (Chaos and Dark Angels), and are now delving into specific models and wargear. Here we go:
Dark Angels
Captain Balthasar(In Power Armor, not in Terminator Armour)
Librarian (In Power Armor)
Deathwing Squad (5 strong, with Storm Bolters, no Stormshields)
Tactical Sqaud (10 strong, with 1 Plasma Cannon and 1 Plasma Gun)
Ravenwing Squad (3 Bikes)
Equipment
captain with power sword, combi-plasma, iron halo.
librarian with bolt pistol and force sword
combat squad sarge with plasma pistol and chainsword, 2 plasma gun, 7 bolter
death wing sarge with power sword and storm bolter, 1 assult cannon and 1 chain fist,others 3 power fist
raven wing sarge with chain sword, one bike with plasma, one with pisotl, all twin link bolter
they all have frag and krak grenades
Chaos
Lord (In Power Armor)
Chaos Dreadnought (With Twin Linked Melta and DCCW)
Chosen (6 strong, with Power Maul, Power Fist and Lightning Claw)
Cultists (20 strong, half with close combat weapon and pistol, the other half with assault rifle)
Equipment
Lord with power sword and plasma pistol
dreadnought ( the name in Chinese is something like hell beast, but I assume it's dread from rumors) with multi-melta and power fist( dreadnought fist?)
chosen champion with power maul , 1 lightning claw, 1 power fist, 1 power axe, 2 close combat weapon
cultist leader with 2 ccw, 1 flamer, 8 with ccw and auto pistol
cultist 2 leader with shotgun and ccw, 1 heavy stubber, 8 autogun
~I'll let you talk about force balance, utility of new models and all the rest in the comments. Ship date is said to be September.