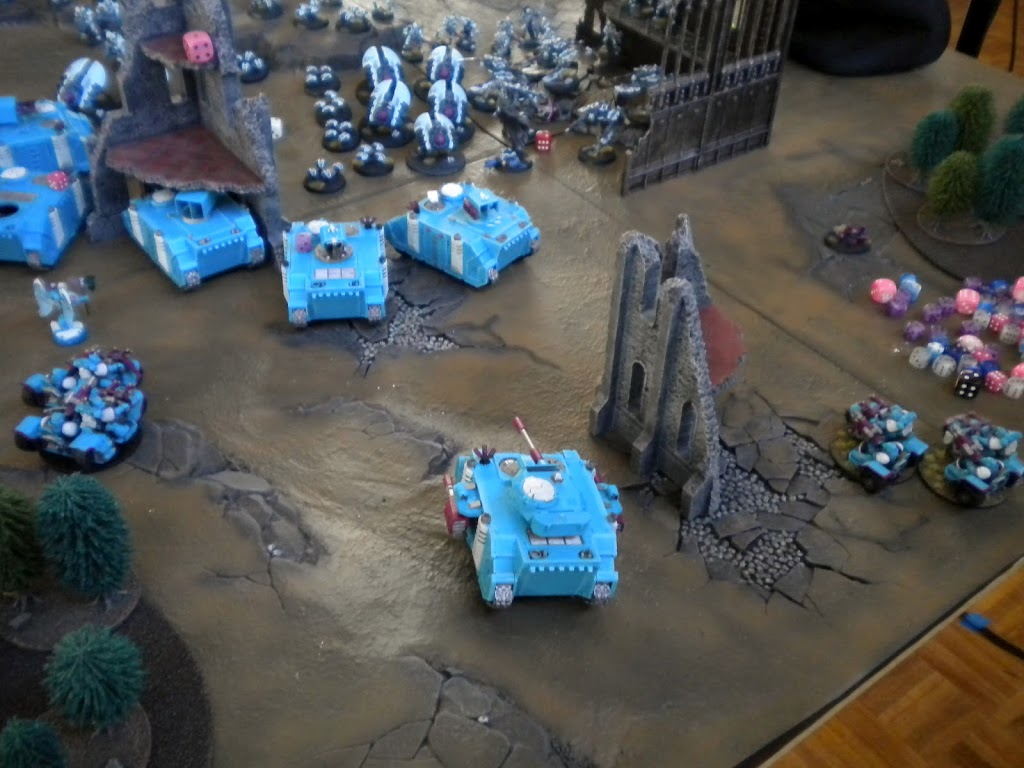 On the weekend all of wargaming America was enamoured with BoLScon, the Australians held their final NOVA tournament for 5th edition – Event Horizon.
There are three regularly running NOVAs in Australia now, 3++con (Feb), Centurion (March) and Event Horizon (May-June) and having run 3++con and been unable to attend Centurion this year, it was imperative that I get to Event Horizon! Particularly with 6th edition right around the bend. I went last year and finished in the Top 8 with Grey Knights and wanted to at least make the semi-finals this year (keep falling short on that first game of Day 2; top 8 at previous NOVAs as well). So let's look at how I did! I took Blood Angels this year as that was what I will be using for the ATC (so I have to keep 5th fresh in my mind until September!). List as follows:
The List
Mephiston
2x Sanguinary Priests
4x5x Assault Marines w/meltagun, infernous pistol, power weapon, Razorback w/TL-heavy flamer, Dozer Blade
5x Assault Marines w/meltagun, infernous pistol, Razorback w/TL-heavy flamer, Dozer Blade
5x Scouts w/Camo Cloaks, Sniper Rifles, Missile Launcher
2x2x Attack Bikes w/Multi-meltas
Dreadnought w/2x TL- autocannons
2x Predators w/Lascannon sponsons
1850 points
Light on the bodies side, heavy on the mech side but with FNP and Mephiston, the bodies should be relatively durable and have an easy bail-out option. I had been practicing a lot with Mephiston in the lead-up to EH as the previous tournaments I had taken him, too…well I used him like a leeroying wrecking ball. He can do this versus some armies and in some situations but he's much better used in conjunction with the army where he's harder for your opponent to pick out. I think I used him a lot better this time around but still room for improvement.
One of the major things I did for each mission was write up some quick notes. Event Horizon only used two tiers and it wasn't always five objectives – add in the usual mix of primary/secondary & deployment styles and each game is going to be drastically different from the next. Having some notes you've written down before each game without being under pressure can help you make those early game decisions and remind you about things throughout the game. This was a real help so I recommend doing it if you can!
Anyway, here is a brief run-down on how I did with links to the full battle reports on 3++. Games 3, 5 and 6 were filmed so have the associated footage with voice over commentary by yours truly. I got a nice mix of opponents, how unusual! Usually I get stuck with one type of opponent for more than 50% of my games – and that army has no correlation with release date. Anywho, here we go…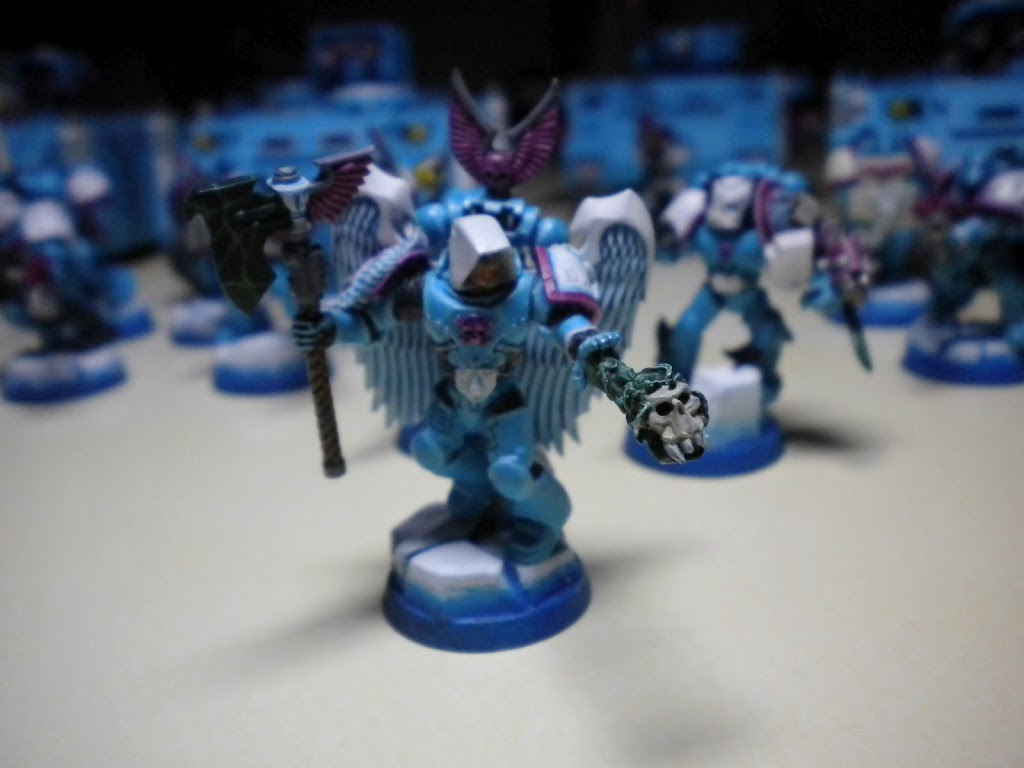 The Games
A Broadside, Kroot and Suit heavy list, Tau were going to shred my vehicles but cry against T4/3+/FNP. By making sure I had my ASM + Mephy in midfield, the Tau army was going to have a hard time pushing me off – it was about ensuring I got to those positions as best as possible and was able to secure the objectives. This happened and Mephiston ended up running riot with only some Kroot and one Crisis suit left by Turn 5. It was a good game with an opponent I know well but the list was always going to struggle against even a medium amount of tougher infantry.
Win primary, draw secondary.
Ah the ever hated Grey Knights. And this list has lots of 'hatey' stuff – Fortitude, Stormraven, Purifiers, Grandmaster, Dreadknight, etc. Unfortunately my opponent spread his stuff out and left his Stormraven open to being shot Turn 1 (Dawn of War) without a cover save. It was unlikely to happen (needed an 8 to spot, 3+ to hit, 4+ to pen, 5+ to destroy and had two chances at this) but it did and since his army was spread out, I was able to use my mobility to gather as many Kill Points as I could and deny the rest to him despite running an MSU list. The MSU aspect obviously kept it close and he did get off a couple easy KP but by remembering the mission and not going for the tabling, I was able to preserve the gap and maintain KP/board control.
Good game against a lovely Scottish accent =D.
Win primary & secondary.
First game on the filmed tables (there were two) was against a Grey Hunter horde with TWC support but not so many Long Fangs. This meant my vehicles were likely to stay mobile longer but I would need to use Mephiston to ensure my small ASM squads weren't going to get torrented away. I used terrain and the fact my opponent had limited ranged shooting to get into midfield position early (primary was Table Quarters) and kept pushing and engaging the Space Wolves on the far side of the centre – this gave me greater ability to move around and hold more Table Quarters. This was made particularly possibly because one Grey Hunter unit was never really committed (was hiding ina very untouchable spot and basically claimed that quarter) which forced the TWC + TWC Lord to split up – this allowed Mephiston to go to work without much fear. Game ended with me moving into hold lots of table quarters but being severely behind on KP (though ahead in overall points destroyed).
Was a good game and amusing to see my bald spot in the film! It would have been interesting to see how we both would have played differently if that other Grey Hunter unit have been committed…
Win primary, lose secondary.
Made it to Day 2 again and only one of these three Missions has KP in it (compared to all three for Day 1). It's the final mission of course so no need to worry about that until then! First game of Day 2 was against a triple Raider with TH/SS list – that will be a pain to deal with considering the short-range of my army. Not much shooting so I'll need to protect my guys as much as possible with vehicles and force the TH/SS to assault them, then counter-assault each squad one by one. This basic plan worked and I was able to reduced the TH/SS down to two guys by Turn 3 – then I couldn't kill those two or even damage a Land Raider despite all my meltaguns. He bounced off me, I kept bouncing off him!
The game came down to the wire and there were a lot of should haves and ifs for both of us but I was able to eek out a win with just one guy on a lone objective. If he had contested that it would have been a victory to him by about 20 Victory Points! Great game and my opponent got an excellent reward by being asked to join the ATC team for his state because of it.
Draw primary, win secondary.
Semi-finals, woo! I'd reached my goal and felt I could go further…just two more wins. Rupert was using a Scarabfarm build and has been doing well with it, making Top 4 at both 3++con and Event Horizon so obviously has some skill. Going up against the Lightning with my mass MSU is going to be tough but I have the ever so useful trump card of Mephiston – he will run down any Necron unit he touches. Rupert will be looking to bog me down in midfield with multiple Scarabs & Wraith squads tying me up and forcing Mephiston to be everywhere at once.
The game was a very close one. I was able to keep the Scarabs off my vehicles but I played Mephiston poorly – I went to kill all of Ruperts Troops but rather than use Mephiston to drop a large Warrior squad w/Imohtek, I used him to protect one of my own ASM squads dropping an Immortal squad. If I had taken out Imohtek 2-3 turns earlier like I should have, my mobility would have been much more in tact as the game drew to a close. Rupert made a slight slip up as well, as the game drew to an end rather than using his Wraiths to join all my ASM into a protracted combat, he aimed to kill a unit off, specifically the Priest. Since Mephiston tied them up later, it allowed my other ASM to finally kill Scarabs and claim an objective.
Either way was an excellent game.
Win primary, win secondary.
Yes, Daemons in the finals. Jimmy is a good player and does well at tournaments until he comes up against a good list/player combination. He did that last round yet pulled a victory out of his Wizard's hat and is now playing an MSU list in a KP game. Combine this with my very poor deployment (I clumped uparound LoS blocking terrain…against Daemons…) and it looked like Jimmy had it in the bag. Then I got lucky, dropped Fateweaver with one shot and took down the rest of his MCs in a single turn. Since his Bloodcrushers were tied up with my Dreadnought the game was basically over at this point though Jimmy kept on like a true…Wizard.
Was a good game and a lucky result for me since I screwed myself right from the beginning. A more amusing game than anything as we laughed from start to finish about breaking the Internets if Daemons won a NOVA event.
Win primary, win secondary.
Wrap-up
Phew, some very close games there (and I nearly lost again to an Internet bad army – my arch-nemesis!). All great games but looking back I made at least one bigish boo-boo in each of my Day 2 games, nice to win them but that knowledge will hopefully be better put to use in improving (in 6th edition now). Mephiston was much better used and with 6th edition coming round the corner, all those movement options with vehicles will need to be tweaked! Was good to have a last hurrah with them and win a major NOVA event. Hopefully sometime during 6th edition I can come out to the actual NOVA – money and the Australian wildlife permitting.
Goodby 5th – Onwards into the arms of 6th!