Wet Nurse Unboxing (NSFW!)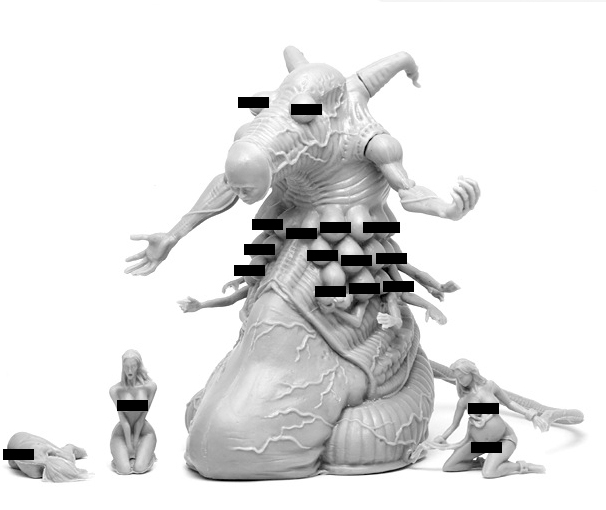 "Who is responsible for this?"
"Why would you want to own such a thing?"
"What is wrong with you?"
"WHY?"
These are the sorts of questions that confront the proud new owner of a Wet Nurse from Kingdom Death. So maybe I should start by going into a little more detail on the first one. Kingdom Death's website has very little to say about the monstrosity I'm unboxing here. But having read the background on some of the other monsters I think I can piece its story together. The world of Kingdom Death is dominated by a powerful being known as the entity. As far as I can tell its pretty much got the entire planet under its control. The majority of the humans in the setting seem to be at least partially lobotomized slaves that exist to attend to The Entity's various inscrutable needs. The most unfortunate among them serve as incubators for the inhuman soldiers in its armies. And I guess that's where the Wet Nurse comes in. The Entity's got to make sure its offspring and breeding stock get their minimum daily infusion of terror vitamins and nightmare minerals right?
So what about answers to the other three questions? I think it has a lot to do with the years I grew up in. In the early nineties a kid like me could flick on network television on a rainy Saturday and find themselves bombarded by movies like Hellraiser, Aliens, and Leviathan all pretty much unedited except for nudity. Now, 20 years later, Pinhead and the xenomorphs have become sunny childhood memories… Pleasant reminders of a time before reality television, economic downturns, and a decade long war. Then along comes the Wet Nurse: a perfect evolution of those same horror traditions. Just when I thought I'd seen it all, here's this unspeakable thing, still capable of freaking me out in spite of all those onion-like layers of apathy I thought I'd built up. It is a concept completely unhindered by any day to day standards of decency or decorum. It pulls no punches, and makes no apologies for itself. It takes our own sexuality and twists it against us like a knife to the psyche. And in an industry dominated by over-sized axes, brutal swords, and spiky shoulderpads the Wet Nurse's lack of hard edges mark it immediately as something unique. Yet it radiates menace despite being completely unarmed. It is far more terrifying than any rotting undead warlord with a belt of severed heads. In short… its freaking weird and I dig it. Now hold on tight because we're going in.
You will immediately notice that the text on the box reads "Experiment of Death," rather than simply "Wet Nurse." That is because this is a particularly important project for Kingdom Death. For at least as long as I've been collecting their miniatures, Kingdom Death has made it clear that the splendid resin pieces they've been producing so far are to fund something bigger. When it is finally released, the plan for "Kingdom Death" the game is a massive dungeon crawler with epic boss fights and crazy character combos. And yes, the Wet Nurse here is one of those bosses. As a PC it will be your job to kill it; with fire if at all possible. Given the scale of this impending project, a fully resin product is going to be out of the question. So, like many other companies, Kingdom Death seems to be gearing up for PVC plastic minis.
Inside the white sleeve is one of the same cool raw cardboard boxes that have come to define the Kingdom Death range.
And here's your first look at an unboxed Wet Nurse. Don't worry. I'll be providing plenty of close-ups as well.
Here's the main body. Soak it all in. The veins… the ripples… that mighty paunch… and of course those legendary mammaries.
On the reverse side there's a little detail that definitely warrants a close-up.
This might be the creepiest part of all. Its expression seems to be one of absolute serenity. The Wet Nurse is perfectly at ease with its abominable nature. It is at peace… one with the universe.
While there's nothing particularly outrageous about them I still thought I should show close-ups of its arms.
I mean at least part of my purpose here is to expose anyone with an existing interest in the company what the models might look like for a mass release. And so far its not bad. We've got some cool details going on like these veins and the gross little recesses all over.
Oh crap I take it back this is definitely the creepiest part. I almost left this little gem out, but I couldn't live with myself if I didn't give you all the full Wet Nurse experience.
A little better but still… "shudder"
As a bonus, the Experiment of Death includes a player character. Above is the pinup version of the Twilight Knight. The pinups are "non-canon" versions of the standard PCs. They are hyper-sexualized collector's pieces designed to help raise more cash for the project.
The detail on the body has been handled pretty well on the plastic here. It's not as crisp as I might like but I still think it will paint up nicely. And the plastic used does seem to lend itself well to the curves on her skin.
Her face is also very nice.
It's the arms that could really use a bit of work. The detail here hasn't been captured as well as in some other places and those swords aren't supposed to be curved. Which means now is probably as good a time as any to go into the overall quality of the kit. There's definitely a loss of quality from the resin but that's to be expected. And of course there are some mold lines going on too. But I think I can accept minis like these as the final product of a big dungeon crawler like this game is supposed to be. Of course a little improvement wouldn't hurt. Since this is just an "experiment" I am hoping that the final product will be devoid of errors like those on the sprue above. And if the detail on the PCs could be just a little sharper I sure wouldn't complain.


I'm going to end this with a little bonus unboxing. This is another one of the limited edition resins being made to help fund the project. Its also proof to anyone still in doubt that there is more to Kindom Death than boobies and broken taboos. The Forsaker here is a player class. He's got your typical Berserker thing going – tons of raw power but be careful not to stand too close.




This is the first time I've gotten a Kingdom Death mini wrapped in black tissue paper.


The quality here is what I've come to expect from Kingdom Death's resins, which continue to be some of the finest I've ever seen.
I love the sword/cleaver