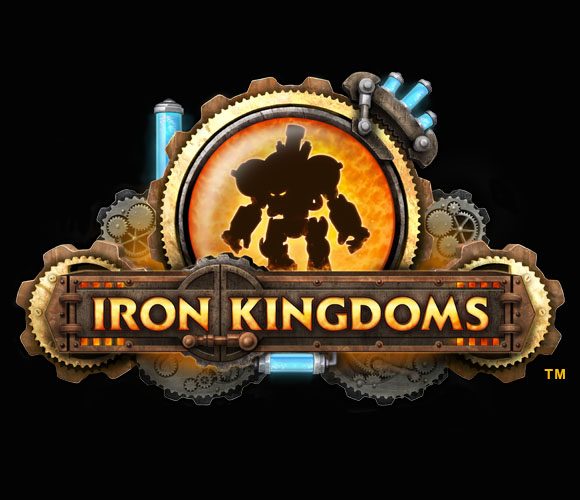 I've had a week to devour the rules for Privateer Press's new edition of the Iron Kingdoms Roleplaying Game. Many gamers, myself included, have been waiting eagerly for its release. Does it live up to the hype?

At 359 pages, the Iron Kingdoms Core Rulebook is a weighty tome capable of smiting the largest of seal pups. The first 100 pages consist of a large overview of Western Immoren covering everything from the history of the setting to life in the individual Iron Kingdoms. As someone who has read the original Iron Kingdoms World and Character Guide in addition to every Warmachine book, Hordes book, and No Quarter article on the history of Immoren, I think that this section nicely illustrates the setting in such a way that someone unfamiliar with it would be able to jump in with even the most diehard fans.
The rules for character creation make up the next 90 pages of the book, starting with an overview of character stat generation, abilities, connections, and skills. Creating a character for the game starts with choosing from the seven available races and a four Archetypes. The available races are Human, Dwarf, Gobber, Iosan, Nyss, Ogrun, and Trollkin. Each race has a base stat block, a selection of available Archetypes, physical descriptions, and additional characteristics that help to make each race unique. The four Archetypes are Gifted, Intellectual, Mighty, and Skilled. Each Archetype provides two bonuses: one that all characters taking the Archetype receive, and another that the player can choose from a list specific to that Archetype.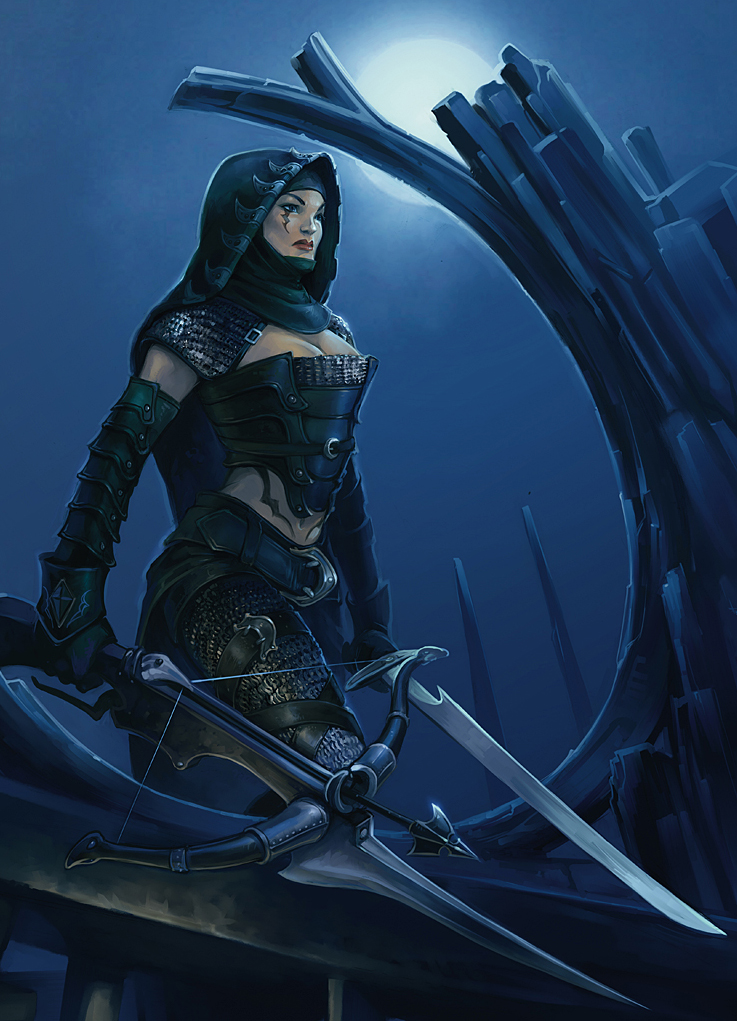 Eiryss, Mage Hunter/Ranger
Once a race and Archetype are chosen, the player chooses two of the 28 available careers. Each career comes with a few starting abilities, options for weapon training, occupational skills, starting assets, a few spells for magic-users, and a list of other skills and abilities that the class can learn as they gain experience. This is honestly one of my favorite parts of the system, as the sheer volume of combinations gives players the flexibility to make pretty much any character that they visualize work on the table. A player taking their character queues from Warmachine can have a field day here. Someone wishing to play as a Widowmaker Marksmen can take the Riflemen and Soldier careers. If you want to play a character like Archduke Alain Runewood, you can take the Aristocrat and Knight careers. If you want to play as a Ryan of the Black 13th, take Pistoleer and Gun Mage. If First Mate Hawk strikes your fancy, take the Pirate and Duelist careers. If you're really into Narn, play as a Mage Hunter/Cutthroat. If you want to play as a Maxwell Finn, you can take Trencher and Military Officer.
Now that your two careers are chosen, you finish up character creation with three stat increases to draw your character's race, archetype, careers, and skills together. Finally, you purchase your equipment, and you're ready to go.
The next, short section of the book discusses Adventuring Companies, which are basically theme lists for your party. These consist of requirements for your party makeup and benefits if those requirements are met, my personal favorite being the Pirate of the Broken Coast Adventuring Company which gives the party a ship, crew, hideouts, and some additional abilities if everyone in the party makes at least one of their careers Cutthroat, Explorer, Military Officer, Pirate, or Thief. It's a really cool concept, especially for first-time role players, as it provides a nice framework for them to work within while they're getting their feet wet.
The next section discusses abilities and skills. Abilities are often class-specific benefits that could be passive buffs to certain actions like reloading a weapon or casting a spell, or active benefits like a unique attack option that wasn't available before. Skills should be a bit more familiar to veteran role players, which include things like Bribery, Lock Picking, Seduction, Intimidation, etc. Many skills are linked to a specific stat when used while other skills, called "Social Skills" are a bit more flexible depending on a character's strengths and the situation at-hand. This is another really cool part of the system, as it allows characters to complete tasks using their strengths, often leading to out-of-the-box thinking, which always makes for more entertaining play.
The rules for actual game play come next. Players familiar with the rules for Warmachine and Hordes should feel right at home here, as most of the game's core mechanics are borrowed from their miniatures game. Most rolls are made on 2d6 added to a corresponding stat and then compared to a target number. Some rolls can be boosted using feat points, which are similar to Fate Points from the Dark Heresy system or Bennies from Savage Worlds, in that they are a player resource that can be gained through appropriate role play, heroic actions, as well as some other specific manners like incapacitating an enemy or rolling a critical hit. Feat points can also be used in combat in a number of other ways like Shaking Knockdown, Stationary, or Continuous Effects, gaining Pathfinder while charging, ignoring free strikes, healing, or re-rolling a failed roll.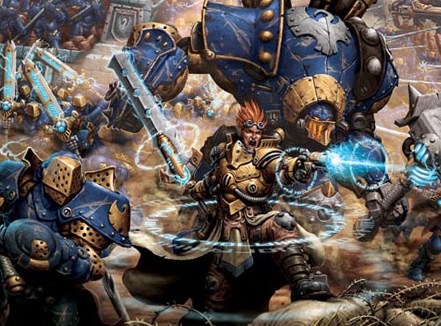 Coleman Stryker, Stormblade/Warcaster
Combat, to put it bluntly, is pretty much exactly like Warmachine. Anyone with experience playing Warmachine should be able to sit down for an IKRPG session and be able to figure things out without a whole lot of time spent in the book. There is a level of complexity that is added to make playing with a single character more interesting, but on the surface, a Warmachine veteran is going to to pick things up very quickly. For example, characters have three different options in terms of actions that they can take: quick actions, attacks, and full actions. During their turn a character can move and make either two quick actions, a quick action and an attack, or a full action.
The following section covers the magic system for the IKRPG. Magic is divided into two Arcane Traditions: Will Weavers and Focusers. Will Weavers can cast spells, boost attack and damage rolls, increase the range on those spells, and upkeep a spell by accumulating Fatigue Points up to double their Arcane Stat (ARC). If a Will Weaver accumulates Fatigue Points exceeding their ARC, they must make a check to see if they become exhausted. If the roll is failed, the character immediately ends their turn and they are stopped from using magic during the next round. Focusers, on the other hand, function exactly like a warcaster in Warmachine, in that they generate focus equal to their ARC every turn that they can use for upkeeping, casting, boosting, buying additional attacks, or allocating to Steamjacks that they control. The spells found here will also feel familiar to Warmachine and Hordes veterans, a large portion of them taken directly from the miniatures game and adjusted slightly to fit the role-playing game.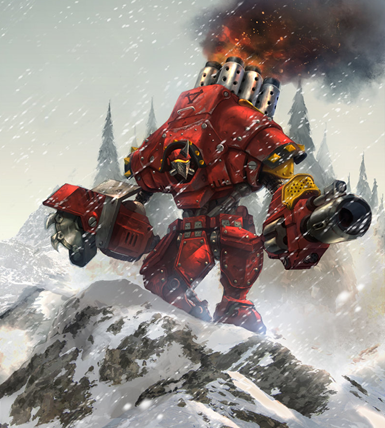 The final player-specific sections cover items, weapons, armor, mechanika, and steamjacks. The steamjack chapter and rules are fairly robust with several chassis, cortex, weapon, and item options for customizing your 'jack to meet your character's needs. Steamjacks use the same damage grids as in Warmachine and provide a lot of crunch without requiring a degree in engineering to figure out.
The book wraps up with information on game mastery, creating NPCs, designing campaigns and encounters, the Bestiary, character sheets, and an encounter worksheet.
The Iron Kingdoms Core Rules hits store shelves September 19th. Expect to see more articles focusing on the individual sections of the book soon. My regular role-playing group was so excited for this that we abandoned another game mid-adventure to roll characters for an Iron Kingdoms game that we'll be starting on September 9th.