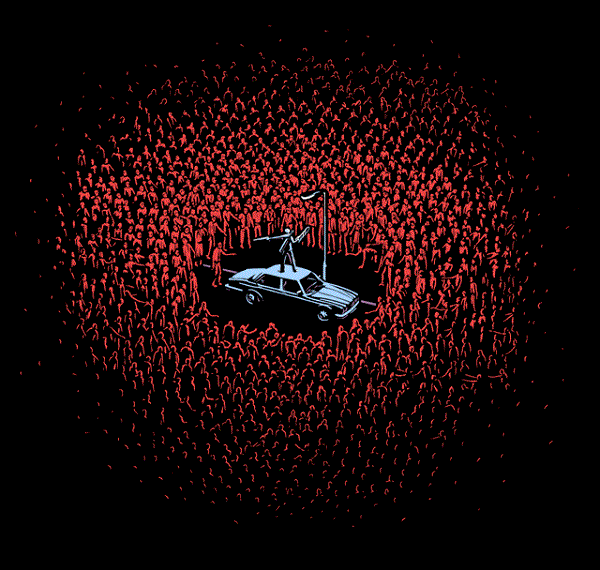 BBF here to talk hordes.

The main topic today is hordes but probably it would have been better just to say infantry heavy since not all armies have access to horde style units such as Orks and Tyranids. The Chaos Space Marine (CSM) codex is very soon to release now with lots of interesting tidbits of information spilling into the Internet. Tony Kopach won both the NOVA Open and Invitational this year using Space Wolves with Imperial Guard as allies. His army featured no vehicles and was able to beat down newer armies such as Necron flyer spam. It will be interesting to see if this will be possible to emulate with the new CSM codex using cultists in place of guardsmen. My gut feeling is this will be the case – if so CSM will be an excellent army for holding objectives and pouring out a lot of fire power and this will be our first look at a new codex designed specifically for 40k6. While Grey Knights and Necrons were also designed for 40k6 they still have some strong ties to 40k5.
Horde armies have some inherent advantages for 40k6 and work well behind the safety of the Aegis defense line. From what've I've seen so far there are not a lot of new vehicles being introduced in the new CSM codex other than the new flyer. Sure there are a couple of new walkers but they both have very similar stat lines to the dreadnaught. That in an of itself tells me the emphasis is placed more on infantry.
If we look at Necrons as a counter example that codex introduced many new vehicles in comparison such as the two flyers (Doomscythe and Nightscythe), Doomsday Ark, Ghost Ark, Catacomb command barge and the Annilihation barge. To me that's quite a huge difference and tells us that vehicles can still have a place in certain armies. Transports took some big hits from the nerf bat which I think is good for the game overall since mechanized MSU dominated 40k5.
The meta is still very new for 40k6 and it will probably be at least another few months before we start to see any major lasting trends. 40k4 was dominated by infantry heavy armies often featuring gun lines and I can see a return to that style of play… The big difference is the inclusion of flyers which have really shaken up the game since the release of 40k6.
It will be interesting to see if the new Havocs become a steadfast component of CSM armies since they will have access to flakk missiles – probably this will be the case, at least during the beginning.
Supposedly Typhus will make Cultists coung as Plague Zombies and there is no mention of them not being able to score – Feel no Pain, Fearless, plus Slow and Purposeful. CSM will now have one of the best new horde armies if this is true. 35 cultists in a max size unit and they appear to be around 5 points per model! Can you say crazy good? I sure can.
Now I want to go into more detail and point out some of the inherent strengths that come with an infantry heavy army and these are mainly due to the new 40k6 rules such as rapid fire.
Imperial Guard has transitioned quite well to the new edition mainly due to the rules for their orders. Blob IG was more of a novelty in 40k5 but now it is quickly becoming more prevalent and has remained competitive. Imperial Guard is one of the best choices for allies along with Space Wolves. There are many armies that are well adapted to infantry heavy lists besides guardsmen such as Dark Eldar and the non Venom generated mass poison weapons are coming into their own now.
Rapid FireThis is a really big one – now a unit with rapid fire weapons can move and fire one shot at full range. Stormbolters en masse have been a strength for Grey Knights and now other armies can benefit as well. The new rapid fire rule makes plasma more than twice as good now and will return over melta again as the prevalent special weapon.
LeadershipLeadsrship tests are much more forgiving now. If a unit breaks its not the end of the world anymore (assuming of course they are not swept in combat). It requires more of a concentrated effort now to eliminate fairly large units which means dedicating more fire power on a sole target. As the game winds down a handful or less of models could easily win a game.
The Death of TreadsTransports for the most part have taken a huge hit from the nerf bat which in its own way makes infantry just that much stronger. GW wanted to really make sure that transports go the way of the Dodo bird… You can't assault your next turn if the unit's vehicle is destroyed (unless of course it's an assault vehicle). You're paying points for something and you need to see a return. I still like the Rhino since its so cheap and you can flat out any vehicle now… Other than that and flyers I'm not too hip on any other much when it comes to transports.
BUGS – So many Bugs! There are plenty of other good reasons as well and we can discuss those but I'd like to digress for the moment and discuss what I believe is an excellent idiom for infantry based armies. There is a saying about Tyranids that if you see some little ones there is bound to be plenty and you can be sure there's some really big ones close by as well. The little ones aren't exactly what you'd call friendly and the big ones are just down right mean so you better be very careful in that neck of the woods. This is an excellent method to design a horde or infantry heavy army. You'll want plenty of meat shields with some more stout units interspersed. I am a big fan of the flyer and believe it can integrate well with this style of army. It looks like CSM will seemlessly fit into this slot since they have plenty of troops and various multi wound high toughness units to bolster the lines.
So are you bulking up your lists with less tracks and more boots onthe ground? What's you local scene looking like 3 months into 6th edition?