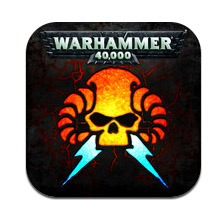 It was only a matter of time. Warhammer 40,000 has an iphone app. But is it worth the price?
First up, the app:
Cost: £7.99
"Warhammer 40,000: Psychic Powers brings the psychic devastation of the 41st Millennium to your iPhone or iPod touch. With this app, you'll be able to browse through all the psychic disciplines and powers from the Warhammer 40,000 rulebook, and keep track of psychic powers during your Warhammer 40,000 battles.

You can also photograph and name your Psykers, generate powers for each Psyker before the game, and even listen to the sounds of arcing bio-lightning and the screams of the dying as you manifest psychic powers."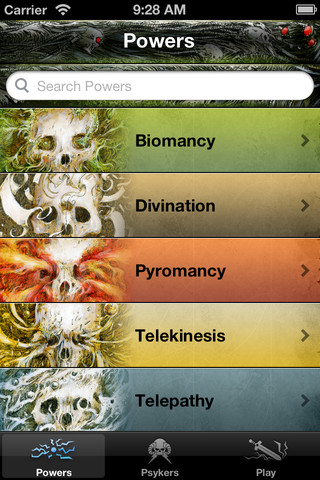 So, you pick your powers from the digital deck, assign them to photos you've taken of your models, and get sound effects for the powers…
With the pattern emerging of cost being between 50% to 75% of the comparable paper product from this and the previous Space Marine codex, I think its clear to see where Games Workshop is going with its digital line. It would seem that Games Workshop is forging full speed ahead into the digital world, and charging top dollar for its products – by standard app prices.
With the recent efforts to shut down the 40k Armybuilder file builders, I think its a clear sign that digital armylist construction apps are coming down the pipe. But the real question has always been one of price. It's gonna be a very tough sell if Games Workshop expects customers to pay 50-75% of the cost of each codex to be able to purchase an army builder app for each one.
~I'll let you all weigh in on the value proposition of this one.